KC: Hi, missyuna! Thanks for taking the time to talk to us here at RadioSEGA! First of all, I'd like to ask you to introduce yourself.
MY: Well, I can start by telling you that my name is Maryam and the place that I hold to is Norway. Oslo is the city where I live and study. I'm 23 years old, born and raised here in Norway my whole life, although my parents are from Morocco, which makes me a part Moroccan. :P I live with my family, because living alone isn't easy, especially if you're a student, but of course it is out of love and wellbeing, and for that I can only thank God Almighty that I have my family around me. Currently I am studying Biomedical Science to become a "Bioengineer" as it is called in Norwegian, although it still has not its final definition, and is still developing as far as I know.
KC: You're a pretty talented artist. When did you start drawing and why?
MY: Well, it all really began when I first went to preschool. I used to draw a lot of things with my friends and we always used to share our "masterpieces" with each other. I also went to an "art club" where we painted our own pictures, and I remember that I did the outermost work than anyone else in class, if I remember correctly by the teacher and fellow classmates reactions and commentaries. =) My teacher complimented me and the rest of my class so she took us all to a trip to Mc Donald's, yay! :I
However, this wasn't the first time I got compliments (and good grades in art). It continued in high school where my Art teacher first saw my drawings and gave compliments and even asked me to make a poster for the school football team. So much more could have been said here, but many things happened related to drawing, so it's hard to remember the details. To be honest, I'm not even sure why I first started drawing - something from my childhood that got my obsession of drawing sparkle, but I can't put my finger on how or when exactly it happened. But I can tell basically because it was fun, a joy for me… To be able to make something from my own imagination and the things I see from outside. Also because drawing reminds me of my childhood, and all the good and bad things that happened in that time, and the people that I've encountered, not to mention some old cartoons that I watched from TV (and videogames) that inspired me to draw from the very beginning.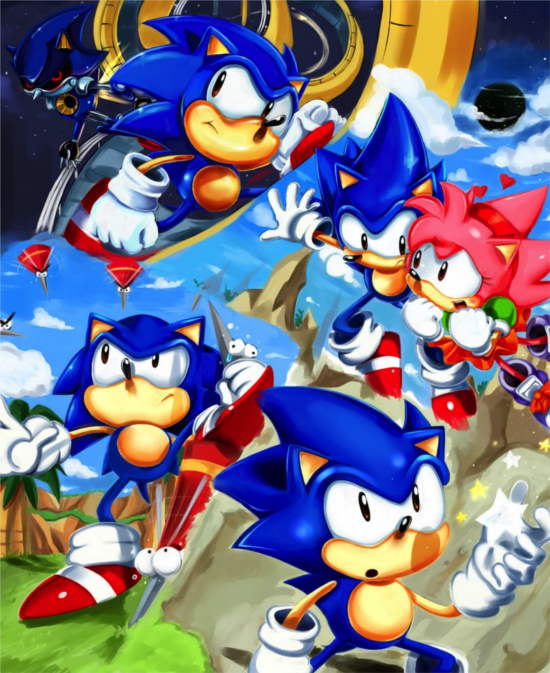 KC: You do a lot of Sonic-related stuff. Any particular reason why?
MY: Reason number 1 is because I'm a very big fan of Sonic the Hedgehog. And this again is related to my childhood. I can still remember the day when my father received a gift from his friend in USA, a Sonic the Hedgehog and a SEGA Mega Drive console. I used to just sit and watch while he played it, and from that moment I saw the blue figure in the screen, I started to do some doodles of Sonic, but never got his face right (I guess I couldn't interpret Sonic's figure well through his pixelated state :P)
Some years later when I started high school, Sonic X aired on a Norwegian TV channel and I really liked its style and how different it looked from the videogame. Sadly, the Sonic franchise wasn't that popular in Norway, nor were there many Sonic related items sold here unlike the US and other foreign countries. But that still didn't stop me from exploring and getting to know the character. That's where the internet comes in… I then joined Deviant Art because most of the Sonic Fan art is always linked to that site. And furthermore, it got me closer to the franchise more than ever before.
KC: Not only do you draw but some of your little comics are quite funny too. Where do you draw (no pun intended) your inspiration from?
MY: Well mostly I get my inspirations from very awesome, talented people around Deviant Art. Wish I could name them all, but the list is too long! Also I get my inspirations from cartoons, memes, YouTube videos, music, you name it.
KC: Do you have any artists you look up to? Anyone worth mentioning that you aspire to be like?
MY: Like I mentioned in the previous question, there are too many to pick but there are three artists I'd like to mention, mainly because they both initially made me start drawing Sonic fan art and also comics. "Manaita" from Deviant Art has this amazing, and the most original, style of Sonic characters. She made a lot of fan art related to Sonic X and Sonic games, and by the look of them, one can't really "refrain" from getting inspired. The same goes to an artist with the username "ihearrrtme". I've been looking at her art every since I signed in membership of DA, because her art has this originality and I'm lucky to discover the development of her art, which in turn made improve my own art. When it comes to comics, there was this one Japanese comic artist who made these simplistic yet so creative comics... Sadly, I don't remember her name and the name of her website. Of course there are countless comic artists from DA I'd love to mention…
KC: What software do you use?
MY: I use Easy Paint Tool SAI, a very neat and handy program, easy to handle. The brush system there is, in my opinion, better than any programs that I've ever tried, and yes even better than Photoshop! When I want to edit pictures, like adding effects or adding texts, I use Adobe Photoshop CS2.
KC: Do you have any advice for anyone wanting to improve their art?
MY: It doesn't matter whether it's art or making videos, my point is what you do should be coming from your own satisfaction. When something makes you laugh and makes you happy, then make it. Don't make art simply because you want to get famous, or try to impress other people, even if you don't like it. Do what you love, and of course if you feel for it, there's always room for improvement. Try to look around in the Art community for references, something that can get you inspired to make something. Also, there's loads of tutorials in Deviant Art and of course other Art sites, so make sure to use them wisely, if you personally are serious about getting some "fine tuning" in your art. I personally am just a hobbyist, and wish to see my art improved as well. So long as there are talented and amazing artists out there, who still give their best contributions and inspire other people like me, my passion for drawing will still be shining.
KC: When did you become a SEGA fan?
MY: Isn't it obvious? Hehe! Well, not really that much a fan of SEGA. Honestly, I can only tell that I'm a Sonic fan, because I don't know much about the rest of the other SEGA game characters, and that doesn't qualify me as a SEGA fan since I wouldn't do justice for the other characters I have no knowledge of. But... Well, since Sonic is the "Big Boss" of SEGA, I'd say yes, I've been a fan every since I first played Sonic the Hedgehog.
KC: What's your favourite SEGA console?
MY: Dreamcast, and STILL hoping to see number 2 version of it..stiill waiting = )
KC: What about your favourite SEGA game?
MY: Definitely Sonic and Knuckles, and Sonic 3 = )
KC: Lately, some sites have been putting together music albums with nothing but remixes from members of the community. I think a collaboration between drawing artists would also be a cool idea. Something like a compilation of drawings from different people around a certain theme. Would you be up for that in the future?
MY: Of course, I'd love to participate to such and fun and honorable event!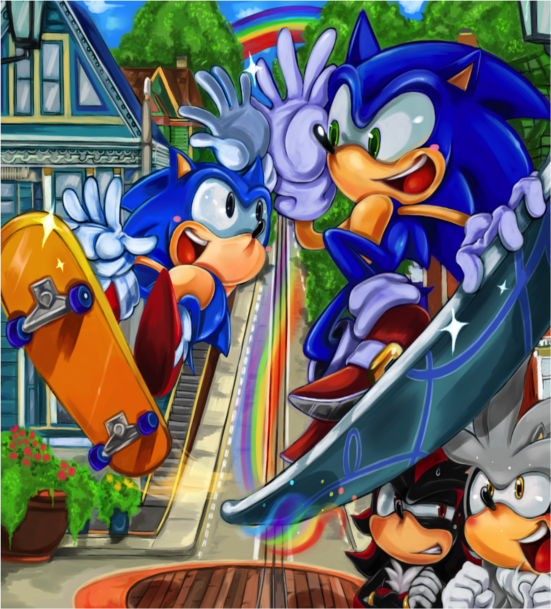 KC: By the way, besides Sonic, have you done any work based on other SEGA franchises?
MY: If my memory serves me, I have to say no. Sonic is basically the only character from SEGA I've ever drawn, and that does prove why I'm a Sonic fan, does it not? XD
KC: We are, first and foremost, a radio station, so I always ask this to our guests: If you were going to a desert island and could only take one soundtrack to any SEGA game with you, what would it be and why?
MY: Knuckles' theme, "Unknown from M.E.", reminds me on how to stay cool and calm when you're all alone, and to stay strong and self dependent, like Knuckles himself. And plus this music is the real thing yo!
KC: Now it's time for... QUICK SHOTS!
SONIC OR MARIO? SONIC
SONIC OR SHADOW? SONIC
SONIC OR SILVER? SONIC -- KC Edit: Wow! Sonic all the way!
CLASSIC SONIC OR MODERN SONIC? Both... but I go for the classic
PLAYING GAMES OR DRAWING? DRAWINGZ MAN!
NAME ONE, NOT YET ANNOUNCED, CHARACTER YOU'D LIKE TO SEE IN SONIC & ALL-STARS RACING TRANSFORMED. Bayonetta
KC: Besides playing video games and drawing, do you have any other hobbies or interests you'd like to share with us?
MY: Well I like to cook several types of food, exercising, going on ski trips. And, of course, hanging out with the people I love at school, work and home. <3
KC: Lastly, are you taking commissions? How can people reach you for any requests they have?
MY: At this moment I'm not. I even tried too a few months ago, but felt it didn't really work due to the overtime of work and college. I might consider doing one for real in the future, juust maybe...
KC: Thanks for talking to us, missyuna! I hope you all the best and be sure to keep that great art coming our way!
I'd like to thank regular RadioSEGA listener and forum member, ZonicZoneCop, for suggesting this interview. If you know someone who you think we'd like to talk about in the SEGA Fans Chronicles, feel free to send me an email to kc[at]radiosega[dot]net.
Next week, we'll be going METAL in the SEGA Fans Chronicles. Be sure to come back and check it out!