SEGA's Games And Studios Are Up For Golden Joystick Awards
CVG has nominated SEGA studios and games for the prestigious awards.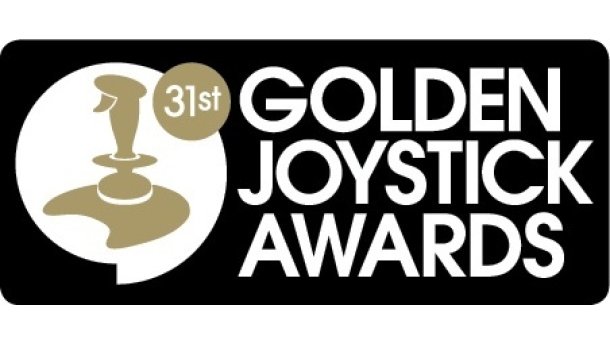 Sumo Digital's Sonic & All-Stars Racing Transformed, aka ASRT, and Relic Entertainment's Company of Heroes 2, have been nominated for the prestigious Golden Joystick Awards 2013, hosted by CVG.
The awesome car-boat-plane racer and the exquisite World War II sim are nominated in the Best Multiplayer category. ASRT and CoH2 are running against big names like Halo 4, FIFA 13, Call of Duty: Black Ops II, Starcraft II: Heart of the Swarm, or even the recently released Payday 2.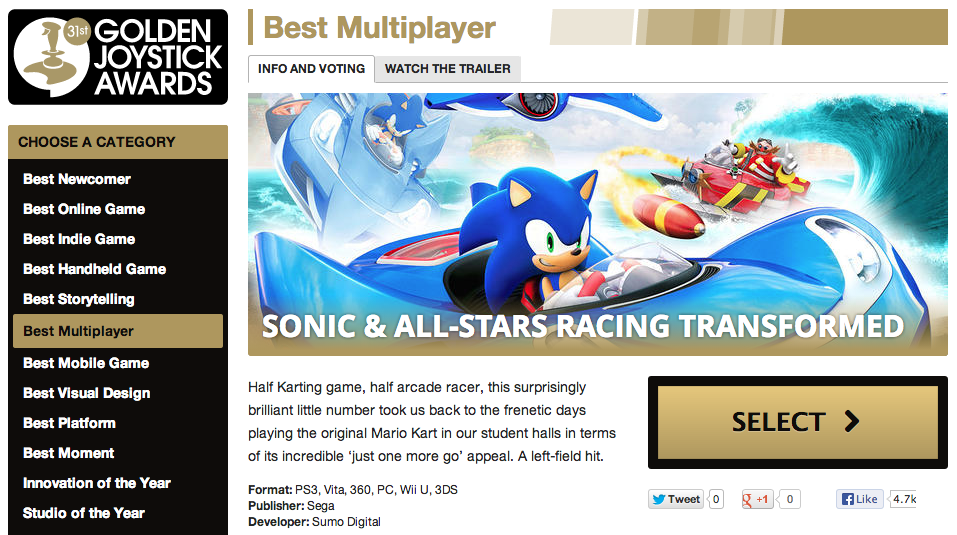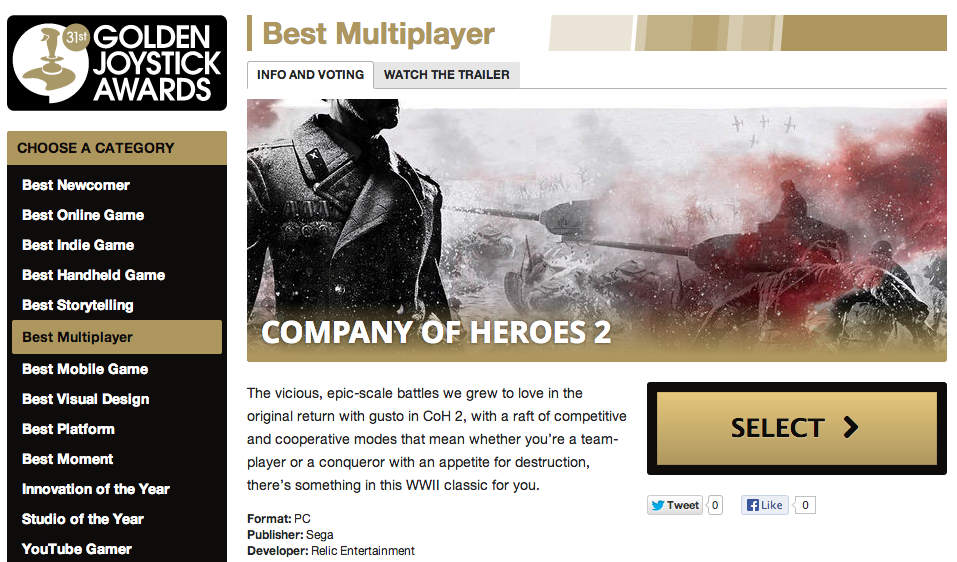 But that's not all on the SEGA front! Rome II's The Creative Assembly and Football Manager's Sports Interactive Games have also been nominated for the Studio of the Year award.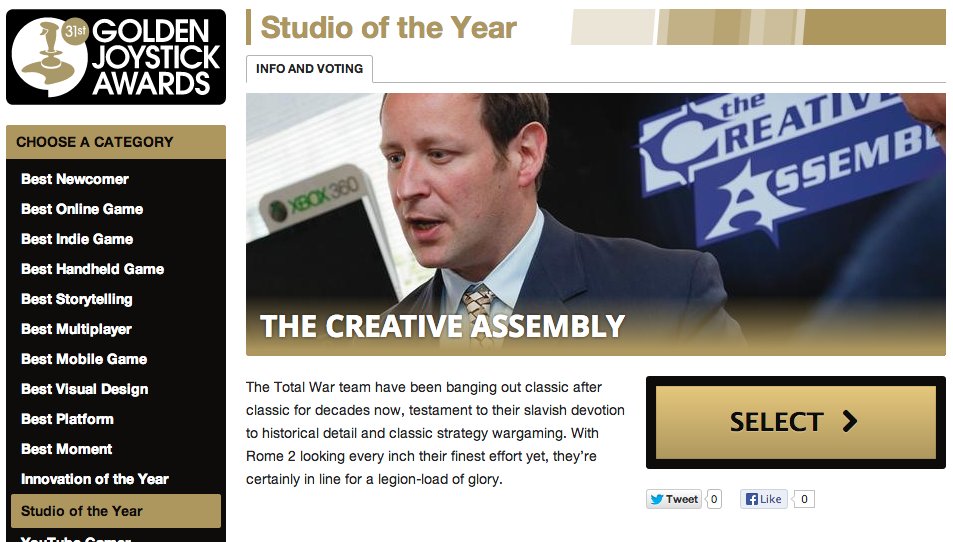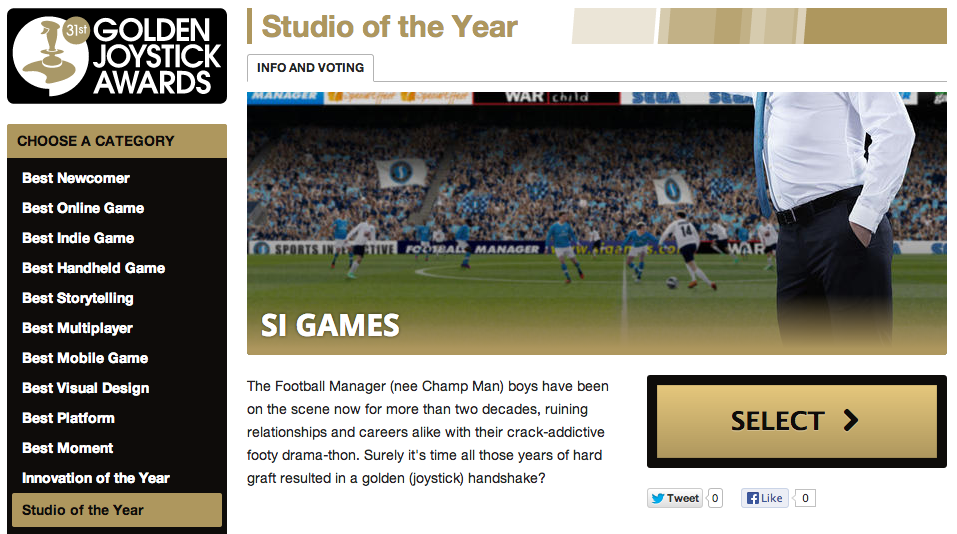 The Creative Assembly's on the spot once more with Total War Battles: Shogun, which is also up for an award in the Best Mobile Game category.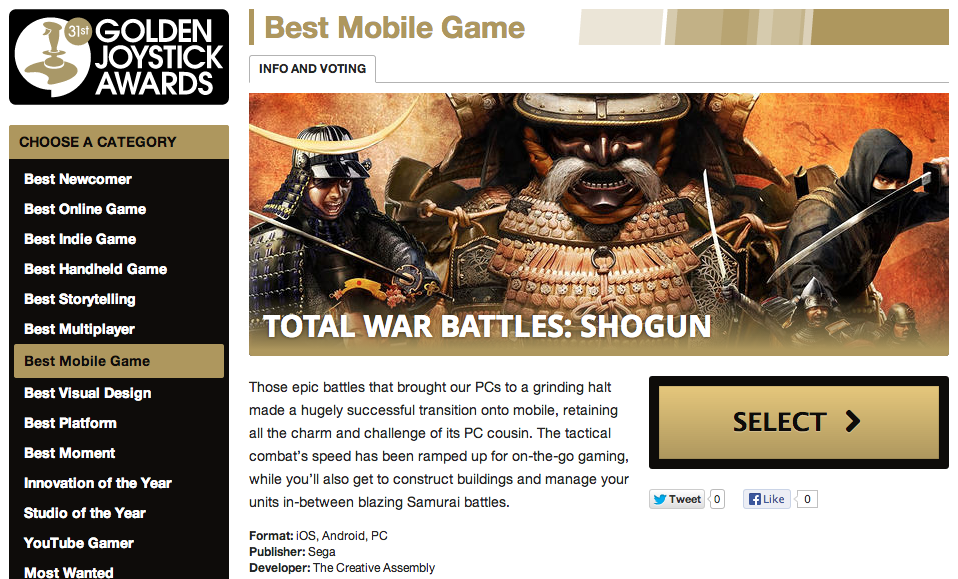 The winners are chosen by all of us, the gamers. If you wish to vote, head over to the official website and click on the respective categories to see all nominees and find out how you can vote for the SEGA stuff. That is... if you want SEGA and partners to go home with something like this: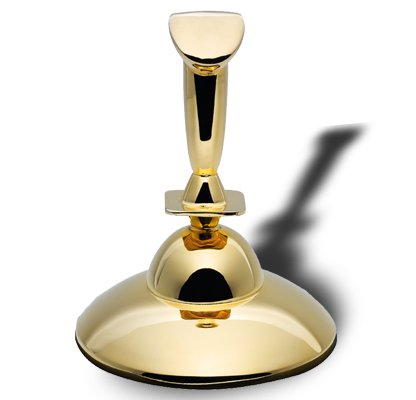 Want to send us tips? Send them to newstips[at]radiosega[dot]net!
30th August, 2013 - 13:09 GMT
KC
Article viewed 201 times
Comments:
You need to be logged in to post a comment.
Please login using the boxes at the top of the page.




Requests between 8th Dec and 15th Dec

Let's Go Away
Daytona USA

Dragon Dance
Sonic Lost World

Opa-Opa! [RD.1]
Fantasy Zone [Mark III]

Snowy Scenery ~ Version 2
Shenmue

Sega Saturn, Shiro!
SEGAROCK Vol. 01


Replies: 411

Replies: 26

Replies: 16

Replies: 2

Replies: 8


http://www.segadriven.com/

http://www.sonicradio.net/

http://www.lastminutecontinue.com/

http://www.sonicstadium.org/

http://www.radionintendo.com/

http://www.summerofsonic.com/

http://outrun86.wordpress.com/

http://www.projetosegabrasil.com/

http://www.stconline.co.uk/

http://soniclondon.com/