Puyo Puyo Tetris To Have Cross-play For All Available Versions
Link up between your PS3s/Vitas plus WiiU/3DS for some block/blob-busting fun.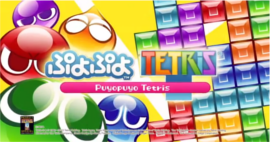 Puyo Puyo Tetris will now allow players to challenge each from different systems with the new cross-play feature. Now those that own the game on the PS3 can play with an opponent using his/her own PS Vita version of the game and vice versa. The same will also be for the Wii U/3DS versions too.

This collaborative title to be published by SEGA for Japan has the mechanics of the famous block puzzle game Tetris together with SEGA's own blob puzzler Puyo Puyo for an interesting and colorful mashup of a game. Players will also be able to use such abilities like "swap" and "big bang," "party" with friends and even replay back past games.
Puyo Puyo Tetris arrives exclusively for Japan February 6th.
SOURCE: Siliconera
Want to send us tips? Send them to newstips[at]radiosega[dot]net!
15th January, 2014 - 22:04 GMT
Twinny
Article viewed 220 times
Comments:
You need to be logged in to post a comment.
Please login using the boxes at the top of the page.




Requests between 20th Apr and 27th Apr

Dreams in a Pie
Napple Tale: Arsia in Daydream

Movyaboday (Club Zone)
Hell Yeah! Wrath of the Dead Rabbit

Curse God Fomalhaut
7th Dragon 2020-II

Trellia`s Bay
Ecco: The Tides of Time [Mega Drive]

Max Man
Streets of Rage Remake


Replies: 3

Replies: 2120

Replies: 1043

Replies: 2

Replies: 2325


http://www.segadriven.com/

http://www.sonicradio.net/

http://www.lastminutecontinue.com/

http://www.sonicstadium.org/

http://www.radionintendo.com/

http://www.summerofsonic.com/

http://outrun86.wordpress.com/

http://www.projetosegabrasil.com/

http://www.stconline.co.uk/

http://soniclondon.com/

http://web8.orcaserver.de/ecco/