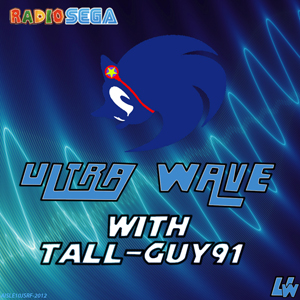 ---
Ultra Wave Show Update
Due to this situation at work probably continuing until the beginning of May, there will be no live shows of Ultra Wave in April, but never fear as there will be a couple of pre-recorded shows getting made for next month.

Click the post for more info.
As what the first part of the post says, there will be no live shows of Ultra Wave coming in April.
Now before you start jumping up and down with excitment thinking that you won't be hearing my terrible voice for a whole month, I regret to inform you that I will be making a couple of pre-recorded shows, so there's at least some content for you all to listen to on two of your Saturdays next month (I know this is bad news for you all but hey, I'm not bothered).
If you would like to request music for the shows next month then you can do so by sending them to the official Ultra Wave Thread via the RadioSEGA Forums, via Twitter to my personal Account (@TheTallGuy91) or to the shows offical Hashtag #RSUltraWave, or you can as always send your requested tracks to my personal E-Mail address: thetallguy91 [at] gmail [dot] com
I apologise for this to happen and I know I did say that I wasn't going to be doing pre-recorded shows anymore, but this will be the first and only time this year there will be recorded shows, I will keep you all posted as to when Ultra Wave will back live & kicking on the airwaves.
27th March, 2013 - 16:39 GMT
Tall-Guy91
Article viewed 259 times
Comments:
You need to be logged in to post a comment.
Please login using the boxes at the top of the page.




Requests between 20th Apr and 27th Apr

Dreams in a Pie
Napple Tale: Arsia in Daydream

Curse God Fomalhaut
7th Dragon 2020-II

Max Man
Streets of Rage Remake

Comin'at ya, My girl
Yakuza 5 (Ryu ga Gotoku 5)

Movyaboday (Club Zone)
Hell Yeah! Wrath of the Dead Rabbit


Replies: 1217

Replies: 1046

Replies: 2327

Replies: 3

Replies: 10


http://www.segadriven.com/

http://www.sonicradio.net/

http://www.lastminutecontinue.com/

http://www.sonicstadium.org/

http://www.radionintendo.com/

http://www.summerofsonic.com/

http://outrun86.wordpress.com/

http://www.projetosegabrasil.com/

http://www.stconline.co.uk/

http://soniclondon.com/

http://web8.orcaserver.de/ecco/