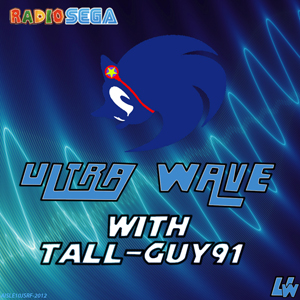 ---
First Ultra Wave Recorded Show Next Saturday!
After having an massive delay due to a fiasco that's been happening at my work place, Ultra Wave will finally be having it's first show in April next Saturday.
Sadly as I've said in my last post it is going to pre-recorded but, of course, we will still be playing all your favourite songs from the Sonic franchise & other SEGA related songs as well.
If you want to request music for next weekends show or for any live show at all, you can always send your requests to the Ultra Wave Thread in the RadioSEGA Forums, via Twitter by tweeting me to my account (@TheTallGuy91) or to the shows official hashtag #RSUltraWave, or if you don't have Twitter or are not signed up to the RS Forums then you can always send me a good old fashion E-Mail to the address: thetallguy91 [at] gmail [dot] com
There will be another pre-recorded show coming this month, as well as details on when the next live show will be, plus, keep an eye on the RS Blog as information of a special Ultra Wave show will be coming up later on during this coming month as well.
I hope all of you are all well & good and I hope you enjoy the rest of the weekend.
7th April, 2013 - 11:43 GMT
Tall-Guy91
Article viewed 326 times
Comments:
There are no comments for this article.
You need to be logged in to post a comment.
Please login using the boxes at the top of the page.




Requests between 20th Apr and 27th Apr

Dreams in a Pie
Napple Tale: Arsia in Daydream

Curse God Fomalhaut
7th Dragon 2020-II

Movyaboday (Club Zone)
Hell Yeah! Wrath of the Dead Rabbit

Max Man
Streets of Rage Remake

Three Dragons / The Mad True Dragon
7th Dragon [Arrange ver.]


Replies: 2120

Replies: 1043

Replies: 2

Replies: 2325

Replies: 2


http://www.segadriven.com/

http://www.sonicradio.net/

http://www.lastminutecontinue.com/

http://www.sonicstadium.org/

http://www.radionintendo.com/

http://www.summerofsonic.com/

http://outrun86.wordpress.com/

http://www.projetosegabrasil.com/

http://www.stconline.co.uk/

http://soniclondon.com/

http://web8.orcaserver.de/ecco/