Sonic the Comic Is 20 Years Old!
We're a bit late and we actually did everything we could to post this in time with STC's anniversary. However, life can get a bit crazy sometimes. Nevertheless, don't let us ruin the celebration. Read on for our own tribute to Sonic the Comic.
It's now 2013 and we're all hip kids and whatnot. But, before the advent of free-for-all interwebz and the massive media showers we get today, kids growing up in the 90s held on to every piece of news, TV or other kind of ads, drawings, etc., that mentioned their favourite video game characters. And for some of those kids, namely the ones in the UK, starting in May 29th, 1993, that meant buying every issue of Sonic The Comic.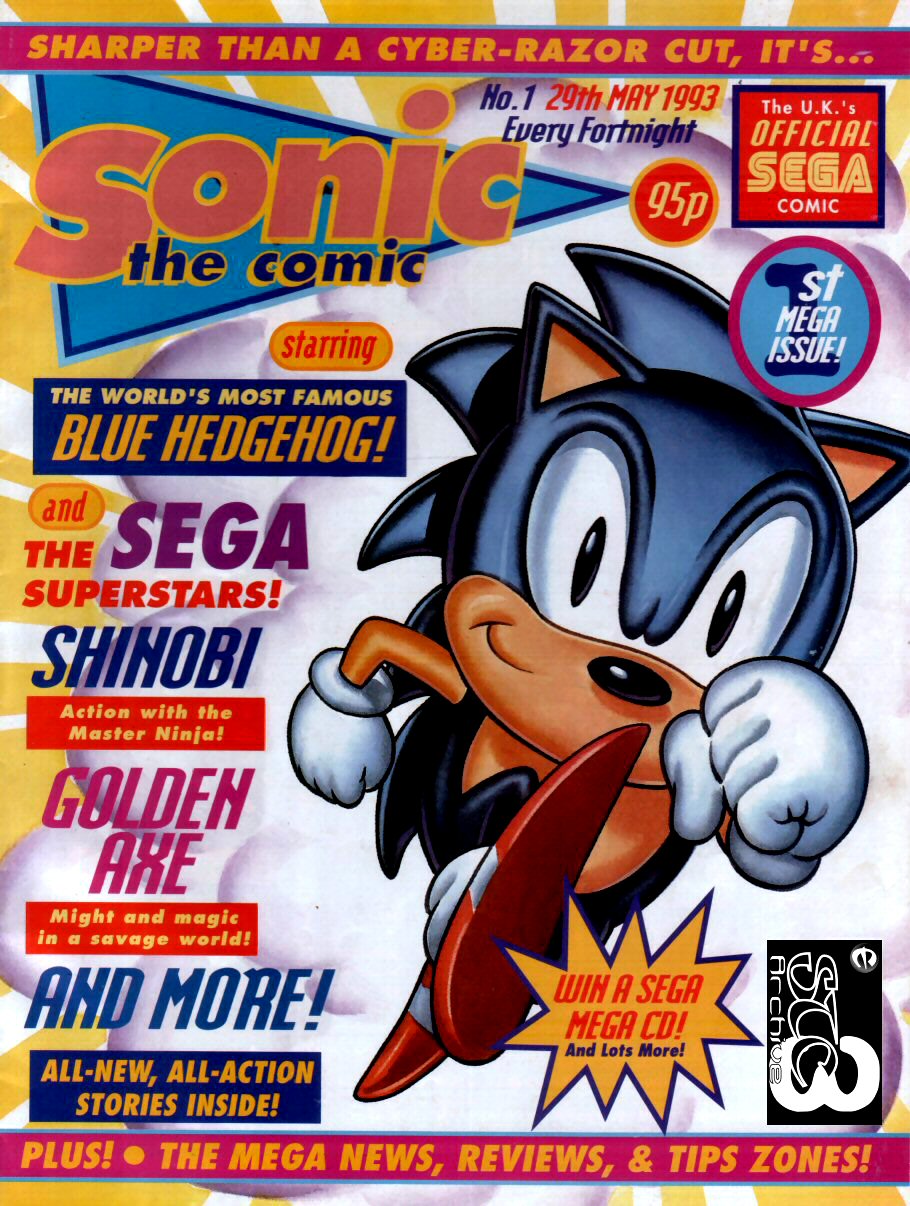 Sonic The Comic, aka STC or Fleetway's Sonic the Comic (named after the publishing company), or whatever else people called it, had always a different approach on the Sonic the Hedgehog franchise. Being not from the UK, I just recently began to immerse myself in the world of STC. I thought I knew Sonic's world. I thought wrong.
One of the major plot differences I found was related to Super Sonic. Since Sonic the Hedgehog 2, Sonic fans worldwide are eager to get all chaos emeralds in order to make that transformation happen. But, what if Super Sonic made our favourite hedgehog turn evil? What if, instead of wanting to harness the chaos energy in order to stop Eggman… I mean, Robotnik, Sonic stayed away from it to avoid the transformation process? You can read things like that in Sonic the Comic. If anything can be said about the writing (helmed mainly by Nigel Kitching or Lew Stringer) is that they were never afraid to take risks and leed the Sonic franchise somewhere new.
In addition to the Sonic comics themselves, ranging from the blue blur to other characters in the franchise, like Porker Lewis or Tails, STC also featured comic strips based on other franchises, like Streets of Rage, Wonder Boy, Shinobi, Decap Attack and even Ecco the Dolphin, among many others. Recurring features also included the "Q-Zone", the go-to place for game cheats and tips, the "News Zone", the "Review Zone" and the "Graphic Zone" to showcase readers' artwork. STC was also well known and loved for "Speedlines", the comic's fan mail section. Fan mail would be featured and Megadroid would answer this letters.
Megadroid? Oh, that's right. There was also Megadroid, the "editor" of STC. Apparently, all the humans in charge of the comic were actually being overseen by this alien robot. His body was based on SEGA consoles like the Mega Drive, the Mega Drive II and the Saturn. There was even a version based on the Nintendo Gamecube… MADNESS!
Unfortunately, budget cuts and poor managing decisions led to Sonic the Comic to be canceled, the last printed issue being #223, released on January 9th, 2002. By then, the few final issues were already just reprints of earlier story arcs. This final issue featured a letter from Nigel Kitching talking about his involvement with the project.
In May 2003, Sonic the Comic came back as Sonic the Comic Online, an unofficial fan-created version. Ed Reynolds took the helm for the first online-only issue, #224 released on May 29th, 2003. Later on, Charles Ellis took over until issue #253, after which Michael 'Stiv' Stephenson became STCO's editor. The team behind STCO received high praise from former STC creators and staff, as well as SEGA themselves for the work developed after the printed version's demise.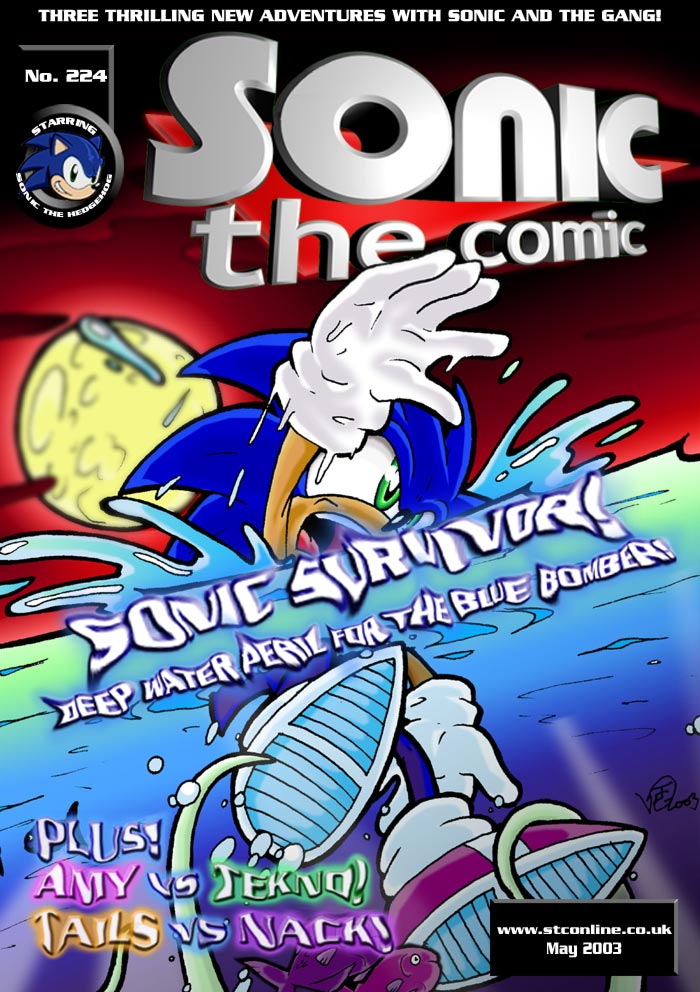 Thanks to the guys over at stconline.co.uk, fans of Fleetway's Sonic the Comic can still get their fix of Sonic strips while continuing the unorthodox plot line started by Kitching and Stringer. They also brought back the flagship features like 'Speedlines'.

If you haven't already, be sure to check out the website and get up to date with STCO. The current issue is #261, released last Thursday, just in time for the comic's 20th anniversary. In fact, the website now has a brand new "Anniversary Zone" with new features being added in the coming days. Currently, you can read comments from STC staff, check out the archives from the 10 years of STCO and read and listen to fan memories.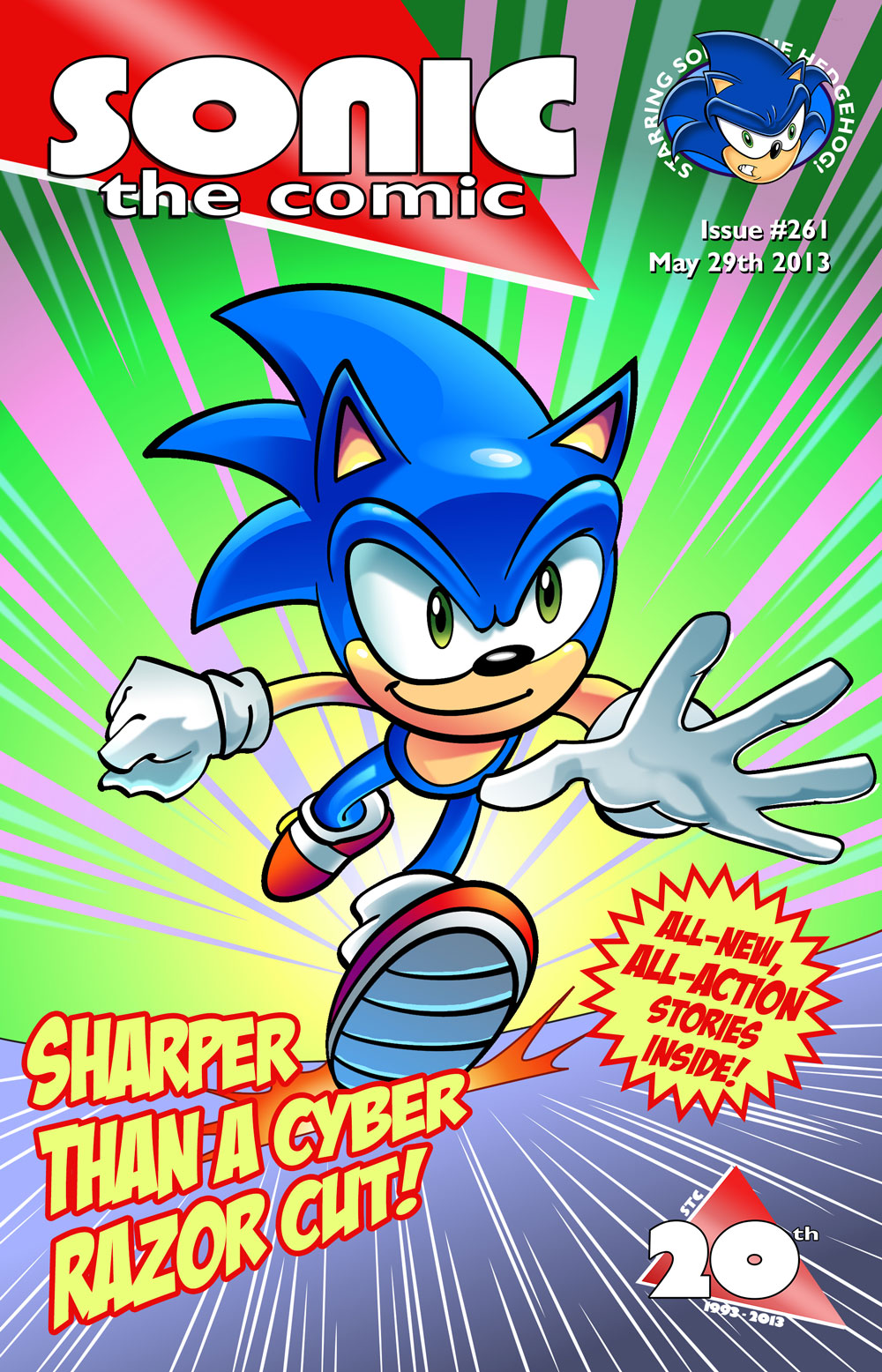 Here's what Stiv had to say to RadioSEGA regarding his experience with Sonic the Comic and the 20th anniversary celebrations: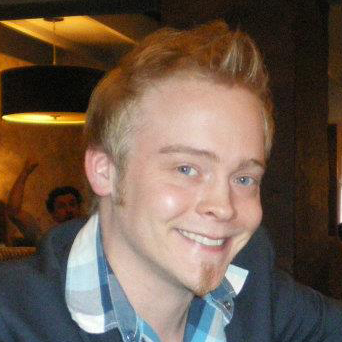 Michael "Stiv" Stephenson (Sonic the Comic Online editor, artist and letterer)
"I first started working with the STCO team in 2005 as a "freelancer", just contributing pinups and small things before being brought onto staff properly to work on the Ristar adaptation. I've loved Sonic all my life and I collected STC from the start so I'd have loved to do a Sonic strip instead but I took Ristar to get a foothold in STCO. As it turned out though, an artist fell through and I ended up doing a Sonic strip first so I was quite happy about that! I've done a few since then, including a couple of Decap Attack strips, which were great fun since I (like everyone else!) absolutely loved Nigel Kitching's work on those. My strips should be leading the next couple of issues too.

I took over as Editor in 2011 by request of Charles Ellis, the previous editor and I absolutely love it. It feels so good to have such a big part in running something that has always been a large part of my life!

I actually started collecting the print run of STC with issue #2, the issue had Woodrow Phoenix (the guy who designed Megadroid, it turns out) as the artist, on a strip called Robofox. I didn't actually get a hold of issue #1 until years later, when a friend got rid of all his comics. I've read my copies so much over the years that they're all basically falling apart now, held together with sellotape, but I love them!

Since being a part of STC fandom, and since working on STCO, I've met or talked to almost everyone who worked on STC. For the 20th anniversary, I set myself the task of making a massive search to get in touch with anyone I could find who had worked on STC, to see if they'd like to help us celebrate the event. A few have already contributed pinups for issue #261 (Including a cover image by Kev Hopgood, the lovely gent who drew the cover to STC #1) and, if you keep an eye on our 'New to STC' feature, you'll soon see plenty of things that should make you smile!"
We also tried to get in touch with Nigel Dobbyn and Lew Stringer to get their comments on the anniversary, but unfortunately they were unable to get back to us. Instead, have a read at what one of our own had to say about STC:
Gavin 'Gavvie' Storey (RadioSEGA owner, DJ)
"I remember the first time I read Sonic the Comic - it was a mini preview that came with Judge Dredd Magazine, a kid friendly version of 2000AD. I practically begged my parents to buy me the first issue when it came out on 29th May 1993, and for the next 5 to 6 years I bought it religiously, until I felt I had grown out of it - what a bad decision that was!

Whilst the Sonic strips were always my favourites (Super Sonic in particular was my favourite character), I also enjoyed the Sparkster, Wonder Boy & Decap Attack strips that regularly featured, the latter of which was nice to see in a recent STC-O outing.

It's a shame the comic ended when it did, as I feel it could have been like the Archie comic and ran for a lot longer - I'm very thankful to the STC-O crew for taking the storyline and continuing it, thus keeping its legacy alive.

Happy Anniversary STC!"
It's been quite the run so far. 20 years is a long time, but not too long. We hope the STCO staff keep up the good work they're doing and we can't wait to watch them reach another landmark. Roll on, issue #300!
Happy birthday, Sonic the Comic, from all of us here at RadioSEGA!
4th June, 2013 - 02:43 GMT
KC
Article viewed 2280 times
You need to be logged in to post a comment.
Please login using the boxes at the top of the page.