RadioSEGA At Sonic Boom 2014 Pt. 2: Twinny's Take (Sonic's in The Big Apple)
Hallo everyone, this is Part Two of RadioSEGA at Sonic Boom 2014! This part details Twinny's experience of the event. Hit the jump to read on my perspective of a "super Sonic Saturday night!"
This is part two of our Sonic Boom 2014 retrospective. To check out part one, just click here.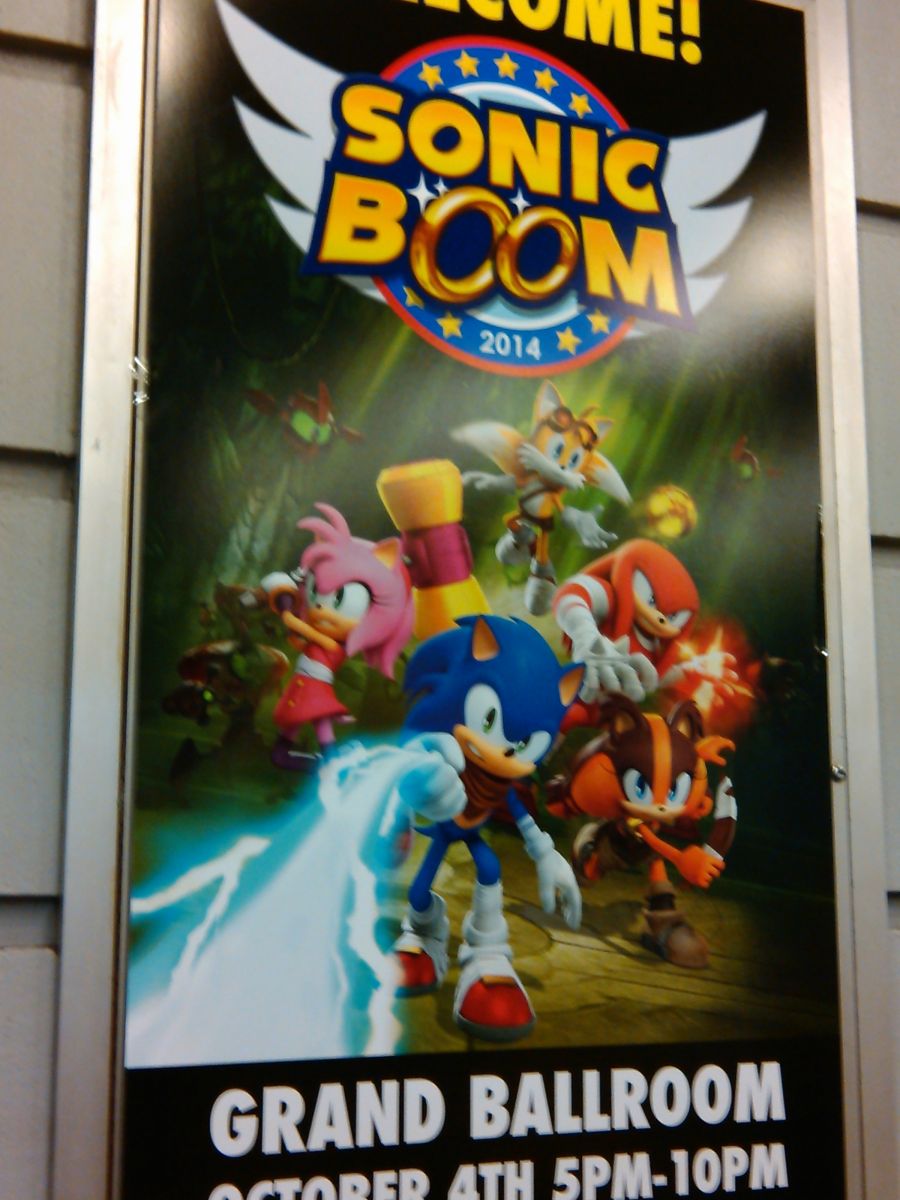 "It's happening~!!!"
Saturday October 4th, 2014. A night, I'll remember for as long as I live. On that date, I was waiting on line for Sonic Boom 2014. This was the fourth such installment of the event, and the first to be held on the East Coast of the United States of America. Sonic fans from across the nation, as well as abroad, converged into the Manhattan Center for a super Sonic Saturday night of awesome.
Before the Boom, I was there in line waiting for the building's doors to open, alongside the throngs of fans who arrived a couple hours before. A bit later I was directed to the Media line, which was a great surprise for me. An even better surprise was that "Mr. Wonderful" himself, Adam Tuff A.K.A. T-Bird, part of the Media group. TheChaosBlue (TCB) and me mingled with T-Bird about the event, his trip to New York and other things. During that time, Takeshi Iizuka walked right past me and I promptly freaked out with happiness.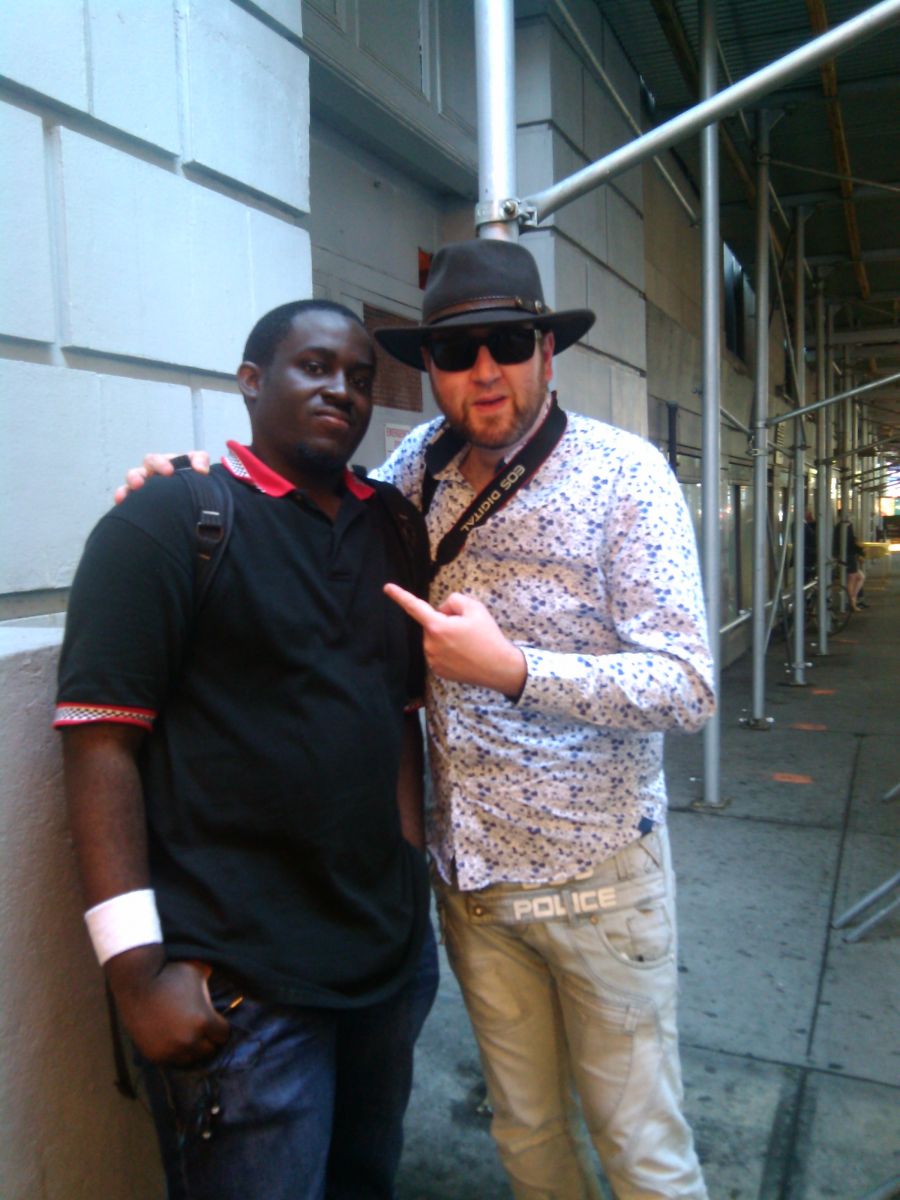 Me with "The Man with the MasterplanHats" T-Bird!

Once 5:00 hit, it was time. Us in the Media line were let in a bit earlier as we were identified and given special wristbands as we were VIP. Once TCB and I entered the main room of the Manhattan Center it was like being at Summer of Sonic, got to be honest. The stage, game stations, merch display, autograph areas...it was all first-time sight for me. Once I gotten the free tote bag (complete with program guide and two large posters) it was time to have fun.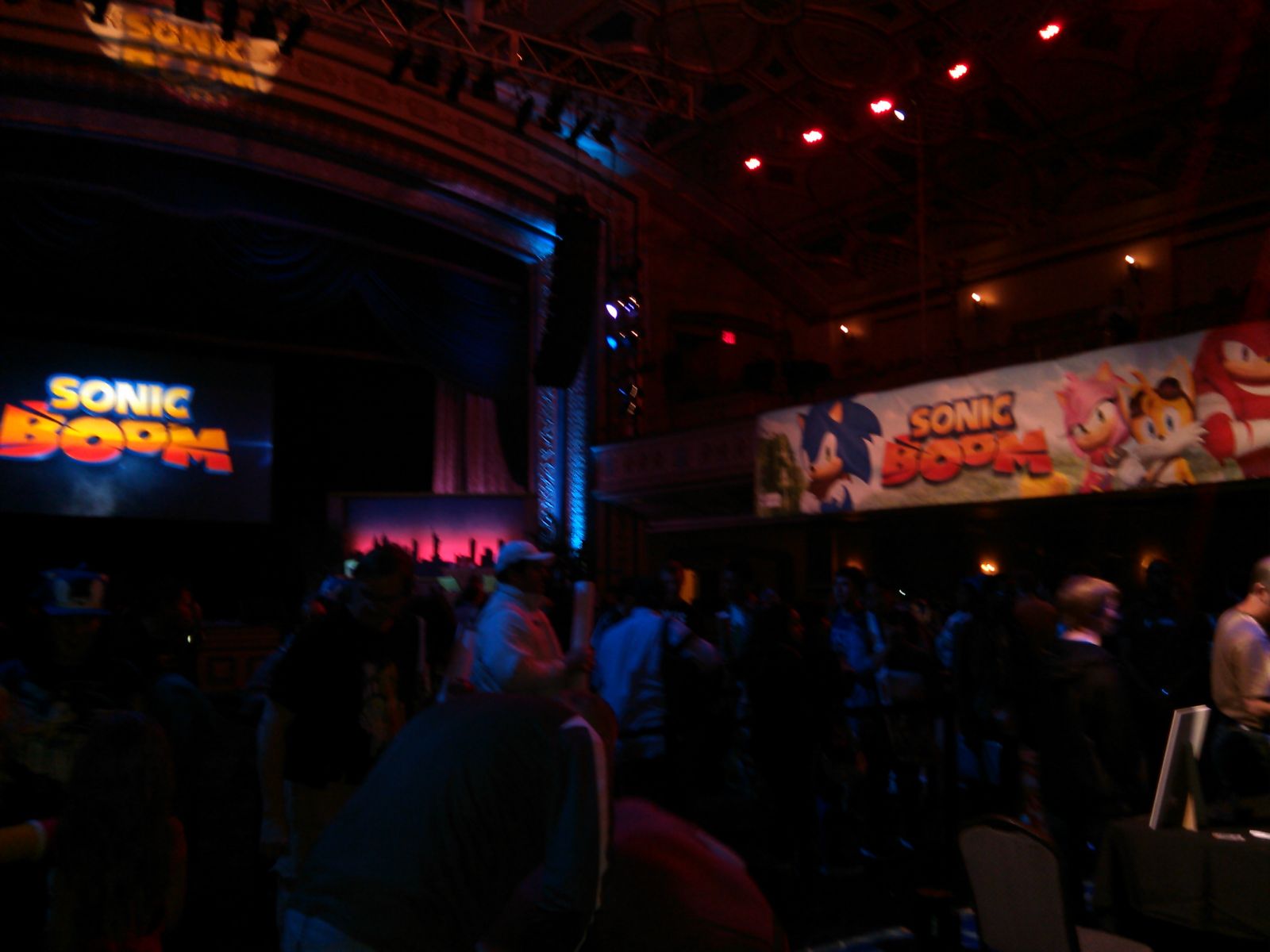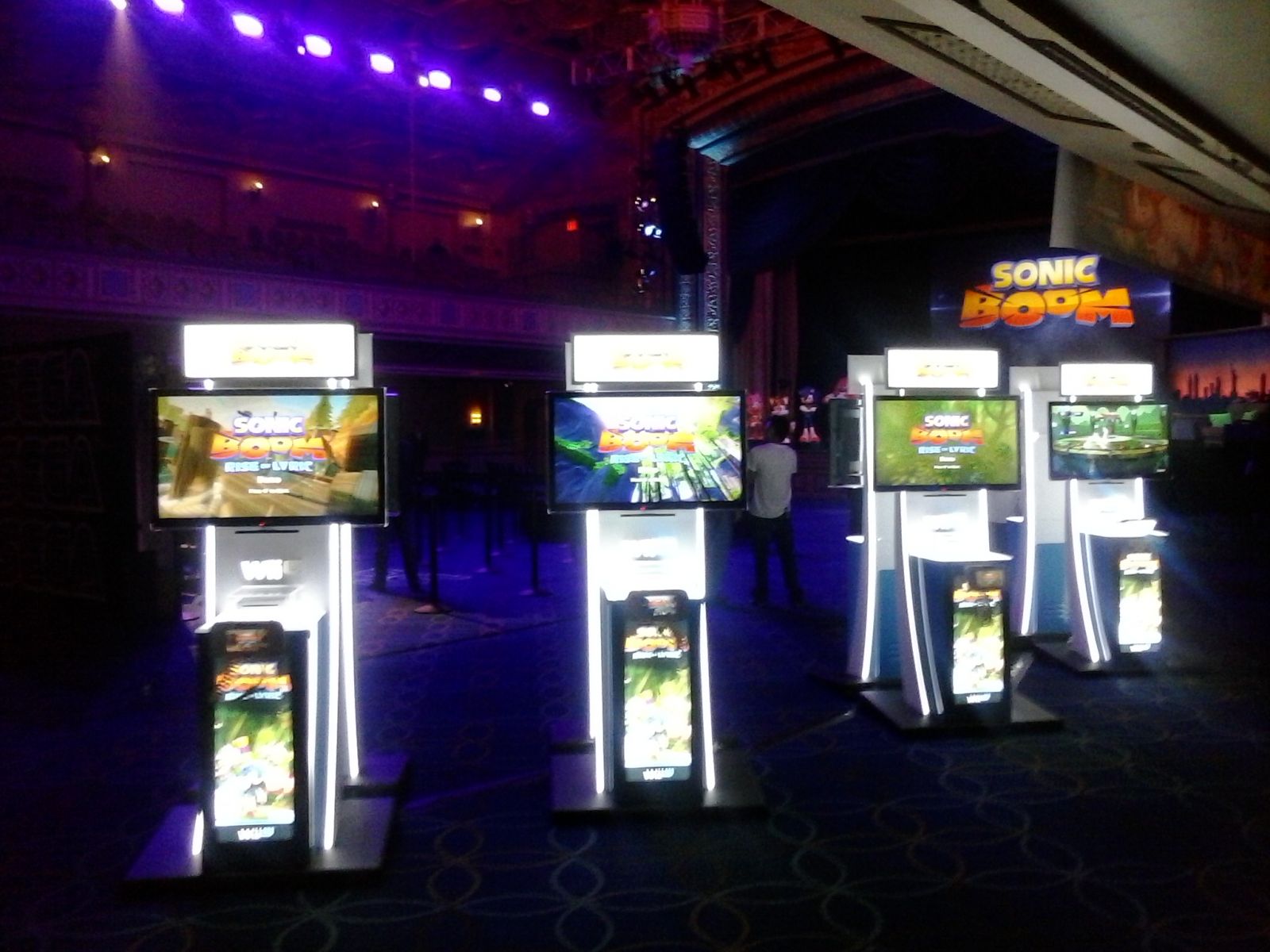 TOP: Lights dimmed for the hype.
BOTTOM: The Sonic Boom Wii U demo stations

The very first thing I went to check out was the Sonic Boom: Rise of Lyric demo. Now the game have gotten lots of talk (and in some cases, unneeded flak but that's another story) and I was like, "Alright let's see what exactly how this game plays out." Controls was a bit confusing and navigating puzzles and platforming was tricky but that didn't deter me from liking what I played. Sonic and Amy both controlled well and the graphics looked really great from what I seen first-hand through my own eyes. The 3DS demo I tried later on was, in my opinion the better demo I played. The 3DS buttons were comfortable for me, thus the controls were less confusing for me. But man, I thought the level would never end! The developers did mean it when exploration is key. Playing the demo made me still have hope for the game.
By the time I was finished with the demo, people started lining up for the first wave of autograph signings. Forgotten who was/were up first for that signing area but the other area for Sonic Archie artist Tracy Yardley! was lining up just as quick with the main one. Unfortunately both lines gotten too long for me to wait in them at that moment, so I went towards other parts of the event floor.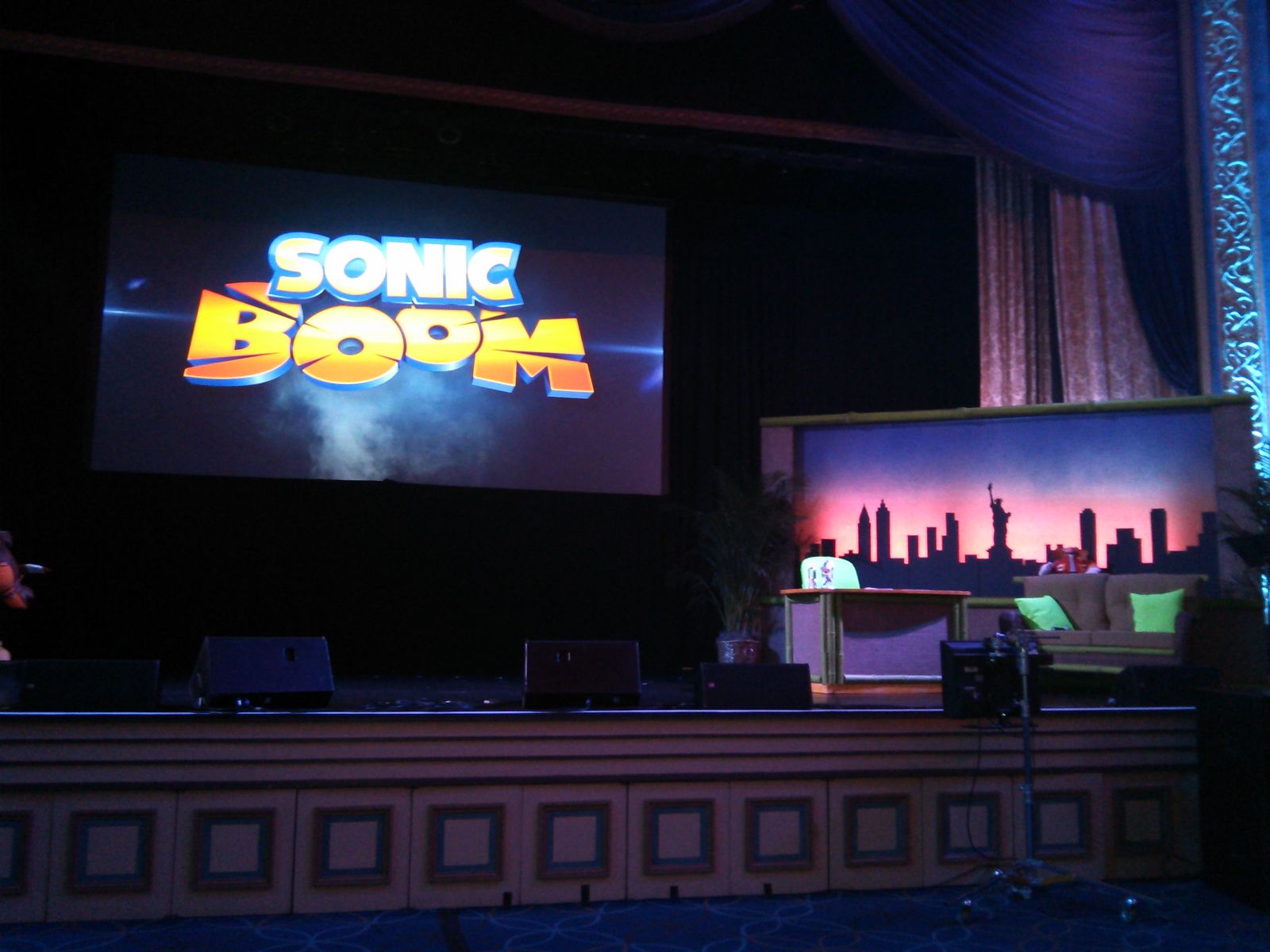 Iiiiit's Late Night Sonic Boom with your host, Stephen Frost!

This is when I met up with some well-known people from around the Sonic community and fellow fans. Other than T-Bird himself, I was happy/honored to meet such folk like SEGA Driven's and RadioSEGA DJ SonicYoda, Lizzy Silvas (brain tumor survivor and past SEGA Lounge guest), Radio Nintendo's Cdrom1019, Cobanermani456 and TailsChannel from YouTube, Sonic Revolution's Tanner/Ogvile, Iceman Etika (ex-SEGASonic Radio DJ now YouTuber), KaciTheCat from DeviantART, Twitter friend BakingBluePotato and even SSMB's Kiah through my brother. There were others I wasn't able to meet or saw a passing mention though; wished I able to meet with them too.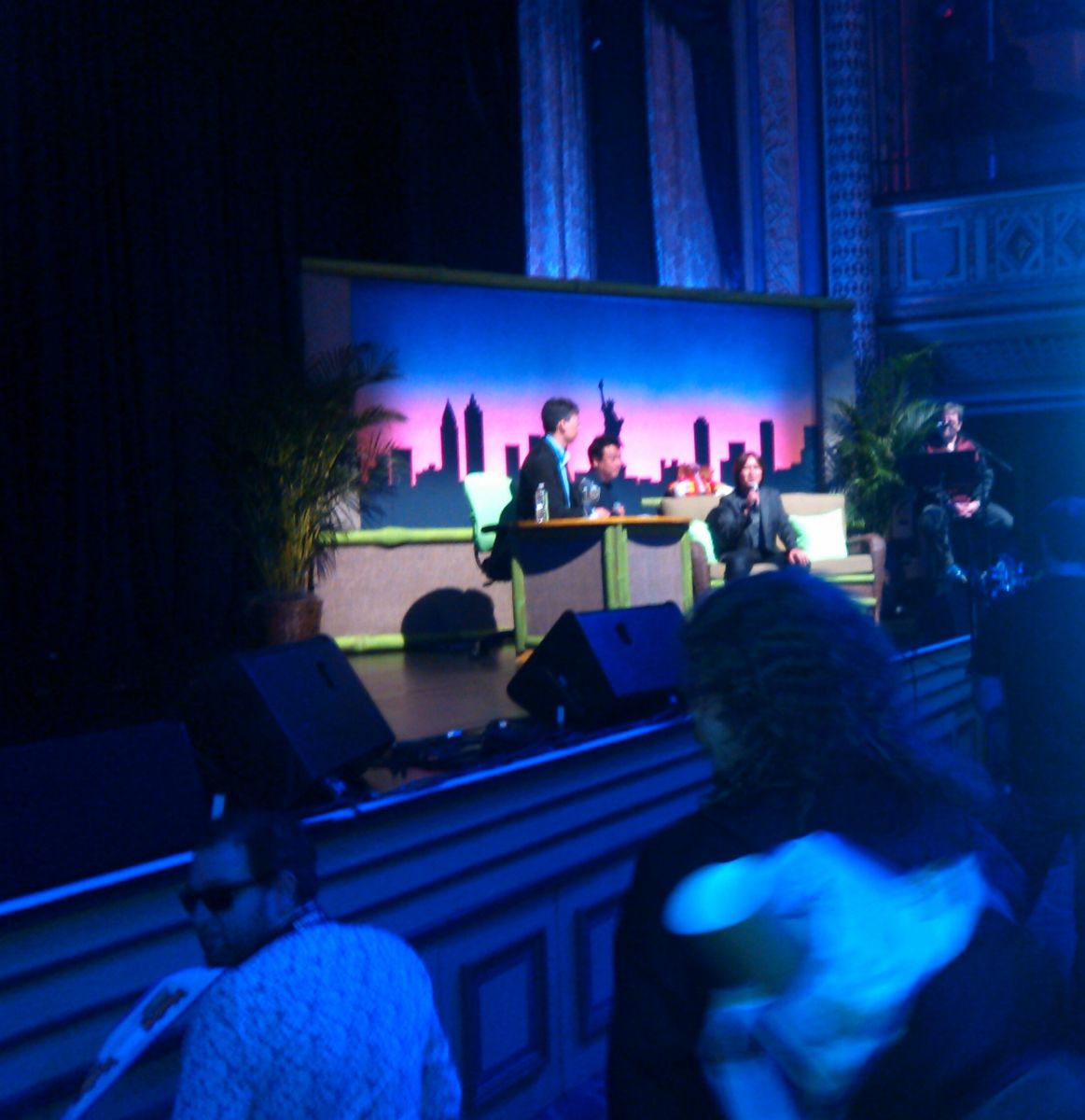 Stephen having a chat with the one and only Takeshi Iizuka.

The onstage happenings from Boom 2014 were really cool. From Jun's and Tomoya's musical interlude sets, the interviews Stephen Frost conducted with the special guests, the Sonic Boom cartoon table read from the show's VA's themselves, and of course, Ted Poley and Tony Harnell closing out the event, everything that happened on that stages were top notch. The audience were really glued for much of the things happening on the stage. Like, whenever festivities were set to resume the people scurried to the stage area like Sonic speeding to get the first batch of chili dogs. Plus, the audience reacted so positively strong to it all.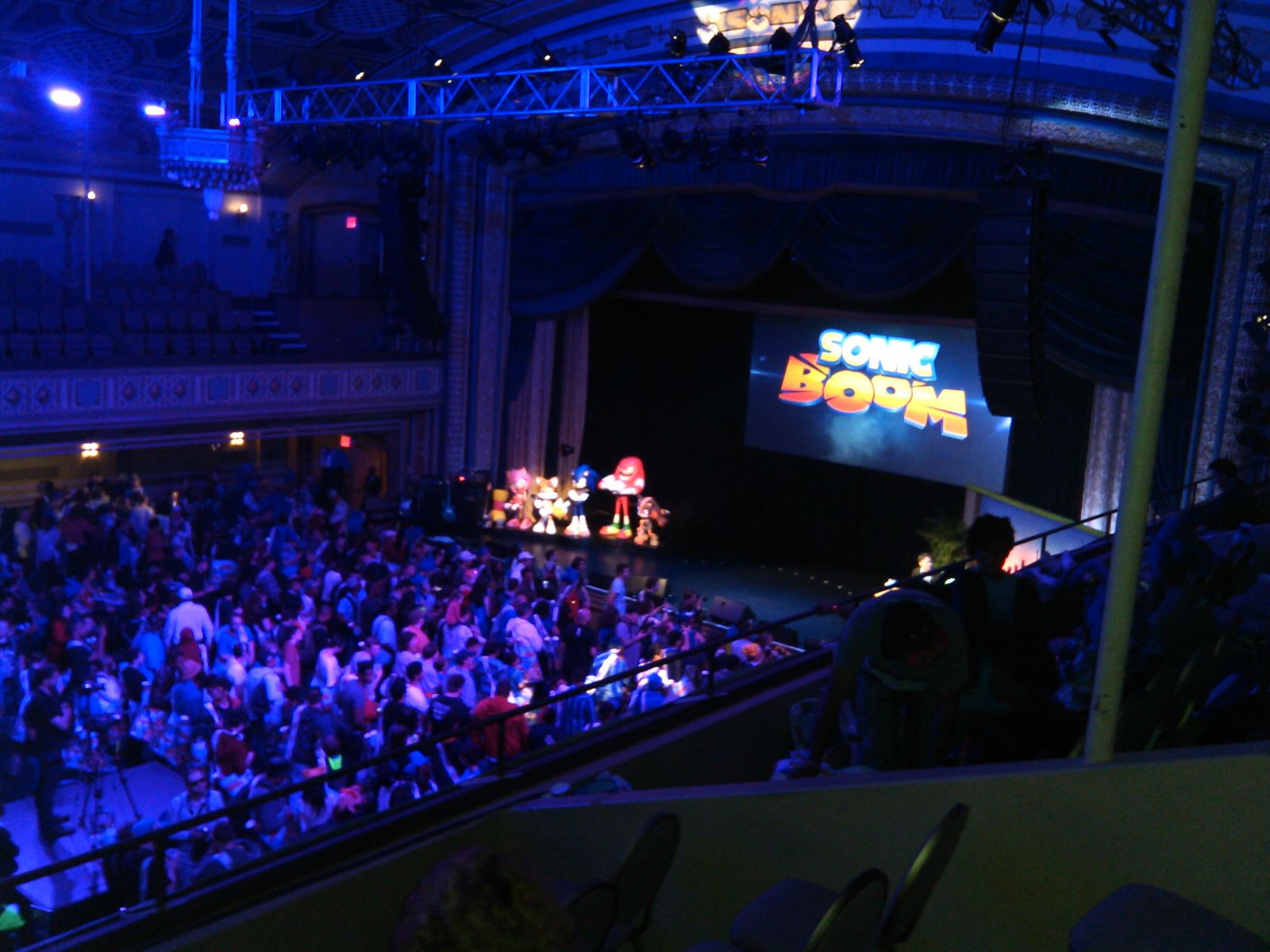 The view from the VIP section of the Manhattan Center

I was enjoying what was going on from the VIP section up on the balcony, looking down at all the madness happening down below. VIP attendees even gotten an additional swag bag that included a shirt (for the children since they're too small), a Sonic Boom plush, Sonic quill hat, and the "Countdown to Chaos" anthology from Archie Comics. Event staff even served chili dogs, cookies, pizza bagels, fruit and water for us VIP attendees! But I couldn't stay up there all night so I headed back down the main floor and glad I did. Managed to have my posters signed by the producers of the Boom games plus a signature from the man Iizuka himself.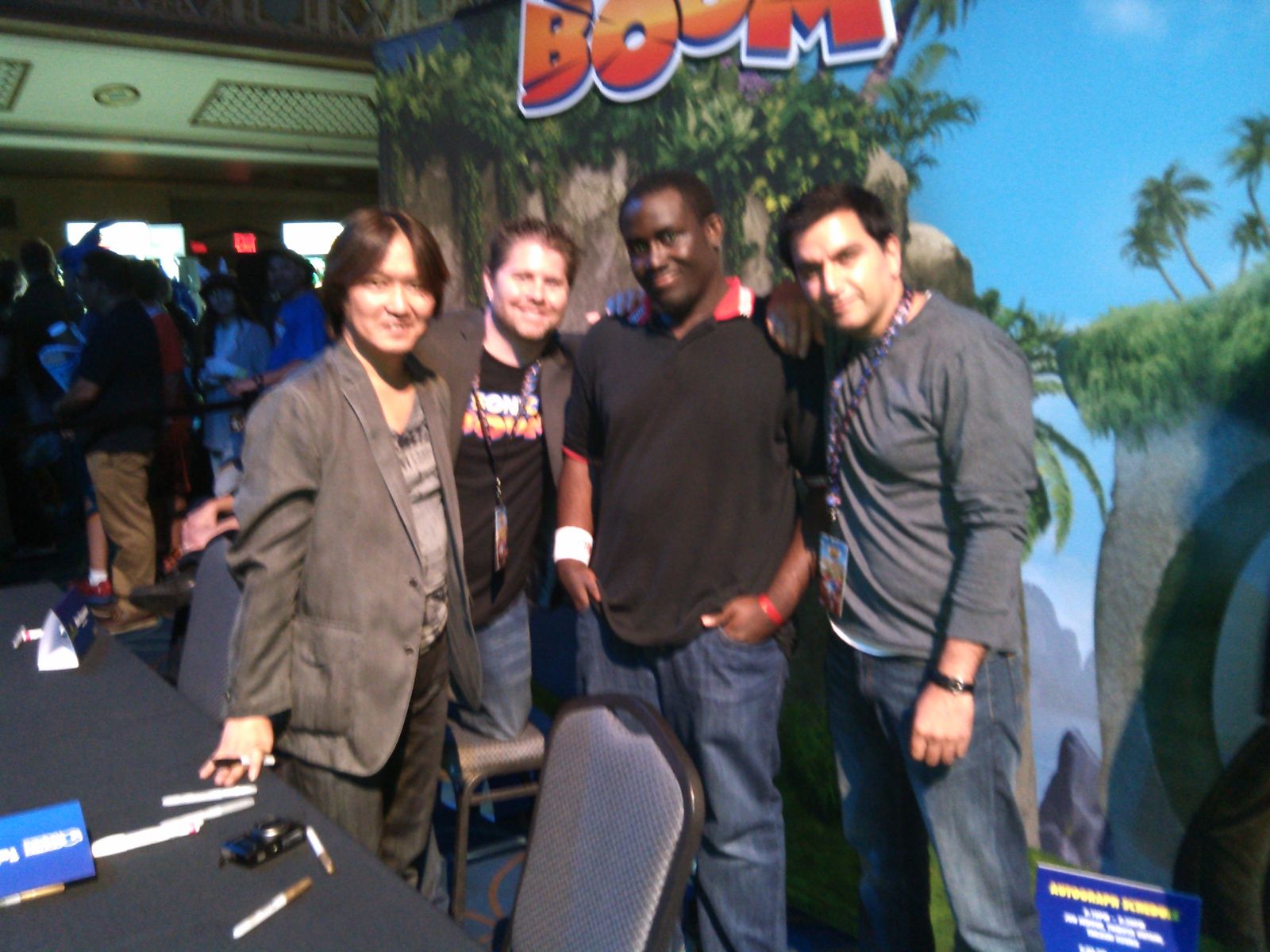 I was one of the lucky ones that night, haha.


As the event came to a close and some of us were still outside the Manhattan Center we all were still reveling in what we were a part of. Even managed to get a few more pictures with Roger Craig Smith, Jun Senoue and Tracy Yardley! before we finally dispersed away from the building.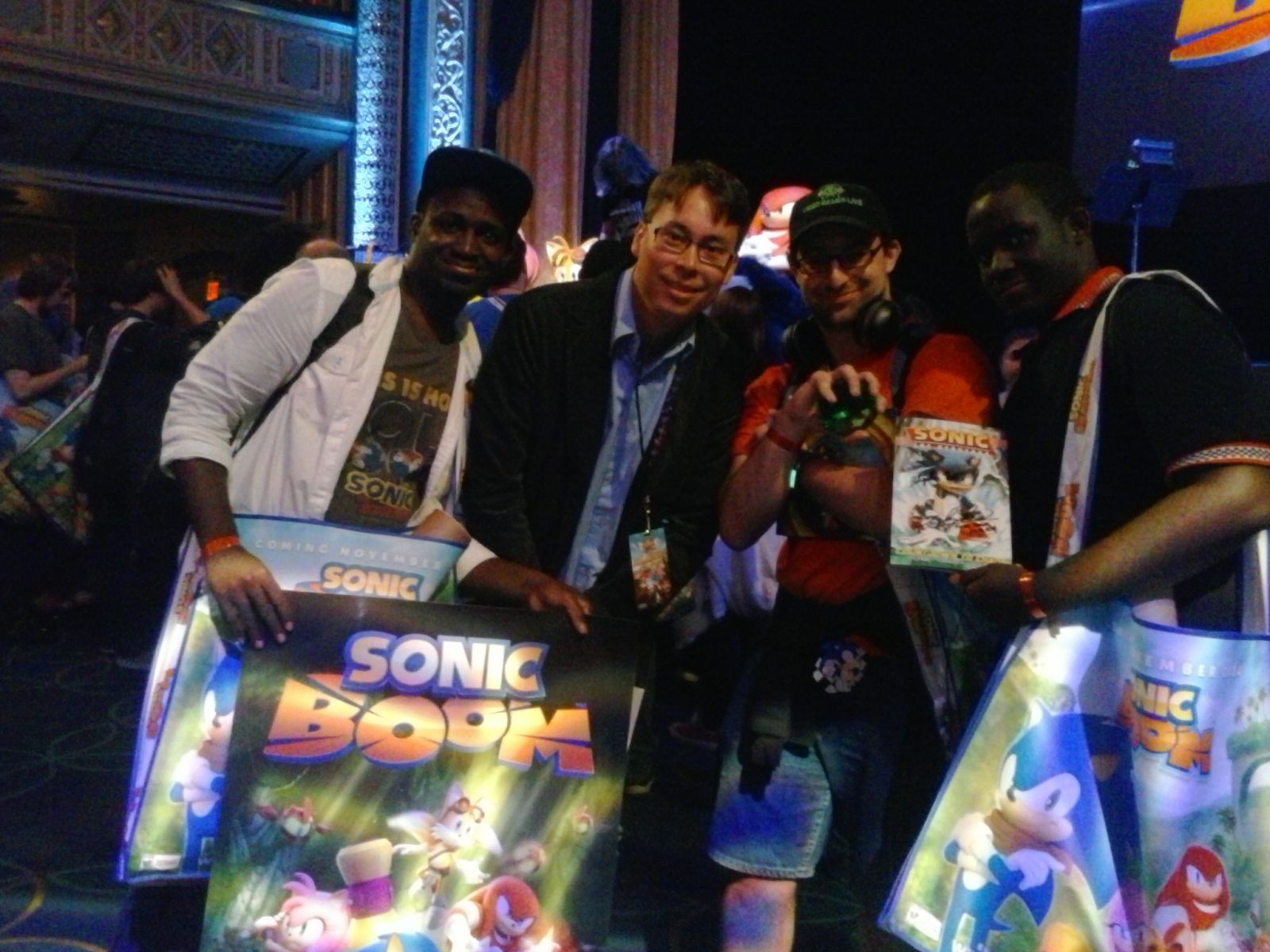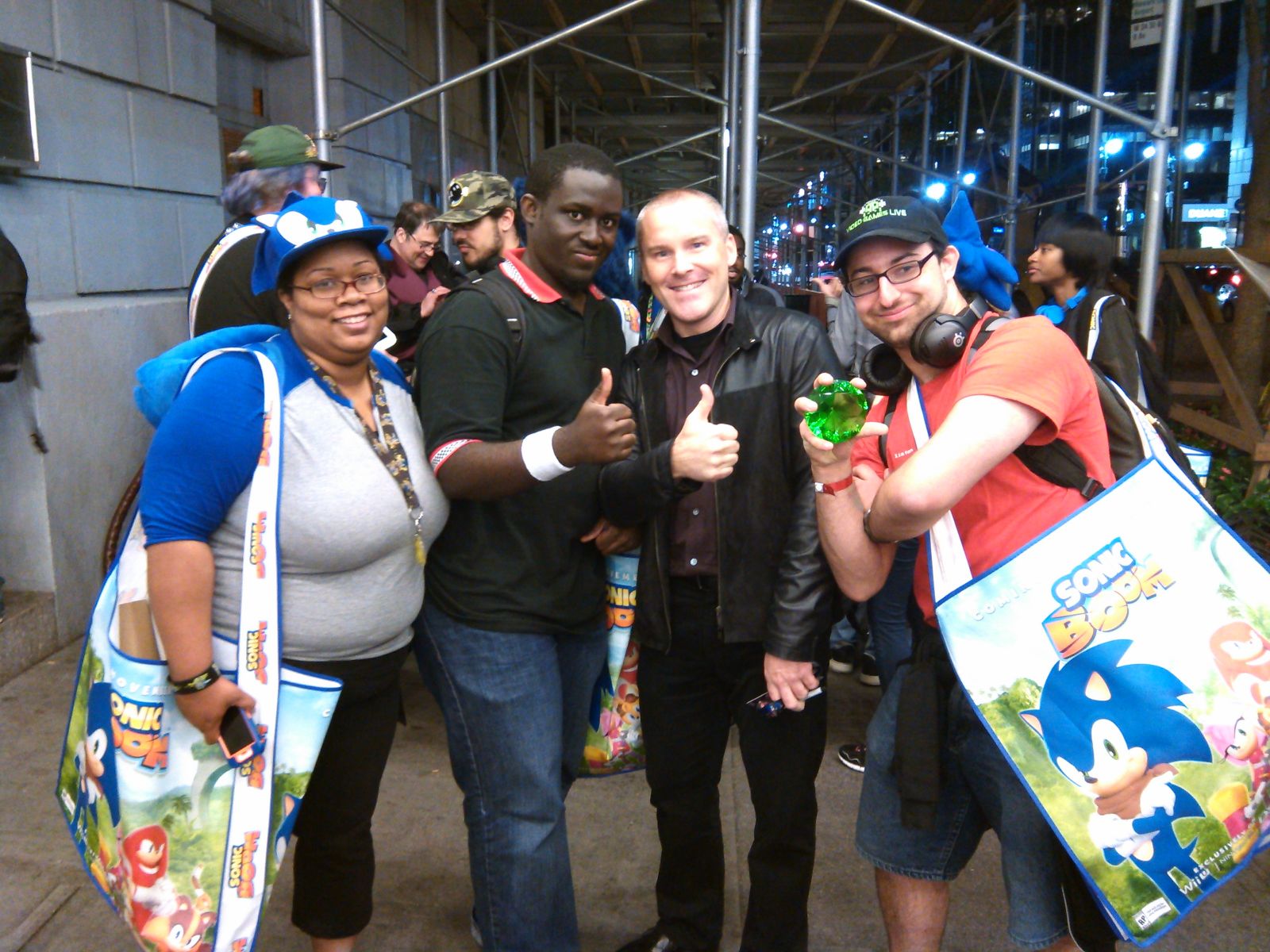 So thankful for SEGA bringing the Sonic Boom event to the East Coast and what better way to have it then at "The City that Never Sleeps?" Thankful for all the people that put the event together for us, the Sonic fans far and wide. Thankful to all the people I met that night and got to know, if only it was for a short while.

Let's hope SEGA brings it back to NYC in the future, huh? :)
8th October, 2014 - 00:44 GMT
Twinny
Article viewed 3972 times
There are no comments for this article.
You need to be logged in to post a comment.
Please login using the boxes at the top of the page.