Big "Persona" Concert Coming This August
A summertime ride through the Atlus serie is on its way.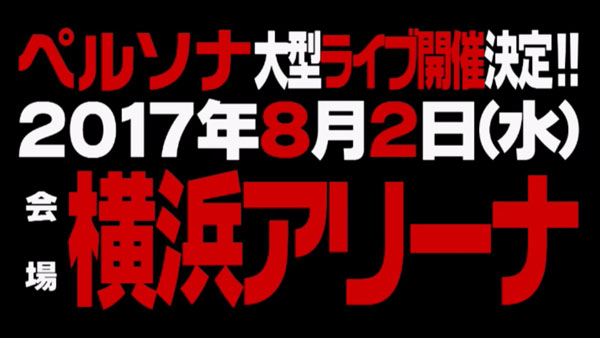 Atlus have announced a Persona-heavy concert set for August 2nd at the Yokohama Arena in Japan. This big event follows the "Persona Super Live" concert held back in 2015. The announcement itself comes right off the heels of Persona 5's worldwide release this week in which the timing is highly fitting.
No other details about the musical event other than the date and location; Atlus will reveal more information as time closes in on the big day.

SOURCE: Gemastu
31st March, 2017 - 01:11 GMT
Twinny
Article viewed 1776 times
Comments:
There are no comments for this article.
You need to be logged in to post a comment.
Please login using the boxes at the top of the page.




Requests between 9th Sep and 16th Sep







Replies: 5

Replies: 134

Replies: 1011

Replies: 16

Replies: 2417

http://www.segadriven.com/
http://www.lastminutecontinue.com/
http://www.sonicstadium.org/
http://www.summerofsonic.com/
http://outrun86.wordpress.com/
https://www.facebook.com/groups/soniclondon/
https://twitter.com/cavernsofhope
http://16bap.theclassicgamer.net
http://www.seganerds.com
http://www.sega-addicts.com
http://segadoes.com/
http://thesonicshow.org/
http://twitch.tv/thecorndogbandit
http://www.thedreamcastjunkyard.co.uk/
http://yakuzafan.com/
http://puyonexus.com/