RadioSEGA's Fan Choice Awards 2017 - The Results
Another year has gone by and as we begin anew in 2018, let's take one more look at the year that was with our music awards.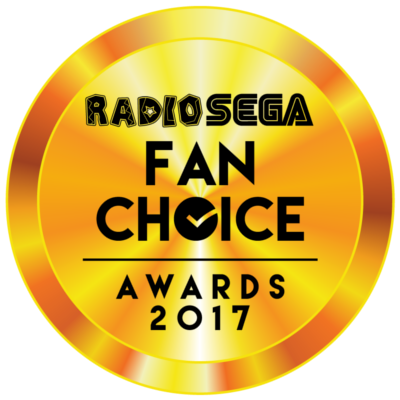 This past weekend (or last year, if you want to go in on the New Year jokes), our Fan Choice 2017 Awards broadcasts were held, revealing which track from their respective categories of Song and Remix of the Year would take the victory. If you missed the results aired live that time (how COULD you? XD) not to worry as we have the standings right here in this post.

Not only will we rank each nominee down as usual but will also inlcude the voting percentages as well. Without further ado…

10th - Pumpkin King - "Under the Starlight" (1.4%)
8th [TIE] - NoTuX - "Sky High", Wobbler - "Oh No, It's a Trap" (3.4%)
6th [TIE] - longestsoloever - "Flying Battery Zone", Tuberz McGee - "By the Seaside" (4.1%)
5th - RoBKTA - "Go Skate" (6.2%)
4th - Johan Andersson - "Afterburner" (7.5%)
3rd - turtledove - "Water on the Moon?!" (11.6%)
2nd - Dj CUTMAN feat. Breakbeat Heartbeat - "Chao Garden" (15.1%)
1st - GaMetal feat. The8BitDrummer - 2 Player (43.2%)

10th - 3D Fantasy Zone II W - "Endless Love" (1.4%)
9th - 3D Galaxy Force II - "Take Back" (3.7%)
8th - Crazy Taxi [SEGA Forever] - "All I Want" (5.1%)
7th - Sonic Mania - "Prime Time" (6.7%)
6th - Yakuza 0 - "Judgement (Full Spec Edition)" (8.9%)
5th - Sonic Mania - "Danger on the Dance Floor" (9.6%)
4th - Sonic Mania - "Blossom Haze" (10.4%)
3rd - Persona 5 - "Last Surprise" (11.1%)
2nd - Persona 5 - "Life Will Change" (14.1%)
1st - Sonic Mania - Lights, Camera, Action! (28.9%)
There you have them, our complete rundown of RadioSEGA's Fan Choice 2017 Awards! Huge congrats to GaMetal and The8bitDrummer plus Tee Lopes on their respective big wins as well as all other community artists nominated for Remix of the Year and to the SEGA and Atlus musicians and artists for another great year of gaming music.
What will become of 2018? Time will surely tell! Continue listening to RadioSEGA as we'll do our best to showcase the very best in such media.
2nd January, 2018 - 01:13 GMT
Twinny
Article viewed 1655 times
There are no comments for this article.
You need to be logged in to post a comment.
Please login using the boxes at the top of the page.