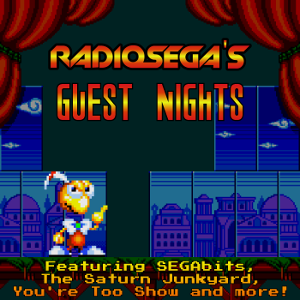 ---
December 3rd Schedule
What could be on the cards for tonight's Guest Night?
It's the first guest night of December, so we're bringing you an episode that has absolutely nothing to do with the month at hand whatsoever!
I apologise, but there will be no in-between segments this week due to my setup having been out of action over the weekend. That's also the reason for this post going up so late, look at that! Either way, I'm going to leave myself plenty of time to record the next episode's ones, and I can't use the sickness excuse this time, so looks like I'll really have to do them. Promise?
Here's the episodes that you can be expecting on this week's Guest Night:
Podcast #1 - The Dreamcast Junkyard Dreampod

Episode 14 With Adam Koralik & Corey Marshall

Podcast #2 - SEGA Saturn, Shiro!

Episode 2 "Neo Geo on SEGA Saturn"\\SNK's arcade juggernaut comes home on a budget!"

Podcast #3 - You're Too Show

0039: The SSBCU (Smash Bros. Ultimate, Detective Pikachu, & The Sonic Movie)
That's all the podcasts we've got coming up this week. Have your tickets ready, as the doors to this week's Guest Night open at 7PM GMT, 8PM CET, 2PM EST and 11AM PST!
3rd December, 2018 - 20:52 GMT
GreenViper8
Article viewed 238 times
Comments:
There are no comments for this article.
You need to be logged in to post a comment.
Please login using the boxes at the top of the page.




Requests between 15th Jul and 21st Jul







Replies: 29

Replies: 2427

Replies: 24

Replies: 5

Replies: 58

http://www.segadriven.com/
http://www.lastminutecontinue.com/
http://www.sonicstadium.org/
http://www.summerofsonic.com/
http://outrun86.wordpress.com/
https://www.facebook.com/groups/soniclondon/
https://twitter.com/cavernsofhope
http://16bap.theclassicgamer.net
http://www.sega-addicts.com
http://twitch.tv/thecorndogbandit
http://www.thedreamcastjunkyard.co.uk/
http://yakuzafan.com/
http://puyonexus.com/
http://segabits.com/
https://www.youtube.com/c/NintendoLounge