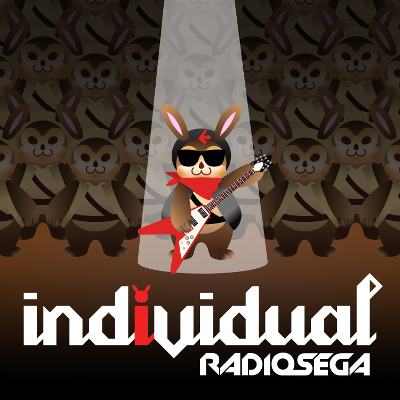 ---
Senoue Symphony 2 Battle
I wanna play it safe for the emergency 1-hour show. How about we finally do a second episode about Jun Senoue? Build up some hype for Sonic Symphony

This post is all about the next episode of Individual, with game examples, request advice, sources to learn about more eligible works, and a couple times the show will be going LiVE.
Individual's schedule has been wacky of late, so to get back in the swing of things, we're cutting down the next episode to 1 hour (but it'll likely overrun and be somewhere between 1 and 2 hours). Jun Senoue seems like someone who'd be fun to talk about for an hour, listen to some bangers. Tune in for his second episode, with talks and music of Sonic Adventure 2 Battle, Sonic Heroes, INITIAL D SPECIAL STAGE ~SEGA ORIGINAL TRACKS~ and a bit more!
For those in the ever-growing future, this week's episode wall about Masayuki Nagao. Get a look at when it began!
If you need an explanation of what Individiual is: It's an (adjective) show in which we take the time to discuss the histories and sounds of SEGA Sound Designers (or at least the composers with substantial ties to SEGA). We'll be playing music, going through some history and having some chats.
You can send in your requests, I've got enough space for about 6 of them (arbitrary number). Feel free to request any song from a project Senoue has worked on or any remix of a song composed by him. You can send me your requests via Discord (I'll be listed in RadioSEGA's Discord) or X (this is me). I might be recording the episode on Tuesday, so please send in your requests before then even if I go LiVE (I still like to edit together some sick transitions and can't really do that in the moment)!
If you're not sure what songs are eligible and don't mind mild spoilers, feel free to check out these
If you're wondering when this show airs, it's on Wednesdays (this time the 6th) and airs at:
6:00 PM - United Kingdom Time (most RadioSEGA folks)
7:00 PM - Central European Time (some others) (me, I'm living in 7:00 PM territory)
and lasts for somewhere around 1 to 2 hours!
(note that start times might change if, due to loadshedding in South Africa, it turns out I won't have power during planned showtime)
There are no comments for this article.
You need to be logged in to post a comment.
Please login using the boxes at the top of the page.