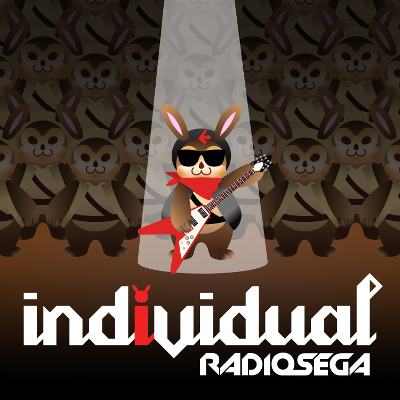 ---
The American Side & The Japanese Side
We're closing out Americans Month next week, and it'll probably be the most different-feeling Individual ever, because we're only talking one game: Sonic the Hedgehog 3, filled with one-off American composers!

This post is all about the next episode of Individual, with game examples, request advice, sources to learn about more eligible works, and a couple times the show will be going LiVE.
The format for next week's show isn't completely locked in yet, but it's gotta stay true to Individual's vision, so we'll be talking about the different individuals who created the game. And we're definitely talking about the many American composers who helped make music! But there's plenty of Japanese creators too, so we'll see how Japanese this American finale ends up being.
If you need an explanation of what Individiual is: It's an (adjective) show in which we take the time to discuss the histories and sounds of SEGA Sound Designers (or at least the composers with substantial ties to SEGA). We'll be playing music, digging up old interviews and news articles, spouting a lot of developer-related trivia and maybe talk about some video games I dunno.
If you want to send in your requests, you can do so! I've got enough space for about 6 of them (arbitrary number). Feel free to request any song from a project Andy has worked on or any remix of a song composed by him. You can send me your requests via Discord (I'll be listed in RadioSEGA's Discord) or X (this is me). I might be recording the episode on Tuesday, so please send in your requests before then even if I go LiVE (I still like to edit together some sick transitions and can't really do that in the moment)!
If you're not sure what songs are eligible and don't mind mild spoilers, feel free to check out these
Sonic the Hedgehog 3 - Sonic Retro
Sonic the Hedgehog 3 - MobyGames
Sonic the Hedgehog 3 - Wikipedia
and many many more!
Most importantly...
If you're wondering when this show airs, it's on Wednesdays (this time the 25th) and airs at:
6:00 PM - United Kingdom Time (most RadioSEGA folks)
7:00 PM - Central European Time (some others) (me, I'm living in 7:00 PM territory)
and lasts for somewhere around 1 to 2 hours!
(note that start times might change if, due to loadshedding in South Africa, it turns out I won't have power during planned showtime)
For those in the ever-growing future, this week's episode was about Howard Drossin
Download the podcast or search for it on various podcasting platforms!
Get a look at the trivia excerpts we did for an idea of the show!
1 https://twitter.com/RadioSEGA/status/1715052690575675704
2 https://twitter.com/RadioSEGA/status/1715055207086710891
3 https://twitter.com/RadioSEGA/status/1715057724004937969
4 https://twitter.com/RadioSEGA/status/1715060240214044791
5 https://twitter.com/RadioSEGA/status/1715062756867748110
6 https://twitter.com/RadioSEGA/status/1715065274259452391
7 https://twitter.com/RadioSEGA/status/1715067789952856122
8 https://twitter.com/RadioSEGA/status/1715070306665279554
9 https://twitter.com/RadioSEGA/status/1715072824434667686
There are no comments for this article.
You need to be logged in to post a comment.
Please login using the boxes at the top of the page.