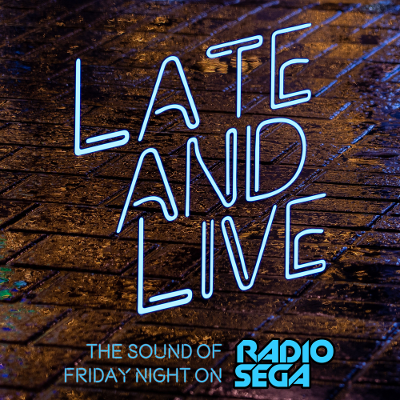 ---
Better early than never - it's June's Listener Mix!
A show tradition on Late and Live is that the final show of each month is given to the listeners to pick nothing but their favourite tunes to kick start their weekend. But this month we're doing things a little bit differently...
As part of the last episode of Pick N' Mix, RadioSEGA's Opposite Week was announced where the hosts of many RadioSEGA LiVE shows would be hosting different shows than normal during the final full week of the month. Because of this, Late and Live will be hosted by another awesome RadioSEGA DJ in the slot normally given to the listeners so we're moving the Listener Mix a week ahead of time so our guest presenter can present an awesome show of their own.
So that means that, a week earlier than normal, this week's episode of Late and Live is totally yours as you'll be choosing every single tune I play on the radio this Friday. "But what can I request and how many tracks will you let me ask for?" I'm glad you asked. Late and Live is a party mix so as long as the tune you want is uptempo, we'll play it! Plus if you request in advance you can have up to two tracks or, if requests are still open, you can request one track during the show.
"But how can I request tracks?" (wait I've done this joke already haven't I?) You can request via any of the following methods:
Discord: Send me a private message on our Discord - I'm ResidentSD. (goto http://radiose.ga/discord to join!)
Twitter: send me a tweet or direct message - I'm ResidentSD
E-mail: send an email to residentsd [at] radiosega [dot] net

So it might be a week earlier than normal but that just means you won't have to wait as long to hear YOUR sound of Friday night - June's Late and Live Listener Mix is
live this Friday night from 10pm BST/UK time (11pm CET/5pm ET/2pm PT/21:00 GMT) only here on RadioSEGA!
Missed the last episode of Late and Live? Download or stream June's Late and Live Mix and every episode here or on Spotify!
Download - https://www.radiosega.net/media/?show=Late%20and%20Live

Listen on Spotify - https://open.spotify.com/show/2vR3rQ2g0Ry6FTJ8YsTIwx
14th June, 2020 - 16:20 GMT
ResidentSD
Article viewed 78 times
Comments:
There are no comments for this article.
You need to be logged in to post a comment.
Please login using the boxes at the top of the page.




Requests between 29th Jun and 5th Jul







Replies: 629

Replies: 843

Replies: 7

Replies: 69

Replies: 1535

http://www.segadriven.com/
http://www.lastminutecontinue.com/
http://www.sonicstadium.org/
http://www.summerofsonic.com/
http://outrun86.wordpress.com/
https://www.facebook.com/groups/soniclondon/
https://eccothedolphin.net/
http://16bap.theclassicgamer.net
http://www.sega-addicts.com
http://soniccagedome.net/
http://twitch.tv/thecorndogbandit
http://www.thedreamcastjunkyard.co.uk/
http://yakuzafan.com/
http://puyonexus.com/
http://segabits.com/
https://www.youtube.com/c/NintendoLounge
https://kngi.org/