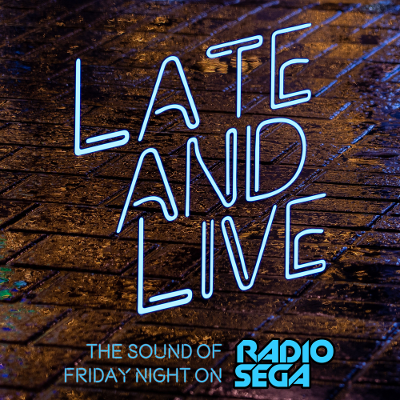 ---
We're in control of Late and Live this Friday! (requests are now closed)
After a terrific episode of Late and Live last week, which you could technically say wasn't an episode of Late and Live at all as I did a Mini SEGA Mix, we're doing something crazy this week and actually presenting a normal episode of Late and Live - madness I know!
We do all sorts of themed mixes and DJ mixes and listener mixes and all sorts of shenanigans on the show but sometimes it's kinda nice to just play a load of SEGA party tunes on a Friday night with no limits and with both me and you contributing to the playlist. That's exactly what our Late and Live Mixes are all about.
UPDATE: Requests are now closed - thanks to everyone to sent their requests in!
Already it's looking like a cracking show but there is still time to get your favourite SEGA party tune on the sound of Friday night this week by sending your requests to me via one of the following methods:
Discord: Send me a private message on our Discord - I'm ResidentSD. (goto http://radiose.ga/discord to join!)
Twitter: send me a tweet or direct message - I'm ResidentSD
E-mail: send an email to residentsd [at] radiosega [dot] net

So join me for another awesome Late and Live Mix - we're live this Friday night from 10pm BST/UK time (11pm CET/5pm ET/2pm PT/21:00 GMT) only here on RadioSEGA!
Missed the last episode of Late and Live? Download or stream the Mini SEGA Mix and every episode here or on Spotify!
Download - https://www.radiosega.net/media/?show=Late%20and%20Live

Listen on Spotify - https://open.spotify.com/show/2vR3rQ2g0Ry6FTJ8YsTIwx
9th June, 2020 - 01:03 GMT
ResidentSD
Article viewed 99 times
Comments:
There are no comments for this article.
You need to be logged in to post a comment.
Please login using the boxes at the top of the page.




Requests between 22nd Jun and 28th Jun







Replies: 843

Replies: 7

Replies: 627

Replies: 69

Replies: 1535

http://www.segadriven.com/
http://www.lastminutecontinue.com/
http://www.sonicstadium.org/
http://www.summerofsonic.com/
http://outrun86.wordpress.com/
https://www.facebook.com/groups/soniclondon/
https://eccothedolphin.net/
http://16bap.theclassicgamer.net
http://www.sega-addicts.com
http://soniccagedome.net/
http://twitch.tv/thecorndogbandit
http://www.thedreamcastjunkyard.co.uk/
http://yakuzafan.com/
http://puyonexus.com/
http://segabits.com/
https://www.youtube.com/c/NintendoLounge
https://kngi.org/