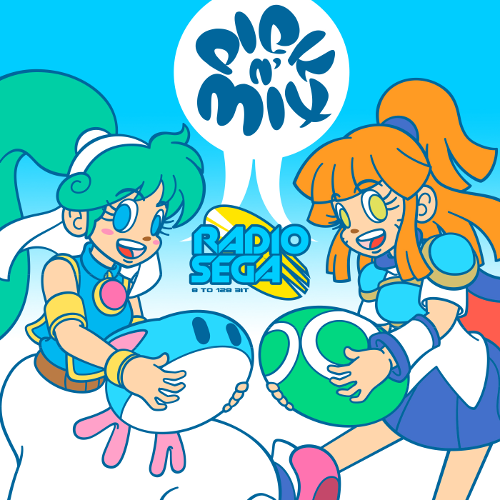 ---
A Mascot, a Miku and a Majima
3 SEGA juggernauts are put head to head this week!
This Friday brings about the start of our brand new RadioSEGA LiVE show dubbed "Pick n' Mix". For those of you not in the know of what the show is going to be about, find out more here.

With that out of the way though, it made sense for me to start our new show and regular format episodes to it with 3 games from SEGA's arguably 3 biggest franchises of the moment. Sure we may love focusing on the obscure and interesting, but there's nothing quite more fitting than to start off with a bang and worm our way into some deeper cuts later on into the series.

With that in mind, here's this week's Picks:
Hatsune Miku -Project DIVA- F (First released in 2012 for PlayStation Vita and 2013 for PlayStation 3)
Yakuza 0 (First released in 2015 for PlayStation 3 and PlayStation 4, and 2018 for PC)
Sonic Forces (First released in 2017 for PlayStation 4, Xbox One, Nintendo Switch and PC)
We've also got plenty of segments on the cards for the night! Here's what's coming up for that:

Code Breakers:
A new type of game competition for RS premieres this week on Pick n Mix, revolving around your conundrum skills rather than your knowledge. You'll definitely need to use this week as a chance to get to grips with the game before heading in full force next week! I'm still continuing to leave it scarce though as I want the element of surprise... Best of luck~

King of Requesters:
The King of Requesters - which is still being influenced at the time of this post - will be focusing on this week's top requester to our Top 40 Request Chart on this very site. If you want to take part with a chance of being the King or Queen for the week, you've got some serious work to do before this coming Friday!

As always with my shows, I'm looking for your input on Pick n' Mix as well. Send me your music requests from any of the Picks of the week and let me know your thoughts on the games too. I certainly know that at least two of these games strongly divide opinions, but you can't appreciate the sweet without the sour!

Catch us LiVE when Pick n' Mix starts proper this Friday at 7PM BST, 8PM CST, 2PM EDT or 11AM PDT!
9th October, 2019 - 19:58 GMT
GreenViper8
Article viewed 312 times
Comments:
There are no comments for this article.
You need to be logged in to post a comment.
Please login using the boxes at the top of the page.




Requests between 10th Feb and 16th Feb







Replies: 1

Replies: 2513

Replies: 826

Replies: 0

Replies: 0

http://www.segadriven.com/
http://www.lastminutecontinue.com/
http://www.sonicstadium.org/
http://www.summerofsonic.com/
http://outrun86.wordpress.com/
https://www.facebook.com/groups/soniclondon/
https://twitter.com/cavernsofhope
http://16bap.theclassicgamer.net
http://www.sega-addicts.com
http://twitch.tv/thecorndogbandit
http://www.thedreamcastjunkyard.co.uk/
http://yakuzafan.com/
http://puyonexus.com/
http://segabits.com/
https://www.youtube.com/c/NintendoLounge
https://kngi.org/