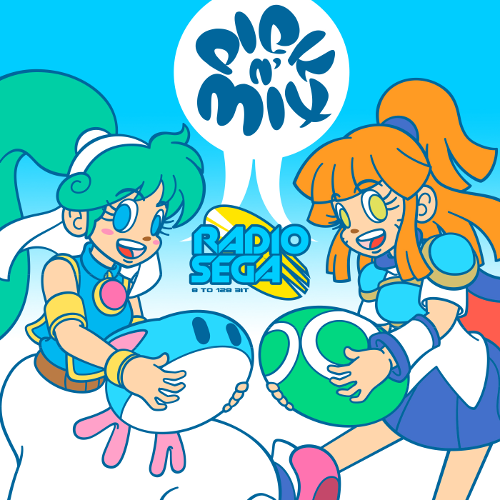 ---
Get In Amongst the Mix
Oh yeah, it's time for the return of Topical Reso............. oh.
Behind the scenes, I've been doing a lot of scheming, all while trying to shoot down any comments of me returning and especially those expecting the return of Topical Resort. It's clear that people love my creation dearly, as do I, but it's time for something new now, something that gets the creative juices flowing again after I'd got comfortable in the weekly schedule of what I'd created over at the Resort.

A few months back, you got to see a little show I had created entitled Pick n' Mix. It was a little rough around the edges, but it was a show I had envisioned making for a few years before that point. You've already heard Pick n' Mix, but you have not heard Pick n' Mix. A lot of tweaking has gone on behind the scenes, and while there might be a few weeks of growing pains as with every show, I believe that it's something that the audience will love. First of all, let's establish some ground rules.

SHOW TYPES:
Nothin' Special - Your regular show type, more of which will be explained below.
RadioSEGA Shuffle - This is the show type you previously heard on our 9th LiVE Shows anniversary. At the end of each month, we'll bring out a very dusty randomiser to help us decide which segments of RadioSEGA past and present we should revisit.
Recent Releases Roundup - New games are always a great talking point, and are quite frankly sure to bring new eyes and ears in, which benefits me and you. These show types will be very similar to the normal shows, except we'll be focusing on nothing but a handful of games released within the last month or thereabouts, and perhaps we'll introduce some special segments catering to those games.
More TBA

Pick n' Mix aims to be something that Topical Resort was not in the end: a show that is always adapting. I was always very wary of adding and removing anything mid-season, but that will not apply here. If I think of something cool or something that doesn't work, I won't be afraid to ask the audience or run it by my peers and put it into action, hence why there are more show types TBA, as with segments that could pop-up in any of the types. Before we get any further though, let's talk about what a normal show will look like and how it will function.


Normal Shows:
General Format
A standard episode of Pick n' Mix will take a scoop into a pool of games and select a few games per week that we'll focus on. I'd like to paint this as more random than it is, but really I just feature games that I want to talk about that week. The selected game number could vary anywhere from 2 to 5 each week, but generally the goal is not to have each episode feel too stuffed full.

Code Breakers
Our brand new game show that'll really test your academic abilities. I'll save the actual rules for the night though, because I don't want to give you an easier time that I really should.

KING OF REQUESTERS
Who needs a standard chart show anymore amirite? Our previous chart shows always lead to a lot of in-fighting, so let's center the segment around that! Don't like that someone keeps requesting the same songs week in, week out? Dethrone them and request whatever you want to hear! I can hear people fearing certain songs now, and there's rules in place to stop certain songs appearing week in week out, but the week's Top 3 requests won't automatically be played. Let's take an instance where a person requests 40 songs in a week. Each song is unique and is only requested once. Despite being extremely far down the request chart, that person's top 3 with 1 request each could be a candidate for our segment. Sound good and convinced you'll dodge Seven Rings? Let's get on with it then!

MORE TBA


RadioSEGA Shuffle:
List of segments TBA


As you can see, there's lots of things waiting to be announced for now. That's all planned! This way I've still got plenty of time to refine ideas should I choose to change them within the space of a week, and I get to keep a sense of mystery ahead of you guys hearing the show for the first time. Keep an eye on this blogpost for further updates throughout the week though, and be on the lookout for another post coming later in the week detailing the specifics of the very first episode.

Your unique flavour of Pick n' Mix will be ready for selection this Friday at 7PM BST, 8PM CST, 2PM EDT or 11AM PDT! You won't want to miss it.
7th October, 2019 - 01:26 GMT
GreenViper8
Article viewed 604 times
Comments:
There are no comments for this article.
You need to be logged in to post a comment.
Please login using the boxes at the top of the page.




Requests between 14th Sep and 20th Sep







Replies: 71

Replies: 151

Replies: 2

Replies: 39

Replies: 634

http://www.segadriven.com/
http://www.lastminutecontinue.com/
http://www.sonicstadium.org/
http://www.summerofsonic.com/
http://outrun86.wordpress.com/
https://kngi.org/
https://eccothedolphin.net/
http://16bap.theclassicgamer.net
http://www.sega-addicts.com
http://soniccagedome.net/
http://twitch.tv/thecorndogbandit
http://www.thedreamcastjunkyard.co.uk/
http://yakuzafan.com/
http://puyonexus.com/
http://segabits.com/
https://www.youtube.com/c/NintendoLounge