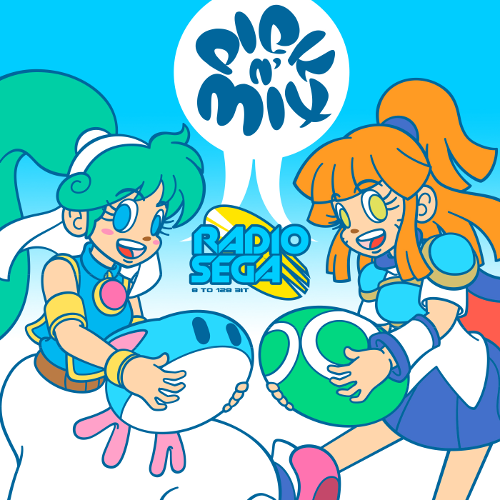 ---
Splitz Opinions
Take a happy step into a happy show!
We've still got a few weeks to go before the return of the Super Monkey Ball franchise, but for schedules sake it's the most appropriate to talk about the series this week. We of course slotted the fan favourite Super Monkey Ball Deluxe in this week's Mix, but we had to go with the slightly less obvious choices for the rest this week. While some of them might not be the greatest of games, the OST can more than make up for it (or the other way round in one instance!) so let's all keep our hopes high for these titles and the upcoming HD port of Banana Blitz!

With that in mind, here's this week's Picks:
Super Monkey Ball Deluxe (First released in 2005 for Xbox and PlayStation 2)
Super Monkey Ball: Touch and Roll (First released in 2005 for Nintendo DS)
Super Monkey Ball: Step and Roll (First released in 2010 for Nintendo Wii)
Girls Make the World Go Round (Album of vocal tracks from Super Monkey Ball: Step and Roll, first released in 2010)
Super Monkey Ball: Banana Splitz (First released in 2012 for PlayStation Vita)
We've also got plenty of segments on the cards for the night! Here's what's coming up:

Code Breakers
A new type of game show for RadioSEGA, revolving around your conundrum skills rather than your knowledge. The rules could completely flip on their head, so for now you're looking to solve 3 anagrams of song titles from the games featured. Some of you did quite well last week, so we'll see if you can keep up with this week's condumdrums!

King of Requesters
The King of Requesters - which is still being influenced at the time of this post - will be focusing on this week so far's top requester to our Top 40 Request Chart on this very site. If you want to take part with a chance of being the King or Queen for the week, you've got some serious work to do before this coming Friday!

Where YOU Come into the Mix
As always, I'm looking for your input on this show. If you've got any thoughts to share on the featured Picks or have some music to request, get in touch on Twitter (@RadioSEGA) or via email (viper@radiosega.net) and you'll be sure to be featured.

Catch us LiVE when we put those Monkeys in 'dem balls this Friday at 7PM BST, 8PM CST, 1PM EDT or 10AM PDT!
16th October, 2019 - 18:13 GMT
GreenViper8
Article viewed 358 times
Comments:
There are no comments for this article.
You need to be logged in to post a comment.
Please login using the boxes at the top of the page.




Requests between 14th Sep and 20th Sep







Replies: 71

Replies: 151

Replies: 2

Replies: 39

Replies: 634

http://www.segadriven.com/
http://www.lastminutecontinue.com/
http://www.sonicstadium.org/
http://www.summerofsonic.com/
http://outrun86.wordpress.com/
https://kngi.org/
https://eccothedolphin.net/
http://16bap.theclassicgamer.net
http://www.sega-addicts.com
http://soniccagedome.net/
http://twitch.tv/thecorndogbandit
http://www.thedreamcastjunkyard.co.uk/
http://yakuzafan.com/
http://puyonexus.com/
http://segabits.com/
https://www.youtube.com/c/NintendoLounge