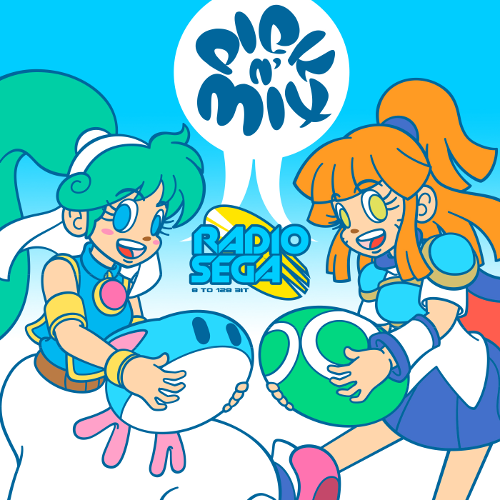 ---
Milking the Joke
Why am I actually going through with this?
As disucssed on last week's episode, this week we're going to be diving into a listener suggested theme, with a lot more of that to come in the future. With so many good options to choose from, why is it that by far the most popular is the Milk Mix? Udderly ridiculous...
It's all about milk this week. That means we'll be playing you nothing but songs either featuring "milk" in the title or from games featuring the word "milk". Why? That's your problem, not mine. We should also raise an apporpriate tribute to Daddy Milk himself, so if possible we'll take some time to feature some of his favourite SEGA songs.
Let's see what sense of normality we can cram into the show now with the use of our regular segments:

Code Breakers
A new type of game show for RadioSEGA, revolving around your conundrum skills rather than your knowledge. The rules could completely flip on their head, so for now you're looking to solve 3 anagrams of song titles from the games featured. You've been doing pretty good so far, but we'll see if you can keep up with this week's conundrums!
Requester Monarchy
Requester Monarchy - which is still being influenced at the time of this post - will be focusing on this week so far's top requester to our Top 40 Request Chart on this very site. If you want to take part with a chance of being the ruling champion for the week, you've got some serious work to do in the next few hours!
Where YOU Come into the Mix
As always, I'm looking for your input on this show. If you've got any thoughts to share on the featured Picks or have some music to request, get in touch on Twitter (
@RadioSEGA
) or via email (
viper@radiosega.net
) and you'll be sure to be featured.
Come get milky with us this Friday at 7PM GMT, 8PM CST, 2PM EST or 11AM PDT!
18th February, 2021 - 16:04 GMT
GreenViper8
Article viewed 117 times
Comments:
There are no comments for this article.
You need to be logged in to post a comment.
Please login using the boxes at the top of the page.




Requests between 22nd Feb and 28th Feb







Replies: 87

Replies: 172

Replies: 42

Replies: 847

Replies: 635

http://www.segadriven.com/
http://www.lastminutecontinue.com/
http://www.sonicstadium.org/
http://www.summerofsonic.com/
http://outrun86.wordpress.com/
https://kngi.org/
https://eccothedolphin.net/
http://16bap.theclassicgamer.net
http://www.sega-addicts.com
http://soniccagedome.net/
http://twitch.tv/thecorndogbandit
http://www.thedreamcastjunkyard.co.uk/
http://yakuzafan.com/
http://puyonexus.com/
http://segabits.com/
https://www.youtube.com/c/NintendoLounge
https://dreamcastyears.co.uk/