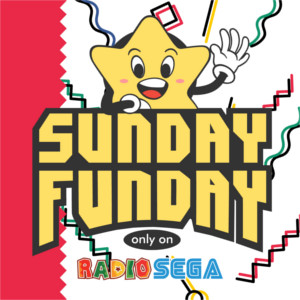 ---
RadioSEGA's Sunday Funday Returns This Sunday!
Look out dudes & dudettes, The Sunday Funday is returning to the airwaves for a few more shows!
Unfortunately we will not be broadcasting all the way to Episode 30 as I do not have a lot of time on the weekends now to do the show, however we will go all the way to Episode 25 where we will call the season an end. This will be also the last ever season of Sunday Funday but there might be a new show in the works for 2018???? Keep an eye out on RadioSEGA for more updates in the not too distant future.
We will be bringing back all the classical segments such as The Sunday Roulette's Top 3 of the Week (click here to access the voting poll), Split Second Request, The Non-SEGA Tracks of the Week (click here to check out the Non-SEGA doc and request away!) and, of course, The RadioSEGA's Sunday Call In (be sure to be in the RadioSEGA's Discord Server for your chance to come onto the show).
Also I apologise for the sudden break on my end, this year has not been too kind for me personally and I've had to deal with a lot of things that have taken up a lot of time, but I want to end this show on a good note and for the next few weeks we will be making your Sunday's into Funday's once again. Show goes live @ 8PM UK/9PM CET/3PM ET/12PM PT!
25th November, 2017 - 07:17 GMT
TheBritishAndy
Article viewed 351 times
Comments:
There are no comments for this article.
You need to be logged in to post a comment.
Please login using the boxes at the top of the page.




Requests between 28th Oct and 4th Nov







Replies: 4

Replies: 0

Replies: 1014

Replies: 40

Replies: 2418

http://www.segadriven.com/
http://www.lastminutecontinue.com/
http://www.sonicstadium.org/
http://www.summerofsonic.com/
http://outrun86.wordpress.com/
https://www.facebook.com/groups/soniclondon/
https://twitter.com/cavernsofhope
http://16bap.theclassicgamer.net
http://www.seganerds.com
http://www.sega-addicts.com
http://segadoes.com/
http://thesonicshow.org/
http://twitch.tv/thecorndogbandit
http://www.thedreamcastjunkyard.co.uk/
http://yakuzafan.com/
http://puyonexus.com/
http://segabits.com/
https://www.youtube.com/c/NintendoLounge