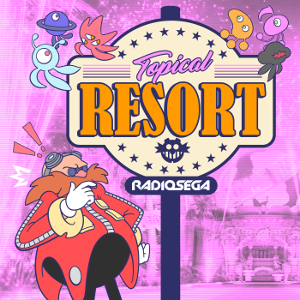 ---
The Resort is now open for business!
Get your tickets at the ready, or pay on the door if you really want to...
Oh boy, it's time. That time you've all been waiting for. It's time for RadioSEGA's least anticipated show of 2017 to start. Right off the bat, I'm sorry about the lateness of this post. I'd pin the blame on someone else, but that'd be unprofessional. So sorry for being a doofus everyone, I'll try harder next time.
Now that we've blamed ViPER (#BlameViPER2016), it's time to address the elephant in the room (go away Tembo). One question I've received a lot is "What is this show actually about?" and I'd like to clear that one up. Although it is a common misconception, no, the show is not based around Sonic. Rather, that was just where the inspiration of the name came from. I wanted Topical in the title somewhere, and making a pun off of a level that I love was a bonus. Anyway, am I off-topic? Let me get back on track. The concept of the show is we take Topics relating to SEGA, whether that be about a series, a genre, game characters or games what we'd like to see more of from SEGA (Those are only examples, there are obviously many other subjects the show could be about), and we then make an episode about them with personal opinions, music, requests, chat interaction and much more!
Here's what to expect from the first episode.
Topic: SEGA Rhythm Games
Hasty History
I somehow managed to miss this segment on the first post. In this segment, I take something relating to the topic (a character, a series, a game) and run through the history and some fun facts as quickly as possible. For those of you who thought that the history was boring in The Dreamcast Hour, hopefully this will be... slightly less boring.
Request Resort
In this segment, you can send in your requests for what you'd like to hear on the show. Only one request per person, and there is no guarantee that your song will be picked, as the segment is only 3 songs long.
Requests will need to be sent via Twitter (@RadioSEGA or @TheGreenViper8), or sent through a DM to GreenViper8#6383 via our Discord Server.
Eligible games for this weeks Fan Request Segment are:
CHUNITHM
Hatsune Miku - GetReady
Hatsune Miku 39s Day Giving Concert
Hatsune Miku Project DIVA
Hatsune Miku Project DIVA 2nd
Hatsune Miku Project DIVA Arcade
Hatsune Miku Project DIVA Arcade Future Tone
Hatsune Miku Project DIVA Extend
Hatsune Miku Project DIVA F
Hatsune Miku Project DIVA Future Tone
Hatsune Miku Project DIVA F 2nd
Hatsune Miku Project DIVA X
Hatsune Miku Project Mirai DX
Let's Tap
maimai
maimai GreeN + HALFPIPE TOKYO
Rhythm Thief & The Emperor's Treasure
Rhythm Thief & The Paris Caper
Samba de Amigo (Dreamcast and Wii)
Samba de Amigo Ver. 2000
Space Channel 5
Space Channel 5 Part 2
Space Channel 5 Part 2 Uki Uki - Non Stop Megamix
supercell tribute ~Stowaways~ _ supercell feat. Miku Hatsune
Any of those games take your fancy? Then send over a request!
Topical Thesis
Conveniently not named The Opinion Zone, this segment sees me taking an opinion that I've thought up myself or I've heard from the SEGA community relating to the topic of the episode. This segment is also open for some hot debate, as I'm sure that many people will strongly disagree with what I say, so be sure to write to our Social Media pages with your own say on the matter!
Discord Call-In
Yes, the fan-favourite from The Dreamcast Hour has returned, this time dropping down to a bi-weekly role, in order to keep new people interested and to keep the segment fresh. The segment sees me having an over the phone (I can pretend okay) conversation with you, the listeners, about the topic of the episode. Prepare for hijinks and memes to occur. As the name would imply, you will need to be in our
Discord Server
in order to take part in this segment. From there, you will need to have a microphone, and you will need to join the Chillout for a chance of being on the show! Good luck!
The Topimix
This is a segment that has been changed up a bit since the last post. Thanks to Twinny and PTKickass for suggesting the name, I just edited the concept of the segment a bit. The Topimix is a mix of 3 different tracks: 1 SEGA Track that doesn't relate to the topic of the episode, 1 Remix that fits the theme of the episode and 1 Non-SEGA track that doesn't relate to the episode that I want to share with you guys. The goal of this segment is to share some great music while skewing slightly off topic to take a bit of a break from the rest of the show.
So there we go. Topical Resort will open for business on Friday the 31st of March. but wait, what time will this be? Don't worry, even if you're in one of those pesky #Timezones, we've got you covered.
Tune in at 7PM BST, 8PM CEST, 2PM EDT or 11AM PDT! Not in one of those? Check out the Show Schedule on RadioSEGA to see when the show is on in your timezone!
UPDATE #2: I mentioned before that I was in the process of editing some segments and changing up their names. You can see that this has taken place, due to this being an edited version of the original announcement. However, it is unlikely that the Idents and Jingles associated with these segments will be ready in time for the first episode. It may happen, but I can't make any promises. If this is the case, some segments will just be missing Idents, which will be fixed for future episodes, and if they are ready, then this won't be an issue. Currently working on collecting the timestones, so we can make a Good Future rather than a Bad Future.
28th March, 2017 - 21:15 GMT
GreenViper8
Article viewed 717 times
There are no comments for this article.
You need to be logged in to post a comment.
Please login using the boxes at the top of the page.