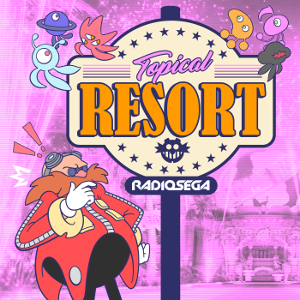 ---
Adapting to the Times!
Let's take a trip back to the cinema's, not Back in Time...
So I've managed to put down Puyo Puyo Tetris for enough time to produce a show this week. And this time around, we'll be looking into those Movie and TV adaptations based around SEGA Games!
The topic for this episode is: SEGA Movie and TV Adaptations
And as always, here's what's coming up on this week's show:
Request Resort
The eligible games for this week's Request Resort are:
Adventures of Sonic the Hedgehog
Bayonetta Bloody Fate
HI SCOOOL! SEHAGIRLWAKAI CHIKARA-SEGA HARD GIRLS MIX-
Phantasy Star Online 2 - The Animation
SEGA Hard Girls: Hi-sCoool! SeHa Girls
SEGA HARD GIRLS: Vocal Tracks Junen Saki E Susume!
SEGA HARD GIRLS: Tsuitekoi! Megadriver Let's Go Picchan Aa Seishun No Hibi
Sonic Boom
Sonic Boom: Fire and Ice (Since I could only find 1 track from the TV Show)
Sonic the Hedgehog OVA
Sonic the Hedgehog SatAM
Sonic X
Virtua Fighter [Anime]
Discord Call-in
Got a burning question you'd like to ask? Got an opinion on anything said on the show? Maybe you just want to talk about the games featured. Either way, the Discord Call-in is a way to do that while actually getting your voice onto the show! You may be asking "How do you do this?", and it's very simple. Join our Discord Server and from there, you'll need to grab a microphone and you'll need to join the Chillout Voice Room!
Be sure to tune in at 7PM BST, 8PM CEST, 2PM EDT or 11AM PDT to hear about those Movies and TV Shows that you love!
4th May, 2017 - 19:41 GMT
GreenViper8
Article viewed 467 times
There are no comments for this article.
You need to be logged in to post a comment.
Please login using the boxes at the top of the page.