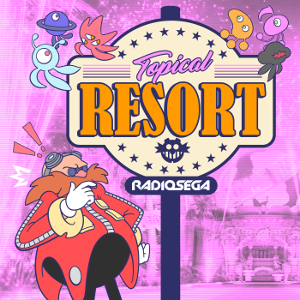 ---
Temporary Closure of the Resort
Bring on the Wall... of text.
If you're in our Discord (radiose.ga/discord), you would know that this week's show is cancelled. If you're not, this week's show is cancelled. Quite blunt huh?
I feel it would be beneficial for me (as well as for you to a lesser extent) to tell you the reasoning as to why it's been cancelled, and to not gloss over the facts.
Mental Health - The old internet taboo. The one that no one really likes to talk about in the internet in fear of being seen as weak by peers, or by feeling like a burden to those reading it. For the past few months of my life, or since I've started on this station, I felt the happiest I've been in a long time. But as the world famous song Sonic Heroes says, "What comes up must come down".
For the past few weeks, much like a character straight out of a horror game, I've been just surviving, or at least that's what it feels like in my silly little mind. Life's a bit of a chore sometimes, but then I get into moments that are really hard, and one of these moments has been writing this week's episode. I get worked up and thoughts just SEGA Swirl around my head, and I feel fully out of control. Not just writing the episode, but just thinking about writing it causes a stress buildup. See, even my brain hates the show!
Even if I write this week's episode without my arm falling off or something dreadful like that, I feel as if it wouldn't be up to the standard I hold myself to, both in the entertainment department and the hosting department. Yeah, I know, me saying that this show has a standard is pretty rich.
I hope to return to you next week, as hosting this show is normally a real highlight of my week. Probably the thing I pride myself on the most as a host (nice rhyme) is that so far, my show's have been consistent, and I want to keep that trend up. So hope to see you next week, but either way, I'll be around and I'll be sure to see you when the Resort next opens its doors!
17th May, 2017 - 22:38 GMT
GreenViper8
Article viewed 616 times
Comments:
There are no comments for this article.
You need to be logged in to post a comment.
Please login using the boxes at the top of the page.




Requests between 5th May and 12th May







Replies: 0

Replies: 28

Replies: 1016

Replies: 41

Replies: 2423

http://www.segadriven.com/
http://www.lastminutecontinue.com/
http://www.sonicstadium.org/
http://www.summerofsonic.com/
http://outrun86.wordpress.com/
https://www.facebook.com/groups/soniclondon/
https://twitter.com/cavernsofhope
http://16bap.theclassicgamer.net
http://www.sega-addicts.com
http://segadoes.com/
http://thesonicshow.org/
http://twitch.tv/thecorndogbandit
http://www.thedreamcastjunkyard.co.uk/
http://yakuzafan.com/
http://puyonexus.com/
http://segabits.com/
https://www.youtube.com/c/NintendoLounge