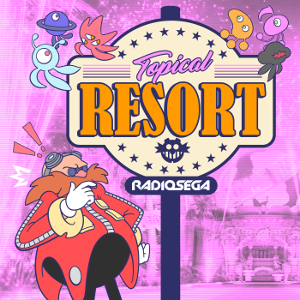 ---
Happy Birthday Sonic!
Look on the bright side, ANYTHING is better than the 15th Anniversary.
Let's get out our Birthday cake (no not that one) ready for Sonic, as we need to celebrate his Birthday, considering this week's episode lands on his Birthday!
More specifically, I'll be telling you my history with the franchise, I'll be telling you the general history of the franchise, and I want to hear yours through social media!
The topic for this episode is: Our History with Sonic the Hedgehog
Here's what's coming up on this week's episode:
Request Resort
Ah, finally, the Request Resort is back to normal! There are way too many games to list here, and I'm sure I will miss them all anyway, so here are the rules:
As long as the music has some relation to Sonic, you can request it. If it's on RadioSEGA's Playlist, I'll have it. If not, I'll need you to send me a tagged MP3 of the song for it to be played on air!
Discord Call-in
Got a burning question you'd like to ask? Got an opinion on anything said on the show? Maybe you just want to talk about anything to do with gaming. Either way, the Discord Call-in is a way to do that while actually getting your voice onto the show! You may be asking "How do you do this?", and it's very simple. Join our Discord Server by visiting
radiose.ga/discord
and from there, you'll need to grab a microphone and you'll need to join the Chillout Voice Room!
Also, I'd like to mention that the show now has an email... for some reason. Although I feel like the majority of interactions for this show come from Discord and Twitter, maybe some of you will find some use from this. You can use it to send me questions to be read out on show, general enquiries or feedback on the show! If this interests you in any way, shape or form, the email address is
topicalresort@gmail.com
(because paying for a professional email is too much hassle of course).
Love Sonic or have some experience with the Blue Blur? Tune in at 7PM BST, 8PM CEST, 2PM EDT or 11AM PDT!
21st June, 2017 - 20:12 GMT
GreenViper8
Article viewed 485 times
There are no comments for this article.
You need to be logged in to post a comment.
Please login using the boxes at the top of the page.