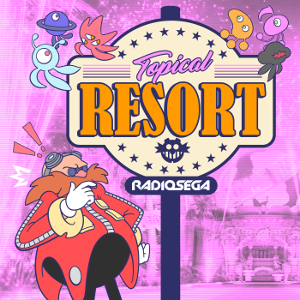 ---
M-M-M-MEGAMIX!
No, not a Sonic one...
Friday marks the day that I go on my summer holidays, so that means one thing... cheesy summer music! Even if it probably is raining.

But in all seriousness, the last week of school is always hectic for me, and especially at the moment with me rushing around to finish my coursework for every subject. On top of all of that stress, I acquired a new PC, with double the specs of the old one! That hopefully means no more stuttering like my old PC did all the time during the show. But that also means that time I should've spent doing coursework, I've spent setting up my radio software and the PC in general, so expect some errors here and there, which may lead to some fun times!

So with this lack of time, I decided to try a new concept. A megamix. Picking songs that fit the theme of the episode, and less of an emphasis on the discussion, but still throwing in the interaction that you know and love! Basically, we'll be playing lots of music, and then we'll have shorter talkbeds with no topic, but just chat interaction, so feel free to talk about whatever you want!

The topic for this episode is: Summer Megamix

Here's what's coming up on this week's episode:

Request Resort
So, this will work a bit differently to most other shows. The Non-SEGA barrier has been broken. However, we will be keeping the Non-SEGA tracks to a minimum. But as for what tracks are eligible, if you think the track has a summer vibe to it, go ahead and request it!

You can get in your requests for this segment over on our Twitter (@RadioSEGA) or my own Twitter (@TheGreenViper8), you can send me a PM on our Discord server (radiose.ga/discord) or you can email me at topicalresort@gmail.com


Are you a fan of Summer, or perhaps do you want to rant and rave over why Winter is better? Then why not tune in at 7PM BST, 8PM CEST, 2PM EDT or 11AM PDT?
20th July, 2017 - 18:45 GMT
GreenViper8
Article viewed 490 times
Comments:
There are no comments for this article.
You need to be logged in to post a comment.
Please login using the boxes at the top of the page.




Requests between 5th May and 12th May







Replies: 0

Replies: 28

Replies: 1016

Replies: 41

Replies: 2423

http://www.segadriven.com/
http://www.lastminutecontinue.com/
http://www.sonicstadium.org/
http://www.summerofsonic.com/
http://outrun86.wordpress.com/
https://www.facebook.com/groups/soniclondon/
https://twitter.com/cavernsofhope
http://16bap.theclassicgamer.net
http://www.sega-addicts.com
http://segadoes.com/
http://thesonicshow.org/
http://twitch.tv/thecorndogbandit
http://www.thedreamcastjunkyard.co.uk/
http://yakuzafan.com/
http://puyonexus.com/
http://segabits.com/
https://www.youtube.com/c/NintendoLounge