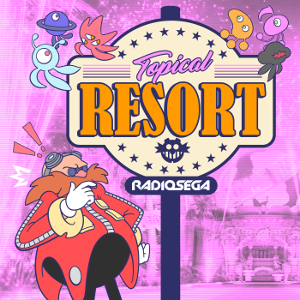 ---
Topical lacipoT
What's that? You say I'm copying SEGA AGES? I'm going to pretend I never heard that...
As you know, a while ago I was feeling a little down emotionally, which lead me to feeling a little nostalgic, perhaps because I wanted to look back to a better time, or perhaps because I just have so many good memories of those times. One of those years is 2010, and the other year which always makes me nostalgic I'm holding onto perhaps for a later episode. But for now, let's take a look at SEGA's 2010 Line-up!

The topic for this episode is: SEGA's 2010 Line-up

Here's what's coming up on this week's episode:

Request Resort
Here's the list of games eligible for this week's Request Resort:
Aliens VS Predator
Bayonetta
Crazy Taxi
Hatsune Miku: Project DIVA 2nd
Infinite Space
Madworld
Resonance of Fate
Sonic & SEGA All-Stars Racing
Sonic at the Olympic Winter Games
Sonic Classic Collection
Sonic Colours
Sonic Free Riders
Sonic the Hedgehog 4: Episode I
Super Monkey Ball 2: Sakura Edition
Super Monkey Ball: Step and Roll
Valkyria Chronicles II
Vanquish
Yakuza 3
Yakuza 4

You can get in your requests for this segment over on our Twitter (@RadioSEGA) or my own Twitter (@TheGreenViper8), you can send me a PM on our Discord server (radiose.ga/discord) or you can email me at topicalresort@gmail.com

Discord Call-in
Got a burning question you'd like to ask? Got an opinion on anything said on the show? Maybe you just want to talk about anything to do with gaming. Either way, the Discord Call-in is a way to do that while actually getting your voice onto the show! You may be asking "How do you do this?", and it's very simple. Join our Discord Server by visiting radiose.ga/discord and from there, you'll need to grab a microphone and you'll need to join the Chillout Voice Room!

I also feel like I should mention this, but if you would like to perhaps pre-record something to be played on the show i.e. a voice message, you can send me that through my email (topicalresort@gmail.com) and I'll try and play it on the air for all to hear!


Got any good memories with the games being mentioned this week? Then why not tune in at 7PM BST, 8PM CEST, 2PM EDT or 11AM PDT?
5th July, 2017 - 19:35 GMT
GreenViper8
Article viewed 536 times
Comments:
There are no comments for this article.
You need to be logged in to post a comment.
Please login using the boxes at the top of the page.




Requests between 5th May and 12th May







Replies: 0

Replies: 28

Replies: 1016

Replies: 41

Replies: 2423

http://www.segadriven.com/
http://www.lastminutecontinue.com/
http://www.sonicstadium.org/
http://www.summerofsonic.com/
http://outrun86.wordpress.com/
https://www.facebook.com/groups/soniclondon/
https://twitter.com/cavernsofhope
http://16bap.theclassicgamer.net
http://www.sega-addicts.com
http://segadoes.com/
http://thesonicshow.org/
http://twitch.tv/thecorndogbandit
http://www.thedreamcastjunkyard.co.uk/
http://yakuzafan.com/
http://puyonexus.com/
http://segabits.com/
https://www.youtube.com/c/NintendoLounge