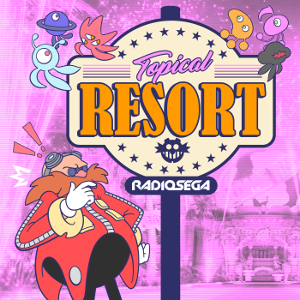 ---
Get out your bang bang shooty shooties!
Please Note: The Resort is not responsible for the death of you or others around you. Thanks for your understanding.
"It's time to... shoot some people"? No. "It's time to... pull out your gun"? No. So how do we start this episode then? How about "It's about time that the Topical Resort gets a bit violent!"? That'll do I suppose.

Yes, on this week's episode, we'll be looking at those games which involve you pulling out an automatic weapon of choice, and then shooting monsters or other people in the face with it. Sounds... charming right?

As you can guess, this episode may be a bit more mature than other episodes due to the subject matter, and since the games have high ratings, some of the music might not be age appropriate either. So although I myself will be keeping it clean, and i'm going to try my hardest to get the cleanest versions of songs possible, please understand that you may not want younger ones listening to this episode.

The topic for this episode is: SEGA Shooters

Here's what's coming up on this week's episode:

Request Resort
Here's the list of games eligible for this week's Request Resort:
3D Fantasy Zone II
After Burner (There's 19 games and I refuse to write them all out)
Alien Isolation
Alien Soldier
Alien Syndrome (Arcade and SMS)
Aliens Colonial Marines
Aliens VS Predator
Anarchy Reigns
Bayonetta
Bayonetta 2
Confidential Mission
Cyber Troopers Virtual-On
Cyber Troopers Virtual-On Force
Cyber Troopers Virtual-On Marz
Cyber Troopers Virtual-On Ontario Tangram
Doom (32X)
DUX
Galaxy Force (C64)
Galaxy Force II
Ghostblade
Gunblade
Gunlord
Gungrave
Gunstar Heroes
GUNSTAR HEROES (Arrange Ver.)
Gunstar Heroes (Game Gear)
Gunstar Heroes Sound Collection
GunValkyrie
Headhunter
Headhunter Redemption
House of the Dead 2
House of the Dead 4
House of the Dead: Overkill
Ikaruga
L.A. Machineguns
M.U.S.H.A.
Outtrigger
Panzer Dragoon
Panzer Dragoon Orta
Panzer Dragoon Saga Memorial Album (Azel)
Panzer Dragoon Zwei
Panzer Dragoon Zwei (Arrange)
Propeller Arena
Quartet
Quartet (C64)
Quartet (Double Target) [SMS]
Rez
Rez (Arrange)
Rez Infinite
Shadow the Hedgehog
Space Harrier (C64)
Space Harrier [GBA]
Space Harrier II
Space Harrier II (C64)
Space Harrier SEGAAGES
Super Thunder Blade
The House of the Dead (Arcade)
The House of the Dead (Saturn)
The House of the Dead III
Thunder Blade
Thunder Blade (C64)
Thunder Force AC
Thunder Force III
Thunder Force IV
Thunder Force IV (Lightning Force - Quest for the Darkstar)
Thunder Force VI
Vanquish
Virtua Cop
Virtua Cop 2
Virtual On (Remix)

(Please note: I compiled this list by hand since there is no list with every game on it, so I may have missed quite a lot of games. If you believe I have missed something, get in contact with me and I'll get it on the list!)

You can get in your requests for this segment over on our Twitter (@RadioSEGA) or my own Twitter (@TheGreenViper8), you can send me a PM on our Discord server (radiose.ga/discord) or you can email me at topicalresort@gmail.com

Discord Call-in
Got a burning question you'd like to ask? Got an opinion on anything said on the show? Maybe you just want to talk about anything to do with gaming. Either way, the Discord Call-in is a way to do that while actually getting your voice onto the show! You may be asking "How do you do this?", and it's very simple. Join our Discord Server by visiting radiose.ga/discord and from there, you'll need to grab a microphone and you'll need to join the Chillout Voice Room!


Got a soft spot for shooters? Even though you know that means the same thing as a weak spot and you're likely to get shot there? Then why not tune in at 7PM BST, 8PM CEST, 2PM EDT or 11AM PDT?
2nd August, 2017 - 18:08 GMT
GreenViper8
Article viewed 586 times
Comments:
There are no comments for this article.
You need to be logged in to post a comment.
Please login using the boxes at the top of the page.




Requests between 5th May and 12th May







Replies: 0

Replies: 28

Replies: 1016

Replies: 41

Replies: 2423

http://www.segadriven.com/
http://www.lastminutecontinue.com/
http://www.sonicstadium.org/
http://www.summerofsonic.com/
http://outrun86.wordpress.com/
https://www.facebook.com/groups/soniclondon/
https://twitter.com/cavernsofhope
http://16bap.theclassicgamer.net
http://www.sega-addicts.com
http://segadoes.com/
http://thesonicshow.org/
http://twitch.tv/thecorndogbandit
http://www.thedreamcastjunkyard.co.uk/
http://yakuzafan.com/
http://puyonexus.com/
http://segabits.com/
https://www.youtube.com/c/NintendoLounge