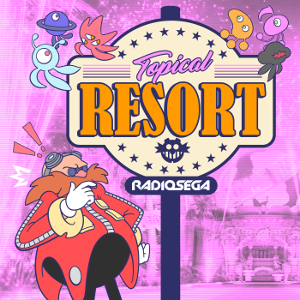 ---
Now with CD quality audio!
Because before all we played were MIDIs...
The start of the new month can only mean one thing... Topical Resort is back to being topical once more! And this time, we're going to be taking a look at an excellent request by RadioSEGA regular electricboogaloo, as we'll be diving into the wacky world of the SEGA/Mega CD!

The topic for this episode is: SEGA CD

Here's what's coming up on this week's episode:

Request Resort
There's a slight hitch throughout the show. Due to the number of games available on the SEGA/Mega CD, I'll only be counting the games released by SEGA themselves, and out of those games only the games which I actually have soundtracks for. This means that I will only list SEGA games here, and I will only play music from SEGA games. HOWEVER, if there is a track from a non-SEGA title on the SEGA/Mega CD that you would like to hear, I'll more than happily play it!

The eligible games for this week's Request Resort are:
After Burner III
Batman Returns
BIOS Music
Dynamic Country Club
Ecco the Dolphin (Mega CD)
Ecco: The Tides of Time (Mega CD)
Eternal Champions (SEGA CD)
Final Fight CD
Lords of Thunder
Night Trap
Shining Force CD
Slipheed (Mega CD)
Sonic CD
Sonic Megamix (SEGA CD)
The Amazing Spider-Man vs The Kingpin (Mega CD)
Wild Woody

You can get in your requests for this segment over on our Twitter (@RadioSEGA) or my own Twitter (@TheGreenViper8), at the official show Twitter (@TopicalResort), you can send me a PM on our Discord server (radiose.ga/discord) or you can email me at topicalresort@gmail.com.

Discord Call-in
Got a burning question you'd like to ask? Got an opinion on anything said on the show? Maybe you just want to talk about anything to do with gaming. Either way, the Discord Call-in is a way to do that while actually getting your voice onto the show! You may be asking "How do you do this?", and it's very simple. Join our Discord Server by visiting radiose.ga/discord and from there, you'll need to grab a microphone and you'll need to join the Chillout Voice Room!


Are you a fan of one of the black sheep of the SEGA console family? Then tune in at 7PM BST, 8PM CEST, 2PM EDT or 11AM PDT!
4th October, 2017 - 18:37 GMT
GreenViper8
Article viewed 513 times
Comments:
There are no comments for this article.
You need to be logged in to post a comment.
Please login using the boxes at the top of the page.




Requests between 5th May and 12th May







Replies: 0

Replies: 28

Replies: 1016

Replies: 41

Replies: 2423

http://www.segadriven.com/
http://www.lastminutecontinue.com/
http://www.sonicstadium.org/
http://www.summerofsonic.com/
http://outrun86.wordpress.com/
https://www.facebook.com/groups/soniclondon/
https://twitter.com/cavernsofhope
http://16bap.theclassicgamer.net
http://www.sega-addicts.com
http://segadoes.com/
http://thesonicshow.org/
http://twitch.tv/thecorndogbandit
http://www.thedreamcastjunkyard.co.uk/
http://yakuzafan.com/
http://puyonexus.com/
http://segabits.com/
https://www.youtube.com/c/NintendoLounge