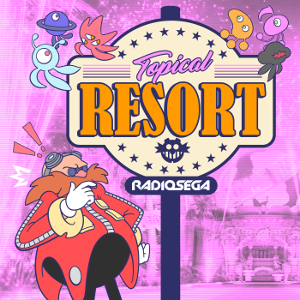 ---
Dreams Never Die
Or in this case, dreams just go away for a few months and then come back for an anniversary special and then go away for a few months and then come ba...
1 year. It's amazing how quickly that time has truly gone. For those of you who are new around here, you may be asking "1 year since what?". Well, next Monday marks 1 year of The Dreamcast Hour, the show I created before this one, and the show that got me my placement here at RadioSEGA.
And of course, you want to ask your usual question of "What does this have to do with the episode" that you seem to ask during all of the blog posts, and the answer to that is...*drumroll* we're gonna have a Dreamcast Special!
Despite the name of the original show, we're gonna give you 3 hours of the best Dreamcast news, history, music, games and most importantly music. It's an extravaganza that you don't want to miss!
The topic for this episode is: SEGA Dreamcast
Here's what's coming up on this week's episode:
Request Resort
Due to the number of games on the Dreamcast, I will only be listing first party titles in this list, and on top of that first party titles that I have the music to. However, if you have a request for any other Dreamcast music, whether it is from a game or relating to the Dreamcast, it will be accepted!
Here's the list of games eligible for this week's Request Resort:
18 Wheeler: American Pro Trucker
Alien Front Online
Christmas Seaman
ChuChu Rocket
Confidential Mission
Cosmic Smash
Crazy Taxi
Crazy Taxi 2
Cyber Troopers Virtual-On Oratorio Tangram
Dynamite Cop
D2
Daytona USA 2001
Ecco the Dolphin: Defender of the Future
F355 Challenge
Fighting Vipers 2
Guilty Gear X
Headhunter
House of the Dead 2
Ikaruga
Jet Set Radio
Metropolis Street Racer
Outtrigger
Phantasy Star Online
Power Stone
Power Stone 2
Propeller Arena
Puyo Puyo ~n
Puyo Puyo Fever
Quake III Arena
Rainbow Cotton
Rent-A-Hero No. 1
Re-Volt
Sakura Taisen
Sakura Taisen 2
Sakura Taisen 3
Sakura Taisen 4
Samba de Amigo
Seaman
SEGA Bass Fishing
SEGA GT
Segagaga
SEGA Marine Fishing
SEGA Rally Championship 2
SEGA Smash Pack Vol. 1
SEGA Swirl
SEGA Tetris
Shenmue
Shenmue II
Skies of Arcadia
Soccer Tsuku - Pro Soccer Club o Tsukurou!
Sonic Adventure
Sonic Adventure 2
Sonic Shuffle
Soulcailbur
Space Channel 5
Space Channel 5: Part 2
Toy Commander
Typing of the Dead
Virtua Cop 2
Virtua Fighter 3TB
Virtua Striker 2
Virtua Tennis
Yu Suzuki Game Works Vol. 1
Discord Call-in
Got a burning question you'd like to ask? Got an opinion on anything said on the show? Maybe you just want to talk about anything to do with gaming. Either way, the Discord Call-in is a way to do that while actually getting your voice onto the show! You may be asking "How do you do this?", and it's very simple. Join our Discord Server by visiting radiose.ga/discord and from there, you'll need to grab a microphone and you'll need to join the Chillout Voice Room!
Are you a fan of SEGA's final console? Or perhaps you enjoyed the previous show? Then why not tune in at 7PM GMT, 8PM CET, 2PM EST or 11AM PST?
6th December, 2017 - 23:46 GMT
GreenViper8
Article viewed 530 times
There are no comments for this article.
You need to be logged in to post a comment.
Please login using the boxes at the top of the page.