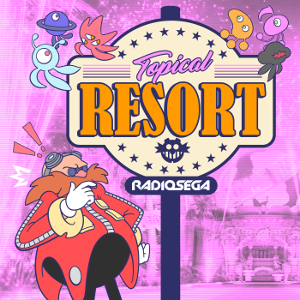 ---
There can only be one...
Or multiple if you can think of that many of course...
Hard to believe that we've already reached the end of 2017. Whatever your opinion on the year is, it sure did create some of the greatest games in recent memory, as well as creating some great times for all. While we could have ended the year with another same-old off-topic, I thought it would be a much better idea to instead end by looking back at what the Topical Resort covered this year, but more importantly, what YOUR favourite episodes from this year were.
The question for this episode is: What was your favourite episode of Topical Resort from 2017?
Here's what's coming up on this week's episode:
Request Resort
The categories eligible for this week's Request Resort are:
SEGA Rhythm Games
SEGA Smartphone Games
Bayonetta
Sonic Fangames and Hacks
Puyo and Tetris games
SEGA TV Shows and Films
Rez and Child of Eden
SEGA PSP Games
SEGA DS Games
Games shown at E3
Sonic the Hedgehog
SEGA PS2 Games
2010 SEGA Games
NiGHTS
Summer music in SEGA Games
SEGA Gun Games
Zones you would liked to have seen in Sonic Mania
Yakuza
SEGA GameCube Games
SEGA Superstars
SEGA GBA Games
SEGA CD and Games
SEGA Games you'd like to see return
SEGA C64 Games
Halloween Levels
SEGA Collections
Jet Set Radio
SEGA Saturn and Games
SEGA Xbox 360 Games
SEGA Dreamcast and Games
Winter Levels
Discord Call-in
Got a burning question you'd like to ask? Got an opinion on anything said on the show? Maybe you just want to talk about anything to do with gaming. Either way, the Discord Call-in is a way to do that while actually getting your voice onto the show! You may be asking "How do you do this?", and it's very simple. Join our Discord Server by visiting
radiose.ga/discord
and from there, you'll need to grab a microphone and you'll need to join the Chillout Voice Room!
Do you want your wildly controversial opinion on your favourite Topical Resort episode heard? Then tune in at 7PM GMT, 8PM CET, 2PM EST or 11AM PST!
27th December, 2017 - 17:42 GMT
GreenViper8
Article viewed 466 times
There are no comments for this article.
You need to be logged in to post a comment.
Please login using the boxes at the top of the page.