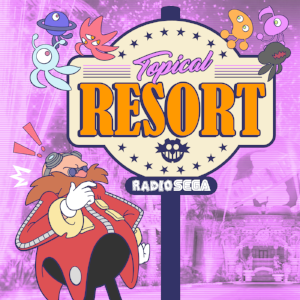 ---
Double the power, doubly as useless!
Was a 3rd (Coutning the Power Base Converter) Mega Drive add-on really necissary?
Although it was originally stated otherwise, this episode of Topical Resort will be returning to the all so loved line of SEGA Hardware Add-Ons, and on this episode, we'll be completing our mini retrospective series by looking at the least loved, the SEGA 32X!

The topic for this episode is: SEGA 32X

Here's what's coming up on this week's episode:

Request Resort
The games eligible for this week's Request Resort are:

After Burner [32X]
Cosmic Carnage
Darxide
Doom [32X]
Knuckles Chaotix
Kolibri
Metal Head
Night Trap [32X]
SegaSonic the Hedgehog (Cancelled)
Sonic X-treme (Cancelled)
Space Harrier [32X]
Star Wars Arcade
Tempo
Virtua Fighter [32X]
Virtua Racing Deluxe
Zaxxon's Motherbase 2000
You can get in your requests for this segment over on our Twitter (@RadioSEGA) or my own Twitter (@TheGreenViper8), at the official show Twitter (@TopicalResort), you can send me a PM on our Discord server (radiose.ga/discord) or you can email me at topicalresort@gmail.com.

Discord Call-in
Got a burning question you'd like to ask? Got an opinion on anything said on the show? Maybe you just want to talk about anything to do with gaming. Either way, the Discord Call-in is a way to do that while actually getting your voice onto the show! You may be asking "How do you do this?", and it's very simple. Join our Discord Server by visiting radiose.ga/discord and from there, you'll need to grab a microphone and you'll need to join the Chillout Voice Room!

Are you ready to experience the next level of gaming? Then why not tune in at 7PM GMT, 8PM CET, 2PM EST or 11AM PST?
17th January, 2018 - 19:20 GMT
GreenViper8
Article viewed 481 times
Comments:
There are no comments for this article.
You need to be logged in to post a comment.
Please login using the boxes at the top of the page.




Requests between 6th Jan and 13th Jan







Replies: 24

Replies: 8

Replies: 50

Replies: 136

Replies: 6

http://www.segadriven.com/
http://www.lastminutecontinue.com/
http://www.sonicstadium.org/
http://www.summerofsonic.com/
http://outrun86.wordpress.com/
https://www.facebook.com/groups/soniclondon/
https://twitter.com/cavernsofhope
http://16bap.theclassicgamer.net
http://www.sega-addicts.com
http://segadoes.com/
http://thesonicshow.org/
http://twitch.tv/thecorndogbandit
http://www.thedreamcastjunkyard.co.uk/
http://yakuzafan.com/
http://puyonexus.com/
http://segabits.com/
https://www.youtube.com/c/NintendoLounge