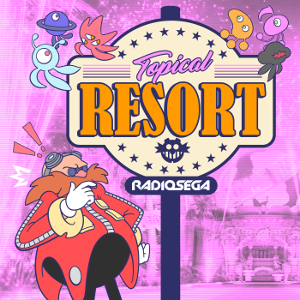 ---
Now in THREE DIMENSIONS!
Wonder how long it'll take for people to tire of that gimmick.
It's been a few months, but it's time to return to the handhelds and their library of SEGA titles. Although there are a few other handhelds with SEGA games to cover, it made sense to me to cover one which most likely won't be receiving anymore titles from SEGA, with that being the 3DS!

The topic for this episode is: SEGA 3DS Games

Here's what's coming up on this week's episode:

Request Resort
The games eligible for this week's Request Resort are:
3D After Burner II
3D Altered Beast
3D Ecco the Dolphin
3D Fantasy Zone II Double
3D Fantasy Zone: Opa-Opa Bros.
3D Galaxy Force II
3D Gunstar Heroes
3D OutRun
3D Power Drift
3D Shinobi III
3D Sonic the Hedgehog
3D Sonic the Hedgehog 2
3D Space Harrier
3D Streets of Rage
3D Streets of Rage 2
3D Super Hang-On
3D Thunder Blade
7th Dragon III Code: VFD
Etrian Mystery Dungeon
Etrian Mystery Dungeon 2
Etrian Odyssey 2 Untold: The Fafnir Knight
Etrian Odyssey Untold: The Millennium Girl
Etrian Odyssey V: Beyond the Myth
Hatsune Miku: Project Mirai DX
Mario & Sonic at the London 2012 Olympic Games
Mario & Sonic at the Rio 2016 Olympic Games
Persona Q: Shadow of the Labyrinth
Project X Zone
Project X Zone 2
Puyo Puyo Chronicle
Puyo Puyo Tetris
Radiant Historia: Perfect Chronology
Rhythm Thief & the Emperor's Treasure
SEGA 3D Classics Collection (SEGA 3D Fukkoku Archives II)
SEGA 3D Fukkoku Archives
SEGA 3D Fukkoku Archives III
Shin Megami Tensei IV: Apocalypse
Shinobi 3D
Sonic & All-Stars Racing Transformed
Sonic Boom: Fire & Ice
Sonic Boom: Shattered Crystal
Sonic Generations
Sonic Lost World
Stella Glow
Super Monkey Ball 3D
You can get in your requests for this segment over on our Twitter (@RadioSEGA) or my own Twitter (@TheGreenViper8), at the official show Twitter (@TopicalResort), you can send me a PM on our Discord server (radiose.ga/discord) or you can email me at topicalresort@gmail.com.

Discord Call-in
Got a burning question you'd like to ask? Got an opinion on anything said on the show? Maybe you just want to talk about anything to do with gaming. Either way, the Discord Call-in is a way to do that while actually getting your voice onto the show! You may be asking "How do you do this?", and it's very simple. Join our Discord Server by visiting radiose.ga/discord and from there, you'll need to grab a microphone and you'll need to join the Chillout Voice Room!

Do you love being able to play Sonic 1 for the millionth time, but this time in 3D? Then why not tune in at 7PM GMT, 8PM CET, 2PM EST or 11AM PST?
10th January, 2018 - 20:16 GMT
GreenViper8
Article viewed 479 times
Comments:
There are no comments for this article.
You need to be logged in to post a comment.
Please login using the boxes at the top of the page.




Requests between 5th May and 12th May







Replies: 0

Replies: 28

Replies: 1016

Replies: 41

Replies: 2423

http://www.segadriven.com/
http://www.lastminutecontinue.com/
http://www.sonicstadium.org/
http://www.summerofsonic.com/
http://outrun86.wordpress.com/
https://www.facebook.com/groups/soniclondon/
https://twitter.com/cavernsofhope
http://16bap.theclassicgamer.net
http://www.sega-addicts.com
http://segadoes.com/
http://thesonicshow.org/
http://twitch.tv/thecorndogbandit
http://www.thedreamcastjunkyard.co.uk/
http://yakuzafan.com/
http://puyonexus.com/
http://segabits.com/
https://www.youtube.com/c/NintendoLounge