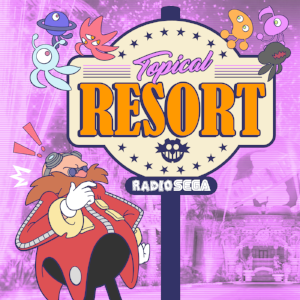 ---
An ambulance on the horizon...
WII U WII U WII U WII U

Some artists are never appreciated in their own time. Now although I just typed out the contents of an Animal Crossing fortune cookie on the Wii U, in my personal opinion, it couldn't be closer. Although the console itself may have been rather strange, it did have some great games, and what we're here for this week is to look at the games our beloved SEGA put onto the platform.

The topic for this episode is: SEGA Wii U Games

Here's what's coming up on this week's episode:

Request Resort
The games eligible for this week's Request Resort are:

Bayonetta
Bayonetta 2
ChuChu Rocket!
Citizens of Earth
Mario & Sonic at the Sochi 2014 Olympic Winter Games
Mario & Sonic at the Rio 2016 Olympic Games
Puyo Puyo Tetris
Ryu ga Gotoku 1&2 HD Edition for Wii U
Shining Force: Resurrection of the Dark Dragon
Shining Soul
Shining Soul II
Sonic & All-Stars Racing Transformed
Sonic Advance
Sonic Advance 2
Sonic Advance 3
Sonic Boom: Rise of Lyric
Sonic Lost World
The Cave

You can get in your requests for this segment over on our Twitter (@RadioSEGA) or my own Twitter (@TheGreenViper8), at the official show Twitter (@TopicalResort), you can send me a PM on our Discord server (radiose.ga/discord) or you can email me at topicalresort@gmail.com.

Discord Call-in
Got a burning question you'd like to ask? Got an opinion on anything said on the show? Maybe you just want to talk about anything to do with gaming. Either way, the Discord Call-in is a way to do that while actually getting your voice onto the show! You may be asking "How do you do this?", and it's very simple. Join our Discord Server by visiting radiose.ga/discord and from there, you'll need to grab a microphone and you'll need to join the Chillout Voice Room!
Topical Presort
Returning this week for the first time since October is the Topical Presort, a show where I play games I'll be talking about on the upcoming episode of Topical Resort. This week, I'll be playing a select few Wii U games. This can be caught over at my Twitch channel (TheGreenViper8) on Thursday at 8PM GMT, 9PM CET, 3PM EST or 12PM PST.
Do you love confusing console names that only damage the reputation among consumers? Then why not tune in at 7PM GMT, 8PM CET, 2PM EST or 11AM PST?
7th February, 2018 - 18:34 GMT
GreenViper8
Article viewed 425 times
Comments:
There are no comments for this article.
You need to be logged in to post a comment.
Please login using the boxes at the top of the page.




Requests between 6th Jan and 13th Jan







Replies: 24

Replies: 8

Replies: 50

Replies: 136

Replies: 6

http://www.segadriven.com/
http://www.lastminutecontinue.com/
http://www.sonicstadium.org/
http://www.summerofsonic.com/
http://outrun86.wordpress.com/
https://www.facebook.com/groups/soniclondon/
https://twitter.com/cavernsofhope
http://16bap.theclassicgamer.net
http://www.sega-addicts.com
http://segadoes.com/
http://thesonicshow.org/
http://twitch.tv/thecorndogbandit
http://www.thedreamcastjunkyard.co.uk/
http://yakuzafan.com/
http://puyonexus.com/
http://segabits.com/
https://www.youtube.com/c/NintendoLounge