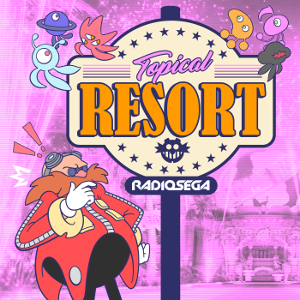 ---
Branching out!
We're going into a new field on this episode, and it's one that we should've visited a long time ago...
It's a field of episodes that I've been wanting to branch into for some time now, and thanks to a request by Jamie64326, this week on the Topical Resort, we'll be starting a series of retrospectives on SEGA composers!

The topic for this episode is: Yuzo Koshiro

Here's what's coming up on this week's episode:

Request Resort
Here is the list of games eligible for this week's Request Resort:
7th Dragon
7th Dragon 2020
7th Dragon 2020-II
7th Dragon III: Code VFD
Amazing Island
Beyond Oasis
Etrian Odyssey V: Beyond the Myth
Eye of the Beholder (SEGA CD)
Revenge of Shinobi
Shenmue
Shenmue II
Slapfight MD
Sonic the Hedgehog (8-Bit)
Streets of Rage
Streets of Rage 2
Streets of Rage 3
The GG Shinobi
The GG Shinobi II

You can get in your requests for this segment over on our Twitter (@RadioSEGA) or my own Twitter (@TheGreenViper8), at the official show Twitter (@TopicalResort), you can send me a PM on our Discord server (radiose.ga/discord) or you can email me at topicalresort@gmail.com.

Discord Call-in
Got a burning question you'd like to ask? Got an opinion on anything said on the show? Maybe you just want to talk about anything to do with gaming. Either way, the Discord Call-in is a way to do that while actually getting your voice onto the show! You may be asking "How do you do this?", and it's very simple. Join our Discord Server by visiting radiose.ga/discord and from there, you'll need to grab a microphone and you'll need to join the Chillout Voice Room!

Do you love the tracks composed by one of SEGA's most iconic composers? Then why not tune in at 7PM GMT, 8PM CET, 2PM EST or 11AM PST?
8th March, 2018 - 20:02 GMT
GreenViper8
Article viewed 416 times
Comments:
There are no comments for this article.
You need to be logged in to post a comment.
Please login using the boxes at the top of the page.




Requests between 5th May and 12th May







Replies: 0

Replies: 28

Replies: 1016

Replies: 41

Replies: 2423

http://www.segadriven.com/
http://www.lastminutecontinue.com/
http://www.sonicstadium.org/
http://www.summerofsonic.com/
http://outrun86.wordpress.com/
https://www.facebook.com/groups/soniclondon/
https://twitter.com/cavernsofhope
http://16bap.theclassicgamer.net
http://www.sega-addicts.com
http://segadoes.com/
http://thesonicshow.org/
http://twitch.tv/thecorndogbandit
http://www.thedreamcastjunkyard.co.uk/
http://yakuzafan.com/
http://puyonexus.com/
http://segabits.com/
https://www.youtube.com/c/NintendoLounge