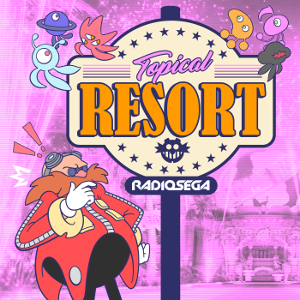 ---
So take me back in time...
There's nothing to decide... Apart from the year of course!
After last week's extravaganza, it's time that things went back to normal here at the Topical Resort. As you know, we're approaching the end of this season, and I wanted to cover a topic that's fairly near and dear to my heart, so that's what we'll be doing. In this case, we're back to looking at a year, and a pretty special year for gaming in my opinion...

The topic for this episode is: 2008 SEGA Games

Here's what's coming up on this week's episode:

Request Resort
Here is the list of games eligible for this week's Request Resort:
Beijing 2008
Crazy Taxi: Fare Wars
Golden Axe: Beast Rider
Initial D Extreme Stage
Let's Tap
Mario and Sonic at the Olympic Games [DS]
NiGHTS into Dreams...
NiGHTS: Journey of Dreams
Rez HD
Samba de Amigo
SEGA Bass Fishing
SEGA Rally Revo
SEGA Superstars Tennis
Sonic Chronicles: The Dark Brotherhood
Sonic Riders: Zero Gravity
Sonic Unleashed
Super Smash Bros Brawl
The House of the Dead 2&3
Valkyria Chronicles
Yakuza Kenzan

You can get in your requests for this segment over on our Twitter (@RadioSEGA) or my own Twitter (@TheGreenViper8), at the official show Twitter (@TopicalResort), you can send me a PM on our Discord server (radiose.ga/discord) or you can email me at topicalresort@gmail.com.

Discord Call-in
Got a burning question you'd like to ask? Got an opinion on anything said on the show? Maybe you just want to talk about anything to do with gaming. Either way, the Discord Call-in is a way to do that while actually getting your voice onto the show! You may be asking "How do you do this?", and it's very simple. Join our Discord Server by visiting radiose.ga/discord and from there, you'll need to grab a microphone and you'll need to join the Chillout Voice Room!


Do you have fond memories of 2008? Then why not tune in at 7PM GMT, 8PM CET, 3PM EDT or 12PM PDT?
21st March, 2018 - 18:52 GMT
GreenViper8
Article viewed 357 times
Comments:
There are no comments for this article.
You need to be logged in to post a comment.
Please login using the boxes at the top of the page.




Requests between 5th May and 12th May







Replies: 0

Replies: 28

Replies: 1016

Replies: 41

Replies: 2423

http://www.segadriven.com/
http://www.lastminutecontinue.com/
http://www.sonicstadium.org/
http://www.summerofsonic.com/
http://outrun86.wordpress.com/
https://www.facebook.com/groups/soniclondon/
https://twitter.com/cavernsofhope
http://16bap.theclassicgamer.net
http://www.sega-addicts.com
http://segadoes.com/
http://thesonicshow.org/
http://twitch.tv/thecorndogbandit
http://www.thedreamcastjunkyard.co.uk/
http://yakuzafan.com/
http://puyonexus.com/
http://segabits.com/
https://www.youtube.com/c/NintendoLounge