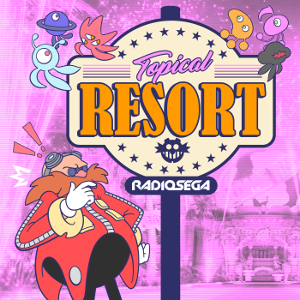 ---
Tropical Club
Time to steal I Need Fruit's apples.
We're getting back into the swing of covering some listener requests, and what a great one this is! I've had this topic on the backburner for a good while now so I'm glad that you guys would like to hear it! But as you saw, yes, it's time to go into other show host's territory, specifically I Need Fruit's, as we take a look at SEGA's Model 2 arcade board!

The topic for this episode is: SEGA Model 2

Here's what's coming up on this week's episode:

Request Resort
Here is the list of games eligible for this week's Request Resort:
Behind Enemy Lines
Cyber Troopers Virtual On
Daytona USA
Dead or Alive
Desert Tank
Dynamite Baseball '97
Dynamite Cop
Fighting Vipers
Gunblade NY
Indy 500
Last Bronx
Manx TT Superbike
Motor Raid
Over Rev
Pilot Kids
Rail Chase 2
Sega Rally Championship
Sega Ski Super G
Sega Touring Car Championship
Sega Water Ski
Sky Target
Sonic The Fighters
Super GT24h
The House of the Dead
Top Skater
Virtua Cop
Virtua Cop 2
Virtua Fighter 2
Virtua Striker
WaveRunner
Zero Gunner

You can get in your requests for this segment over on our Twitter (@RadioSEGA) or my own Twitter (@TheGreenViper8), at the official show Twitter (@TopicalResort), you can send me a PM on our Discord server (radiose.ga/discord) or you can email me at topicalresort@gmail.com.

Discord Call-in
Got a burning question you'd like to ask? Got an opinion on anything said on the show? Maybe you just want to talk about anything to do with gaming. Either way, the Discord Call-in is a way to do that while actually getting your voice onto the show! You may be asking "How do you do this?", and it's very simple. Join our Discord Server by visiting radiose.ga/discord and from there, you'll need to grab a microphone and you'll need to join the Chillout Voice Room!
Topical Presort
"What? Two in the span of one month?" I know, crazy right? But with that in mind, on Thursday at 8PM GMT, 9PM CET, 3PM EST and 12PM PST, we'll be taking a look at a select few Model 2 games over on my Twitch channel (TheGreenViper8), including some of probably YOUR favourites! The stream will last for about 2 hours and will be archived, so don't panic if you miss it!

Are you a fan of one of the best arcade boards ever made? Then tune in at 7PM GMT, 8PM CET, 2PM EST or 11AM PST!
1st March, 2018 - 11:34 GMT
GreenViper8
Article viewed 538 times
Comments:
There are no comments for this article.
You need to be logged in to post a comment.
Please login using the boxes at the top of the page.




Requests between 5th May and 12th May







Replies: 0

Replies: 28

Replies: 1016

Replies: 41

Replies: 2423

http://www.segadriven.com/
http://www.lastminutecontinue.com/
http://www.sonicstadium.org/
http://www.summerofsonic.com/
http://outrun86.wordpress.com/
https://www.facebook.com/groups/soniclondon/
https://twitter.com/cavernsofhope
http://16bap.theclassicgamer.net
http://www.sega-addicts.com
http://segadoes.com/
http://thesonicshow.org/
http://twitch.tv/thecorndogbandit
http://www.thedreamcastjunkyard.co.uk/
http://yakuzafan.com/
http://puyonexus.com/
http://segabits.com/
https://www.youtube.com/c/NintendoLounge