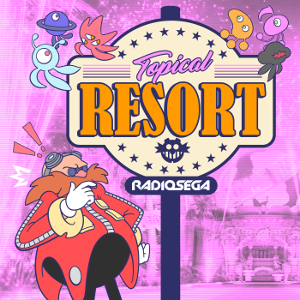 ---
Gotta break through the dimension barrier!
Nope, just a little bit faster...
With me being me, there's a certain title coming up soon from the needlemouse that I'm over the moon for (flew over it) so of course I must dedicate a show to him, even if of course people will complain that it's another Sonic topic! All aboard the Mania Plus hype train!

The topic for this episode is: 2D Sonic

Here's what's coming up on this week's episode:

Request Resort
Here is the list of games eligible for this week's Request Resort:
Knuckles Chaotix
Sonic & Knuckles
Sonic Blast
Sonic CD
Sonic Chaos
Sonic Colours (DS)
Sonic Forces (Classic Only)
Sonic Generations (Classic Only)
Sonic Mania
Sonic Rivals
Sonic Rivals 2
Sonic Rush
Sonic Rush Adventure
Sonic the Hedgehog
Sonic the Hedgehog 2
Sonic the Hedgehog 3
Sonic the Hedgehog 4
Sonic Triple Trouble
Tails Adventure
Tails Sky Patrol

You can get in your requests for this segment over on Twitter (@RadioSEGA, @TopicalResort or @TheGreenViper8), you can send me a PM on our Discord server (radiose.ga/discord) or you can email me at topicalresort@gmail.com.

Trivia Coast
The Trivia Coast is our bi-weekly quiz show! Bring your knowledge along to win some points, and then brag to others that you know too much about SEGA! The 3 questions you will be asked all relate to the topic at hand, and Google is allowed, but is meant to be used as more of a tool rather than a way to guarantee you the answer. With that in mind, best of luck!

You can play along with the Trivia Coast by sending GreenViper8#6383 a private message with your answer on Discord!

Test Your Topicality
"Calm and thought-provoking discussions" are words that describe everything that Test your Topicality isn't! It's a frantic battle between 2 contestants to argue for or against a statement, and it's a stance that they may not necessarily agree with. It's messy, it's rough, but that's the fun of it all. Who will be in the hot-seat and what will they be arguing for? There's only one way to find out...


Do you want to run through the breath-taking views at the Topical Resort? Then tune in at 7PM BST, 8PM CEST, 2PM EDT or 11AM PDT!
13th July, 2018 - 15:01 GMT
GreenViper8
Article viewed 275 times
Comments:
There are no comments for this article.
You need to be logged in to post a comment.
Please login using the boxes at the top of the page.




Requests between 15th Jul and 21st Jul







Replies: 29

Replies: 2427

Replies: 24

Replies: 5

Replies: 58

http://www.segadriven.com/
http://www.lastminutecontinue.com/
http://www.sonicstadium.org/
http://www.summerofsonic.com/
http://outrun86.wordpress.com/
https://www.facebook.com/groups/soniclondon/
https://twitter.com/cavernsofhope
http://16bap.theclassicgamer.net
http://www.sega-addicts.com
http://twitch.tv/thecorndogbandit
http://www.thedreamcastjunkyard.co.uk/
http://yakuzafan.com/
http://puyonexus.com/
http://segabits.com/
https://www.youtube.com/c/NintendoLounge