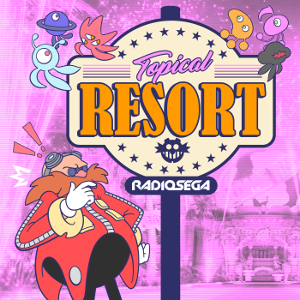 ---
Do you see what I see?
It's not sailors, that's for certain...
We truly live in a dream world. Shenmue 1, 2 and 3 are all coming to modern platforms, and if you told that to a fan back in the dark ages of the mid-2000s, I think their head might have exploded. Admittedly it took a little longer than it should have, but the fact that it happened at all is a site to behold.

So it's all good rambling, but what does this have to do with the episode? Well, as you can guess, we'll be looking at Shenmue this week to celebrate the re-release of the 1st and 2nd titles on PS4, XB1 and PC. This poses just one issue though, and that's that the re-release isn't in my hands yet, and I haven't got far at all in the Dreamcast releases. So I hope you enjoy the perspective of a current outsider to the series!

The topic for this episode is: Shenmue

Here's what's coming up on this week's episode:

Request Resort
Here's the list of games eligible for this week's Request Resort:
Shenmue
Shenmue (Orchestra Version)
Shenmue II
You're my only...... ~Shenmue's Whisper~

You can get in your requests for this segment over on Twitter (@RadioSEGA, @TopicalResort or @TheGreenViper8), you can send me a PM on our Discord server (radiose.ga/discord) or you can email me at topicalresort@gmail.com.

Discord Call-In
Got a burning question you'd like to ask? Got an opinion on anything said on the show? Maybe you just want to talk about anything to do with gaming. Either way, the Discord Call-in is a way to do that while actually getting your voice onto the show! You may be asking "How do you do this?", and it's very simple. Join our Discord Server by visiting radiose.ga/discord and from there, you'll need to grab a microphone and you'll need to join the Chillout Voice Room!

Do you want to go on a search far and wide for sailors? Then why not tune in at 7PM BST, 8PM CEST, 2PM EDT or 11AM PDT?
16th August, 2018 - 14:07 GMT
GreenViper8
Article viewed 355 times
Comments:
There are no comments for this article.
You need to be logged in to post a comment.
Please login using the boxes at the top of the page.




Requests between 15th Jul and 21st Jul







Replies: 29

Replies: 2427

Replies: 24

Replies: 5

Replies: 58

http://www.segadriven.com/
http://www.lastminutecontinue.com/
http://www.sonicstadium.org/
http://www.summerofsonic.com/
http://outrun86.wordpress.com/
https://www.facebook.com/groups/soniclondon/
https://twitter.com/cavernsofhope
http://16bap.theclassicgamer.net
http://www.sega-addicts.com
http://twitch.tv/thecorndogbandit
http://www.thedreamcastjunkyard.co.uk/
http://yakuzafan.com/
http://puyonexus.com/
http://segabits.com/
https://www.youtube.com/c/NintendoLounge