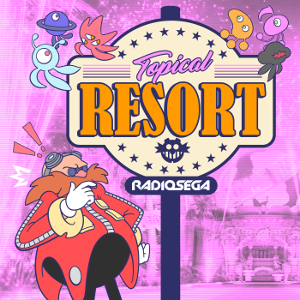 ---
"It's better than nothing"
As famously uttered by Keiji Inafune.
The title is indeed correct! With only an hour to go, here's the writeup for this week.

Amazingly, I've somehow never covered the Mega Drive, despite how much I love the console and despite how important it is for SEGA. But that all changes this week, as to celebrate Sunday's Mega Drive Tournament in Nottingham, we should probably look into the console that didn't start it all, but made the company we all know and love a mainstay in the video game market.

The topic for this episode is: Mega Drive

Here's what's coming up on this week's episode:

Request Resort
To save myself a lot of writing this week, I'll say that every title released for the Mega Drive is eligible. Yes, even that one. First party, third party and homebrew are all able to be requested, so go nuts!

You can get in your requests for this segment over on Twitter (@RadioSEGA, @TopicalResort or @TheGreenViper8), you can send me a PM on our Discord server (radiose.ga/discord) or you can email me at topicalresort@gmail.com.

Discord Call-In
Got a burning question you'd like to ask? Got an opinion on anything said on the show? Maybe you just want to talk about anything to do with gaming. Either way, the Discord Call-in is a way to do that while actually getting your voice onto the show! You may be asking "How do you do this?", and it's very simple. Join our Discord Server by visiting radiose.ga/discord and from there, you'll need to grab a microphone and you'll need to join the Chillout Voice Room!

Do you want to relive those classic memories of a timeless console? Then why not tune in at 7PM BST, 8PM CEST, 2PM EDT or 11AM PDT?

3rd August, 2018 - 19:42 GMT
GreenViper8
Article viewed 277 times
Comments:
There are no comments for this article.
You need to be logged in to post a comment.
Please login using the boxes at the top of the page.




Requests between 5th May and 12th May







Replies: 0

Replies: 28

Replies: 1016

Replies: 41

Replies: 2423

http://www.segadriven.com/
http://www.lastminutecontinue.com/
http://www.sonicstadium.org/
http://www.summerofsonic.com/
http://outrun86.wordpress.com/
https://www.facebook.com/groups/soniclondon/
https://twitter.com/cavernsofhope
http://16bap.theclassicgamer.net
http://www.sega-addicts.com
http://segadoes.com/
http://thesonicshow.org/
http://twitch.tv/thecorndogbandit
http://www.thedreamcastjunkyard.co.uk/
http://yakuzafan.com/
http://puyonexus.com/
http://segabits.com/
https://www.youtube.com/c/NintendoLounge