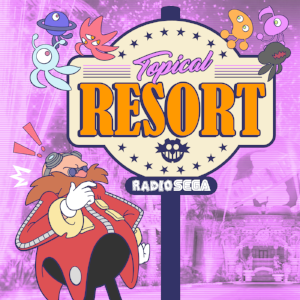 ---
One for the AGES
It's time to play those same games again!
It's the episode that keeps messing up this month's schedule, and the one you've possibly maybe been waiting for. Either way, it's SEGA AGES time!

The topic for this episode is: SEGA AGES

Here's what's coming up on this week's episode:

Request Resort
Here's the list of games eligible for this week's Request Resort:
3D Fantasy Zone II W
3D OutRun
After Burner II
Alex Kidd in Miracle World
Fantasy Zone II DX: The Tears of Opa-Opa [SEGA AGES 2500 Vol. 33]
Fantasy Zone [SEGA AGES 2500 Vol. 3]
Flicky
Gain Ground
Galaxy Force II
Phantasy Star
SEGA 3D Classics Collection (SEGA 3D Fukkoku Archives II)
SEGA 3D Fukkoku Archives
SEGA 3D Fukkoku Archives III
SEGA AGES 2500 Series Vol.28: Tetris Collection
SEGA AGES 2500 Series Vol.5: Golden Axe
Sonic the Hedgehog
Thunder Force IV

You can get in your requests for this segment over on Twitter (@RadioSEGA, @TopicalResort or @TheGreenViper8), you can send me a PM on our Discord server (radiose.ga/discord) or you can email me at topicalresort@gmail.com.

Discord Call-In
Got a burning question you'd like to ask? Got an opinion on anything said on the show? Maybe you just want to talk about anything to do with gaming. Either way, the Discord Call-in is a way to do that while actually getting your voice onto the show! You may be asking "How do you do this?", and it's very simple. Join our Discord Server by visiting radiose.ga/discord and from there, you'll need to grab a microphone and you'll need to join the Chillout Voice Room!

Are you lookng forward to a new way to enjoy beloved classics? Then why not tune in at 7PM BST, 8PM CEST, 2PM EDT or 11AM PDT?
13th September, 2018 - 19:36 GMT
GreenViper8
Article viewed 126 times
Comments:
There are no comments for this article.
You need to be logged in to post a comment.
Please login using the boxes at the top of the page.




Requests between 9th Sep and 16th Sep







Replies: 5

Replies: 134

Replies: 1011

Replies: 16

Replies: 2417

http://www.segadriven.com/
http://www.lastminutecontinue.com/
http://www.sonicstadium.org/
http://www.summerofsonic.com/
http://outrun86.wordpress.com/
https://www.facebook.com/groups/soniclondon/
https://twitter.com/cavernsofhope
http://16bap.theclassicgamer.net
http://www.seganerds.com
http://www.sega-addicts.com
http://segadoes.com/
http://thesonicshow.org/
http://twitch.tv/thecorndogbandit
http://www.thedreamcastjunkyard.co.uk/
http://yakuzafan.com/
http://puyonexus.com/