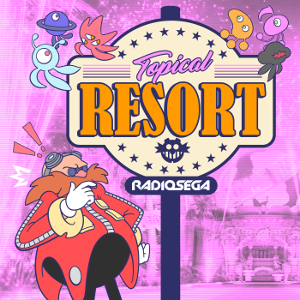 ---
Wii Would Like to Play SEGA
I mean seriously, have you seen that lineup?
Ah, the Wii. Whether you were a fan of flailing your arms about like an idiot while playing Wii Sports or not, you can't deny it had some brilliant 1st and 3rd party titles. Even if some of the games up tonight aren't the greatest, or the best versions, the variety amongst all of these soundtracks and the sheer number of brilliant ones the console had is something to behold. Let's not beat around the bush for any longer and show you what tracks you can request.

The topic for this episode is: SEGA Wii Games

Here's what's coming up on this week's episode:

Request Resort
Here is the list of games eligible for this week's Request Resort:
Alien Syndrome
Ghost Squad
Guilty Gear XX Accent Core
Gunblade NY & LA Machineguns
Let's Catch
Let's Tap
MadWorld
Mario & Sonic at the London 2012 Olympic Games
Mario & Sonic at the Olympic Games
NiGHTS: Journey of Dreams
Puyo Puyo 7
Sakura Taisen V
Samba de Amigo
SEGA Bass Fishing
SEGA Superstars Tennis
Sonic & SEGA All-Stars Racing
Sonic Colours
Sonic Riders: Zero Gravity
Sonic Unleashed
Sonic and the Black Knight
Sonic and the Secret Rings
Sonic the Hedgehog 4 Episode I
Spongebob SquarePants: Creature from the Krusty Krab (???)
Super Monkey Ball: Banana Blitz
Super Monkey Ball: Step & Roll
The House of the Dead 2 & 3 Retrun
The House of the Dead: Overkill

You can get in your requests for this segment over on Twitter (@RadioSEGA, @TopicalResort or @TheGreenViper8), you can send me a PM on our Discord server (radiose.ga/discord) or you can email me at topicalresort@gmail.com.

Discord Call-In
Got a burning question you'd like to ask? Got an opinion on anything said on the show? Maybe you just want to talk about anything to do with gaming. Either way, the Discord Call-in is a way to do that while actually getting your voice onto the show! You may be asking "How do you do this?", and it's very simple. Join our Discord Server by visiting radiose.ga/discord and from there, you'll need to grab a microphone and you'll need to join the Chillout Voice Room!

Are you looking forward to your Wii remote being lodged into your TV? Then why not tune in at 7PM BST, 8PM CEST, 2PM EDT or 11AM PDT?

4th October, 2018 - 21:48 GMT
GreenViper8
Article viewed 257 times
Comments:
There are no comments for this article.
You need to be logged in to post a comment.
Please login using the boxes at the top of the page.




Requests between 15th Jul and 21st Jul







Replies: 29

Replies: 2427

Replies: 24

Replies: 5

Replies: 58

http://www.segadriven.com/
http://www.lastminutecontinue.com/
http://www.sonicstadium.org/
http://www.summerofsonic.com/
http://outrun86.wordpress.com/
https://www.facebook.com/groups/soniclondon/
https://twitter.com/cavernsofhope
http://16bap.theclassicgamer.net
http://www.sega-addicts.com
http://twitch.tv/thecorndogbandit
http://www.thedreamcastjunkyard.co.uk/
http://yakuzafan.com/
http://puyonexus.com/
http://segabits.com/
https://www.youtube.com/c/NintendoLounge