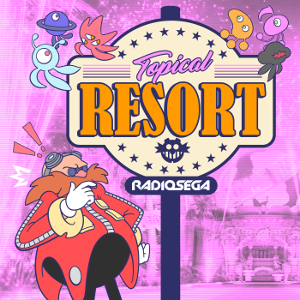 ---
Easier or harder than picking a favourite child?
Bit easier for me, personally.
Oh my, the final episode of 2018 is here already and blah blah blah the usual jargon of how fast the year has gone. But either way, it's time to continue last year's tradition of the yearly news roundup to see just how far downhill things went this year in the SEGAverse. We've also rounded up another tradition from last year into this episode, as I'm going to be quizzing you on your favourite episodes of 2018. It's jam packed, but we may as well take advantage of the lack of SEGA Mixer Drive, right?

The topic for this episode is: Yearly News Roundup/Favourite Episodes of 2018

Here's what's coming up on this week's episode:

Request Resort
Since this episode will be Off-Topic, that means you can pick any music you want for the Request Resort this week, as long as it is in line with the rules below:
Gaming music only
If it is on the RadioSEGA Playlist, I will have it
If it is not on our Playlist, I will need you to send it to me with full tags (Places you can send it are listed down below)
Please only send music that is decent to air, no music that could be deemed offensive will be broadcasted
You can get in your requests for this segment over on Twitter (@RadioSEGA, @TopicalResort or @TheGreenViper8), you can send me a PM on our Discord server (radiose.ga/discord) or you can email me at topicalresort@gmail.com.

Favourite Episode of 2018
Had an episode from this year that you liked more than the others? That's good, because otherwise I wouldn't be making this survey. Take the survey here and be sure to include a favourite song related to that episode as I'll be playing a bunch of them during the segment!


Have short term memory loss and can't remember this year's news? Have short term memory loss and can't remember this year's news? Then why not consider tuning in at 5PM GMT, 6PM CET, 12PM EST or 9AM PST?

27th December, 2018 - 13:23 GMT
GreenViper8
Article viewed 401 times
Comments:
There are no comments for this article.
You need to be logged in to post a comment.
Please login using the boxes at the top of the page.




Requests between 25th May and 31st May







Replies: 56

Replies: 0

Replies: 1522

Replies: 181

Replies: 2

http://www.segadriven.com/
http://www.lastminutecontinue.com/
http://www.sonicstadium.org/
http://www.summerofsonic.com/
http://outrun86.wordpress.com/
https://www.facebook.com/groups/soniclondon/
https://eccothedolphin.net/
http://16bap.theclassicgamer.net
http://www.sega-addicts.com
http://twitch.tv/thecorndogbandit
http://www.thedreamcastjunkyard.co.uk/
http://yakuzafan.com/
http://puyonexus.com/
http://segabits.com/
https://www.youtube.com/c/NintendoLounge
https://kngi.org/