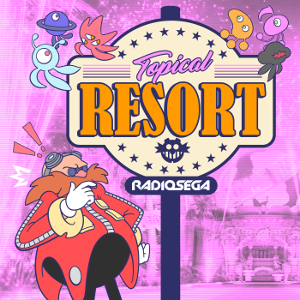 ---
You Stare into the Abyss and the Abyss Stares Back...
This doesn't fill you with a sense of determination.
We're already heading back into the world of listener requests here at the Resort. Last week, we looked at BritGamer98's request of Licensed SEGA Games and this week I've received a request from Mick which is so perfect I can't not use it immediately.

The topic for this episode is: Unlicensed SEGA Games

Here's what's coming up on this week's episode:
Request Resort
You're probably already thinking to yourself how shocking the music selection will be for this episode but fear not! They're few and far between, but there are a few good games on this episode. Take a look at this list of titles I could find music for for yourself:
Action 52 [Mega Drive]
Alex Kidd in Miracle World 2
Dux
GunLord
Ghost Blade
Mighty Mighty Missile
Pier Solar and the Great Architect
Redux
Rush Rush Rally Racing
Sonic Megamix
Tanglewood

Worth noting: To avoid having lots of complicated rules, only games that had a "commercial" release are being counted on this episode. If it was pressed on a real cartridge or disc and sold somehow, it's elgible.

You can get in your requests for this segment over on Twitter (@RadioSEGA, @TopicalResort or @TheGreenViper8), you can send me a PM on our Discord server (radiose.ga/discord) or you can email me at topicalresort@gmail.com.

Trivia Coast
The Trivia Coast is our weekly quiz show! Bring your knowledge along to win some prizes, and then brag to others that you know too much about SEGA! The 3 questions you will be asked all relate to the topic at hand, and Google is allowed, but is meant to be used as more of a tool rather than a way to guarantee you the answer. With that in mind, best of luck!
You can play along with the Trivia Coast by sending GreenViper8#6383 a private message with your answer on Discord!
Test Your Topicality
"Calm and thought-provoking discussions" are words that describe everything that Test your Topicality isn't! It's a frantic battle between 2 contestants to argue for or against a statement, and it's a stance that they may not necessarily agree with. It's messy, it's rough, but that's the fun of it all. Who will be in the hot-seat and what will they be arguing for? There's only one way to find out...
Are you wanting to venture into the dark side of the SEGA world? Then why not consider tuning in at 7PM GMT, 8PM CET, 2PM EDT or 11AM PDT?
21st March, 2019 - 17:47 GMT
GreenViper8
Article viewed 301 times
Comments:
There are no comments for this article.
You need to be logged in to post a comment.
Please login using the boxes at the top of the page.




Requests between 9th Sep and 15th Sep







Replies: 0

Replies: 21

Replies: 2428

Replies: 30

Replies: 60

http://www.segadriven.com/
http://www.lastminutecontinue.com/
http://www.sonicstadium.org/
http://www.summerofsonic.com/
http://outrun86.wordpress.com/
https://www.facebook.com/groups/soniclondon/
https://twitter.com/cavernsofhope
http://16bap.theclassicgamer.net
http://www.sega-addicts.com
http://twitch.tv/thecorndogbandit
http://www.thedreamcastjunkyard.co.uk/
http://yakuzafan.com/
http://puyonexus.com/
http://segabits.com/
https://www.youtube.com/c/NintendoLounge