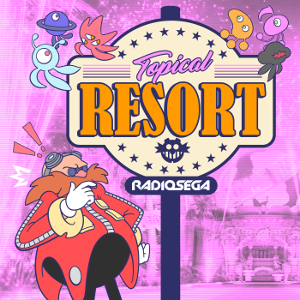 ---
Running the Fineline [TR Remix]
Cutting it a bit close, but better late than never right?
Episode 50 of Season 2 falls upon us tonight, and much like episode 100, it's dedicated to a composer, this time my own pick rather than yours. Still, I'm under the impression that you lot happen to like the guy anyway, so that's handy.

The topic of this episode is: Hideki Naganuma

Here's what's coming up on this week's show:

Request Resort
Here's the list of games eligble for this week's Request Resort:
Black Panther: New Yakuza Chapter
Black Panther 2: Yakuza Chapter Ashura
Hip Jog Jog
J. League Pro Soccer Club o Tsukurou! 3
Jet Set Radio
Jet Set Radio Future
JRA PAT
Ollie King
Persona 3: Dancing in Moonlight
SEGA Rally 2 [Dreamcast]
SEGA Rally Revo
Sonic Rush
Super Monkey Ball 3D
Super Monkey Ball: Banana Blitz
Yakuza 5
Yakuza Kenzan
Trivia Coast
The Trivia Coast is our weekly quiz show! Bring your knowledge along to win some points, and then brag to others that you know too much about SEGA! The 3 questions you will be asked all relate to the topic at hand, and Google is allowed, but use it as a tool in your arsenal rather than the key to your victory. With that in mind, best of luck to those who will enter!
You can play along with the Trivia Coast by sending GreenViper8#6383 a private message with your answer on Discord!
Ready to feel the funk in your soul? Join us on this slightly special Resort at 7PM BST, 8PM CST, 2PM EDT or 11M PDT.
21st June, 2019 - 17:27 GMT
GreenViper8
Article viewed 233 times
Comments:
There are no comments for this article.
You need to be logged in to post a comment.
Please login using the boxes at the top of the page.




Requests between 13th Jan and 19th Jan







Replies: 819

Replies: 0

Replies: 625

Replies: 3

Replies: 9

http://www.segadriven.com/
http://www.lastminutecontinue.com/
http://www.sonicstadium.org/
http://www.summerofsonic.com/
http://outrun86.wordpress.com/
https://www.facebook.com/groups/soniclondon/
https://twitter.com/cavernsofhope
http://16bap.theclassicgamer.net
http://www.sega-addicts.com
http://twitch.tv/thecorndogbandit
http://www.thedreamcastjunkyard.co.uk/
http://yakuzafan.com/
http://puyonexus.com/
http://segabits.com/
https://www.youtube.com/c/NintendoLounge
https://kngi.org/