KC: Can you please introduce the members of the band to us?
Nino MegaDriver, guitar and band founder.
Allan Big Thunder, singer.
Brunão, guitar.
Rubão, bass.
Jeff, drums.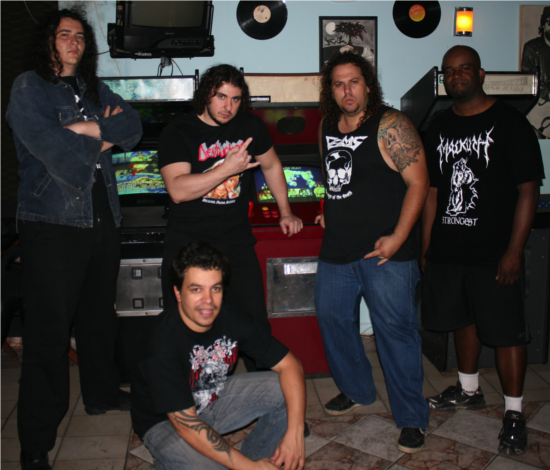 KC: When did Megadriver start? Why did you start the band and how did it happen?
N: The name MegaDriver was adopted in 2003, but the story started way before that. I started playing video games in the 80s; shortly after I started playing games, I also got my first LP of a Metal band. In the early 90s, when I started studying music, I even used to play video games while rocking to the music of some well known Metal bands. One day, while playing Golden Axe, I started noticing how the soundtrack had some sort of Heavy Metal "vibe". I kept imagining how the songs would sound if they were played with real instruments, with guitars and aggressive drums. That's how the idea of creating a new genre, "Game Metal", was born. In every garage band I played during the 90s I tried to pitch this idea, but no other musician accepted it. Today, being a gamer or a geek is something noble. Many people like to shout "Bazinga!" and stuff like that, right? But in the 90s, that was something to be laughed at. So my friends always preferred playing covers from bands like Metallica, Iron Maiden, AC/DC, etc., instead of Golden Axe, Sonic, Streets of Rage, Top Gear and Street Fighter, for example. In mid-1999, I got tired of waiting for other musicians and decided to start a one-man-band. With the help of my super Pentium II computer and a ZOOM 505 pedal, I recorded my first songs and posted on my old website "nino.com.br". The acceptance of video games and the "nerd world" grew with time and in 2003 I felt it would be the right moment to return to the idea of forming a band, in the true sense of the word. So, as a reference to my favourite and most played console in my teen years, I put together MegaDriver.
KC: You say in your site that you are the creators of the musical genre "GAME METAL". Is this acknowledged by other people?
N: This is a term I use since the early 90s. Before I used it, I search hard to find another similar project because I really wanted to listen to the music of my favourite games in a Heavy Metal style. This was a term that had never been used before. Some artists acknowledge it but few give us credit. However, historically, we coined it. It's just like "Nintendocore" that, in my modest opinion, originated with the guys of Minibosses. Or like, speaking of Heavy Metal, there's the term "Black Metal" that Chronos of Venom used to define his genre and today few are the bands that acknowledge them as the creators.
But anyway, it's just a word, a practical way to define our music to the people who are trying to get to know it.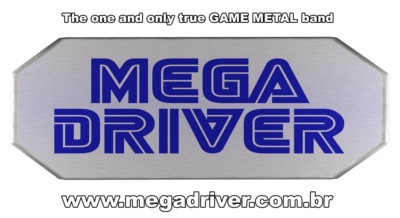 KC: How long have you been a SEGA fan? What started your love for this video game company?
N: I'm a SEGA fan since the arcades era. I was your typical 80s kid. I took my skate down to the nearest arcade and spent hours playing games like Golden Axe, Altered Beast, Super Thunder Blade, Double Dragon, Out Run, After Burner, etc. SEGA dominated the arcade scene in that time (well, around here anyway) and was the first one to make consoles that most resembled the arcades, technologically speaking. I bought my Master System because of Double Dragon and, even though I was a huge Sonic fan, what made me get a Mega Drive were games like Golden Axe and Altered Beast. The soundtrack to SEGA games also attracted me more - it's redundant to talk about Golden Axe and Altered Beast. Those games are purely Heavy Metal. But I'm also addicted to the soundtracks of Yuzo Koshiro that, despite being electronic, are awesome! Of course I also had (and still have) Nintendo consoles, but I tended to enjoy SEGA games more. I played (and still do) Streets of Rage, for example, a lot more than any Super Mario game. I bought my Super Nintendo almost exclusively to play Street Fighter 2 and Final Fight, a couple of games I also played in the arcades.
KC: What's your favourite SEGA console?
N: We all have the Mega Drive as our favourite. Only Rubão, our bassist, who is younger, prefers the Dreamcast.
KC: What about your favourite game?
N: That's super hard, eh? I've got several favourites like, for example, Golden Axe, Altered Beast, Streets of Rage, Revenge of Shinobi, Double Dragon... the list is huge, SEGA-wise. Non-SEGA, I really like the Castlevania and Street Fighter series, and I play Top Gear a lot, especially because of the soundtrack.
KC: Judging by the schedule on your website, you seem to be very busy with live shows all over Brazil. Do you feel famous, at least within the community of brazilian gamers?
N: We were the first band around here caring about game music, so it's only natural that people know us more. Every year we have a tour, even it's not too long. MegaDriver started with a very simple goal - to pay tribute to the classic games that were, in a way, being forgotten. So when we see a crowd going crazy when we play songs from lesser known games, B-sides, it's really an enormous pleasure for us. I think the word isn't 'famous'. Instead, we feel 'accomplished' when we have the chance to get on stage and play to a big crowd.
KC: I think you are pretty famous among the SEGA community. People all around the world have heard your songs. Have you ever played outside Brazil?
N: Unfortunately not yet. That's one of our goals. We've been approached by numerous international events, but some troubles have kept us from fulfilling that dream. I feel that will happen in the future, though.
KC: It'd be great if you could come to Portugal! :) One ticket would already be sold!
N: That would be a dream come true! We would definitely get you guys some VIP passes. ;)
KC: Lots of SEGA fans are musicians doing remixes or covers of game music. Have you ever worked, or thought of working with any other musician inside the community?
N: We have contributed by doing remixes to complement articles in websites and even to go on CDs that come with magazines. However, we never got an invitation from other remixers to do a collaboration. I think that kind of artistic exchange is really valid. Anyone interested?
KC: In every edition of the SEGA Fans Chronicles, I do a question related to music: If you were going to a desert island and could only take the soundtrack to one SEGA game with you, what would it be and why?
N: Golden Axe II - Because I simply don't get tired of listening to it. I listen to songs from this game in GYM format in a loop! Not to mention it would be an inspiration to build a viking Drakkar with palm tree logs to get off the island!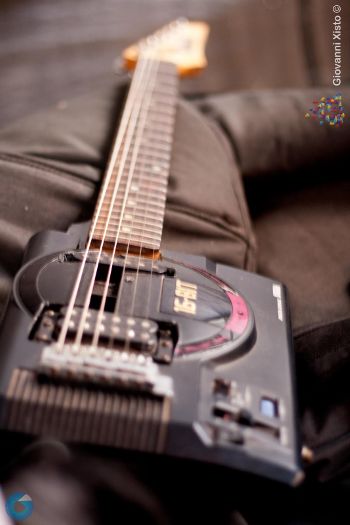 KC: Besides SEGA music, you've done covers and remixes of other games. Care to mention a few?
N: Of course! We have a preference for SEGA and Mega Drive games, but we can't turn our backs on great games like Castlevania, Chrono Trigger, Metal Gear, Street Fighter 2. To only requirement for a game to get into our repertoire is someone from the band to really like it. One of our favourite songs is the first track from Top Gear. We were among the first people to really appreciate that game. We even named the song (which was untitled) "Mad Racer". That name is amusingly used by several other remixers and, most of the times, they don't even know the origin. ;)
KC: For someone who never heard any of your game related songs, which one would you recommend as being your best work?
N:
For the SEGA fans, I recommend our "Action Metal" record, with only SEGA games music on it. That record, available for free download over at our website is the musical soul of MegaDriver.
--- KC Edit: Download "Action Metal" here.
KC: What about your original work?
N: When I started playing video games music, that was a novelty. There only just 4 projects really active online - my "nino.com.br", stuff from Minibosses, Neskimos and then DJ Pretzel with OC ReMix. However, that's not the case anymore - and I say this with pride. There are a lot of bands, DJs, remixers and all kinds of artists playing video games music. So we felt the need to innovate. So, we brought a singer to the band so we could, not only do remixes from video games songs, but also create new songs inspired on those very games. We have already recorded some songs, like "Axe Tales", inspired by Golden Axe; "Bloody Symphony", inspired by the Castlevania series; "Pitfall", to give a soundtrack to the Atari game; and we also wrote lyrics for "Mad Racer". On top of that, we released a videoclip called "Pac Man Rock", with the story of what happened to us as gamers, since our adolescence until our adult life.
KC: Alright, it's time for QUICK SHOTS:
SONIC OR MARIO? S-O-N-I-C!
METAL OR CLASSIC MUSIC? You kill me with that one :S But without any hypocrisy, METAL.
MASATO NAKAMURA OR JUN SENOUE? Jun Senoue! Living and learning, always...
VIRTUA FIGHTER OR STREET FIGHTER? Please, don't throw rocks at me but: STREET FIGHTER. You could've asked me "Virtua Fighter or Eternal Champions" and I'd say "ETERNAL CHAMPIONS". I'd really like to see a modern version of it, just like they did with Mortal Kombat.
WHICH (NOT YET ANNOUNCED) CHARACTER WOULD YOU LIKE TO SEE IN SONIC & ALL-STARS RACING TRANSFORMED? Death Adder or Tyris Flare, driving a stylized dragster as a dragon!
KC: I know that you, Nino, were involved in Game Music Brasil. Can you tell us what's that festival and you ended up getting involved with it? By the way, how did it go?
N: Game Music Brasil is a festival that aims to reward artists that work with video games music here in Brazil. I worked as curator and contributor to the festival, apart from being in the panel of judges. We had a category called "Best Soundtrack". We showed the participants two trailers from games to be released here in Brazil. They had to come up with soundtracks to those games and the best composition will be featured in the actual game. We also had awards for "Best Remix" and "Best Chiptune", both with the objective of creating awareness to the genre and reveal some new talents. The result was highly positive. This year more than 400 artists participated, and they got around half a million views on Youtube.
KC: I know you also helped out with Video Games Live São Paulo, a show that probably all of us would like to go to one day. How is the experience of being able to be behind the scenes?
N: The first time I went to VGL was in 2006 and I was really amazed. It was a dream to be able to participate in it in some way. In 2008 we got an invitation to do the opening show and that was a unique experience that we shall cherish forever. In 2009, we got another invitation and in the following years, even if you don't play, we always collaborate in any way, because we're really huge fans of the event. This year at VGL São Paulo was so much fun! It's always a great pleasure to work with Tommy Tallarico and his crew… always a learning experience. This year, when they played Skyrim I almost had a heart attack! I even made sure I kept myself busy so I didn't listen to the rehearsal and spoil the surprise!
KC: Finally, I leave you with a challenge and a promise - I've been trying to convince some of our guests to create remixes of Ristar songs. That is the challenge, a Metal version of one or more songs from that game. The promise is, when it's ready, we'll play it here on RadioSEGA on one of our shows. What do you guys think?
N: Not only do we accept the challenge, but we already did it! We recorded a last minute version of "Du Di Da". I apologize but I didn't get much time to spend with the mixing, because I wanted to take this challenge immediately. I hope you like it. In the future, we can collaborate with each other some more! ;)
KC: Thanks for your time, Nino! I wish you all the best and we'll keep in touch in the future...
N: Thank you very much for this opportunity and your support!
So, was this a very special edition of the SEGA Fans Chronicles or what? If you haven't yet, please visit MegaDriver's website and check out the work these guys do. They're great musicians and really nice people too.
By the way, that promise I made to Nino? If you didn't tune in to Saturday Night SEGA Ep. 131, you missed the premiere of "Du Di Da", the RadioSEGA exclusive track, on the airwaves. Don't worry though! You can still grab the podcast on RadioSEGA Media.
That's it for this week. Join us again next week as we dive deep underwater and write (with waterproof pen and paper) another chapter in the SEGA Fans Chronicles!