Memories of SEGA: Ninja Gaiden
Master ninja Ryu Hayabusa slashed his way onto the Master System back in 1992 for a completely new outing. But how did it fare?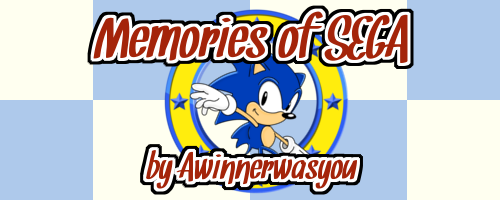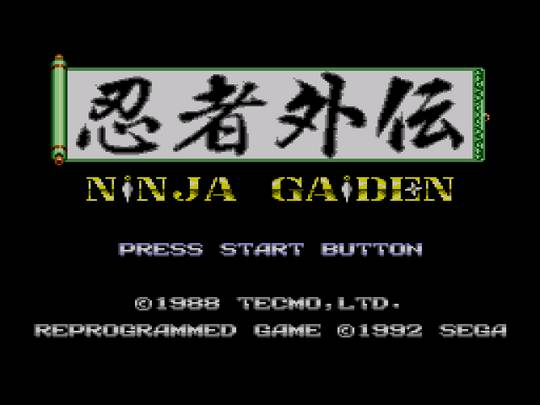 System- Master System
Year of Release- 1992
Genre- Platformer
Developer- Sims/SEGA
Ninja Gaiden is a series that will need no introduction to many. Since its debut in arcades back in 1988, it's proven to be a very popular franchise. Most people will remember the NES trilogy of games, known for their slick gameplay, involving stories (A rarity back in the day!) and unforgiving challenge. Of course, the series was resurrected for the Xbox in 2004, where it received much critical acclaim. Rightly so, too- it had some of the most satisfying combat ever in an action game, and was made even more so by the brutal difficulty. Another two sequels and a spin off- Yaiba: Ninja Gaiden Z- were released, but none of them could hold a candle to the original. The series' protagonist, Ryu Hayabusa, is even a regular in the Dead or Alive series. All in all, then, the series is certainly a favourite. However, you may not be aware that Ryu also had a few outings on the SEGA consoles as well- one on the Master System, and another on the Game Gear. A Mega Drive outing was also planned, but sadly scrapped. But what were these games like? Well, in this edition of Memories of SEGA, we'll be taking a look at the Master System version of the game. Does it live up to the legacy of the classic NES trilogy, and its subsequent Xbox reboot? Let's find out!
This was a game I first heard of in an issue of Sega Power, where it was previewed. It mildly caught my interest, since it was a platformer, and that was my favourite genre at the time. The reviews were mostly good as well, though the magazine I first saw it in would eventually give it a lowly 53%. Otherwise, the game was well received, and I did want to try it out. That chance would come when I saw it being played at a friend's house. I was quickly impressed with the fast paced gameplay, as well as the music. I really liked the music. This particular copy of the game my friend had was actually borrowed from another friend, and shortly afterwards, I got the chance to borrow it as well. Now that I could have a proper play of the game, and I couldn't wait!
The game in action.
The plot, such as it is, once again involves Ryu as he does battle with the forces of evil. This time around, he's trying to recover a scroll of ancient power known as the Bushido, which the bad guys have gone and stolen. Oh, and they've ransacked Ryu's home village as well, giving our hero another reason to get out there and kick some butt. As with the NES games, each of the game's eight stages begins and ends with a story scene that progresses the plot ever further. It's not necessarily a great story, but it does its job, and the cut scenes do look good.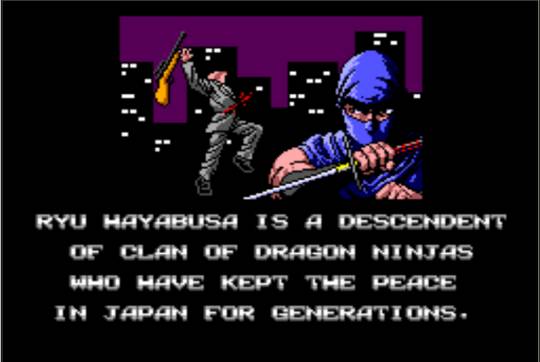 It's not a Ninja gaiden game without cutscenes!
Anyone familiar with the original NES games will be right at home with the gameplay. It's your basic platformer with a touch of hack and slash thrown in for good measure. Being a ninja, Ryu has plenty of techniques to help him get around. As well as your basic jump, he's also able to grab onto ledges and vault on top of them, and can even jump between walls. His base weapon is his Dragon Sword, which is great for close range combat, and he also has access to a variety of special weapons as well. These, along with every other power up items you find in the game, can be collected by slashing at the scrolls that are dotted around the levels. Special weapons range from standard shurikens, to four way shots, homing fireballs and the classic Ninja Gaiden fire shield for limited invincibility. All the special weapons need Combat points in order to use, and the more potent the weapon, the more points they use. More points can be picked up throughout the game, so as long as you use your weapons strategically, you shouldn't run out. Alternatively, you can let them build up until your point counter reaches 999. Do that, and you'll actually have unlimited Combat points to use as you see fit for the rest of the game. Now, whether or not this is some kind of glitch, or an actual cheat, I don't know, but it does help make the game a little easier. Finally, pushing both buttons together activates a smart bomb which kills most normal enemies and hurt bosses, but at the cost of some of your health. Naturally, this is only to be used as a last resort.
Each stage ends with a boss battle, each with their own look and attack patterns. The first boss is a sumo wrestler, who doesn't do much aside from ramming into walls, which in turn drops some easy to dodge debris. Later bosses include a Yakuza boss, a samurai, a rock monster, and the final boss, a flaming skull. They each vary in difficulty, and later on you'll need to be pretty fast on your feet if you want to survive. Good use of special weapons helps out too!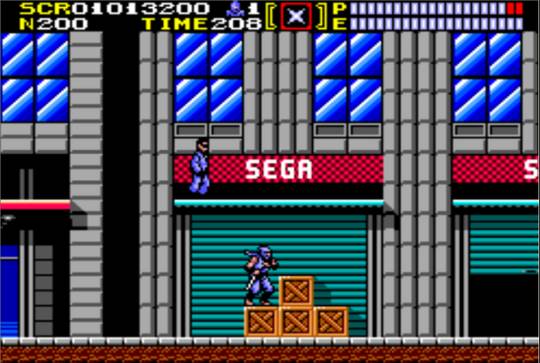 Stage two brings with it some none too subtle product placement...
The NES games are known for being very tough, and not always in a fair way. Hard to hit enemies and the fact Ryu got knocked back whenever he got hit often meant falling into one of the game's many bottomless pits meant the games got very frustrating in parts. The Master System game is mercifully easier, but not at the expense of being too easy. Indeed, this is still quite a tough and challenging game, particularly later on. Chapter six in particular is a very nasty one. Here, Ryu finds himself in a lava filled cavern with some very nasty obstacles to overcome. The lava often rises and drops at a terrifying speed, and there are many platforms that are too low when it's risen to the highest level. In other words, you'll need to wait until the lava is at the lowest level, then make your way across said platforms as quick as possible. This is hard enough as it is, but making it even tougher are the fireballs that suddenly appear around our hero as he jumps around- not to mention the other fireballs that split into three when you approach them. And yes, they do have an annoying habit of knocking you into that pit you just crossed. You'll find yourself dying quite a lot here, I can assure you. Though you have infinite continues, you always start back at the beginning of the stage, which can get very frustrating if you're really struggling to get through it, and if you die close to the end. As you can probably tell, that's exactly what happened to me when I played through it the first time. That stage caused me a huge amount of grief, more so than any stage in the game. While the last couple of levels do pack quite a considerable challenge, they're nowhere near as bad as this level. Just be sure not to let your guard down, though…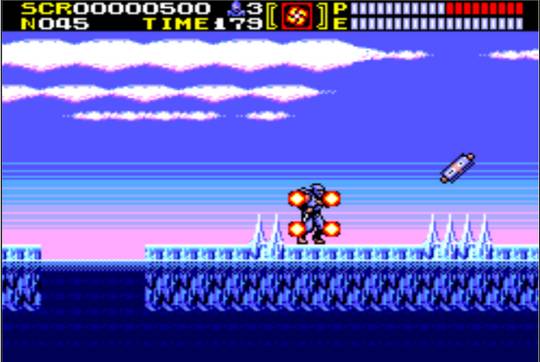 Like most platformers, there's an ice level to deal with.
The game runs very smoothly, which is vital given the high speed nature of the gameplay. Ryu is very responsive, so while you'll still be dying a lot later on, you'll have no real excuse apart from getting hit by some of the more annoying enemies. The graphics are also very nice, with some great animation. Ryu's bandana flaps about in the wind when he stands still, and it also moves about as he runs- a great touch. The backgrounds look great, with each stage having a distinct look about them, and they are fairly detailed. I do love the soundtrack as well. Again, each stage has different theme, and while some are certainly better than others, the best tracks I think are great and are a nice compliment to the pace of the game.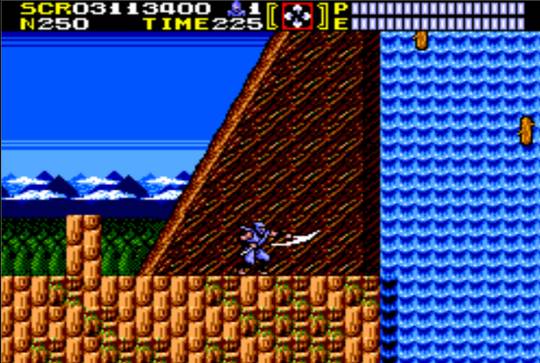 Stage 4, where the jumps start to get quite nasty...
The Master System version of Ninja Gaiden is a cracking game that more than stands toe to toe with its NES brethren. It gets the speed and addictive gameplay spot on and manages to be easier while still being a tough nut to crack. If you're a fan of the franchise, and have never played this one, do yourself a favour and do so. You won't regret it.
19th July, 2015 - 15:56 GMT
Awinnerwasyou
Article viewed 8904 times
There are no comments for this article.
You need to be logged in to post a comment.
Please login using the boxes at the top of the page.