Virtua Tennis Challenge (iOS)
Let me start this by saying I'm a huge fan of the Virtua Tennis series. Mainly the Arcade games and both VT 1 and 2 on the Dreamcast. I've spent countless hours playing the Dreamcast games both alone and with friends. From that point on, the only game I really enjoyed playing as close to the Dreamcast titles was the latest Virtua Tennis 4. Virtua Tennis Challenge for iOS is not a full-on VT experience but it's as close as you could probably get it for a mobile app. There are no licensed pro players; only amateur replacements and you'll have to get used to the controls…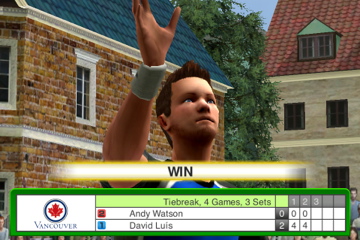 Developed by: SEGA
Published by: SEGA
Released: 18 May 2012
Price: £2.99 (UK)/$4.99 (US/Canada)/€3.99 (Eurozone)/$5.49 (Australia)
Tested On: iPhone 4 running iOS 5.1.1 Version: 1.0.0
Finger me softly? Er… No.
So, the first thing I'd like to address is the controls. It will probably be the main issue for those of you playing the game. Sure iOS games are all about touch controls and swiping your fingers across the screen. But does it really work for Virtua Tennis Challenge? No.
The default control type is "Swipe", which is self-explanatory. You swipe the screen to both move the player and shoot the ball. Short and simple: it's a mess. Luckily, you have three other control types available in the options: "Virtual Pad" (my favourite of the four), "Arcade" and "Game Pad". All of these involve a virtual joystick to move the player and on-screen buttons to control the various types of shots available, including the "Super Shot", that you get to use once you filled up your "concentration bar".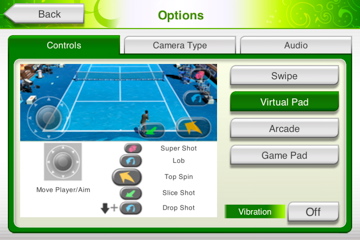 So, once you get the hang of your preferred control scheme, you're set for some tennis goodness.
SPT World Tour
Yes, there is also a World Tour mode in VT Challenge. Although, reduced to a mobile size, it's an interesting feature. You can choose from one of several tennis players and edit their name, nationality and play style.
Everyday, you have three different tournaments you can enter, each one with a different entry fee. Of course, the higher the fee, the more difficult will be your opponents. However, you'll also win bigger prize moneys. Yeah, it's all about the gold, baby! Your main goal, as usual, is to become the number one player in the SEGA Professional Tennis rankings.
Something you won't find in this World Tour mode is the crazy (and awesome) mini-games. No fruit to pick up or bowling pins to throw down this time. It's quite disappointing, as being a mobile title, the casual nature of said mini-games would be an extra reason to pick up and play Virtua Tennis Challenge for a few minutes.
There is a mini-game that involves shooting balloons in Training mode but that can hardly be qualified as fun. After all, you need to complete the training in order (service, power shots, etc…) and it's fairly easy to do so in your first try.
Let's Tap – Future Tennis Game!
The main "pick up and play" feature of this game has to be the one-point matches against your main rival, that guy that features in the main menu screen. This is my favourite part of Virtua Tennis Challenge, besides the World Tour mode. You simply tap the image of the character in the main menu and off you go. By the time I wrote this review I had reached level 31. Each time you win a one-point match you get the prize money that can be used in World Tour mode as well. As you advance, the prize money gets higher.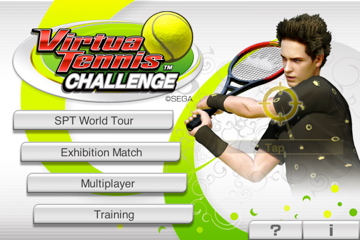 The best part is, your progress is saved and you can pick it up from where you left off the last time. So, if you had a 10-win streak going, you can restart from level 11 the next time you pick up the game. If you happen to lose a match (and you will lose some matches when you get to level 25 and beyond!) you just go down one level. The game even shows you a graph of your performance according to your wins and losses.
There's also the mandatory Exhibition mode with both Singles and Doubles games to enjoy. Not that big a deal if you think about it. Just what you'd expect from a quick game mode.
Multiplayer
Yes, there is a multiplayer mode. You can both play against nearby iOS users via Bluetooth or online friends via a Wi-Fi connection. I have only tried the Wi-Fi option and I it was a really, really laggy experience. Maybe my connection has something to do with this, so this won't really affect my review score. However, you should consider this if you want to play Virtua Tennis Challenge online.
Matches can be set up according to your desired length (2 games, 1 set; 4 games, 3 sets; or 6 games, 5 sets) and the game will find you a random compatible opponent. No, there's no option to play against your Game Center friends. Why? I have no idea.
Conclusion
If you're a huge Virtua Tennis fan, like I am, you will not be disappointed by Virtua Tennis Challenge, as long as you can get used to the controls. It's got the gameplay, graphics and even sound we've grown to love. Yes, the graphics are really impressive and I've experienced no lag playing the offline matches even with high frame rates. There's even the usual replay of each point and some quite good animations of the 3D players. The online multiplayer is not that impressive (even if this is just version 1.0) but I don't think that'll be the main reason for you to play this game. You'll have the One-Match Games and World Tour modes to keep you entertained for a while.
If you're not a huge fan of the series or never experienced Virtua Tennis in any form before, I'd probably say to wait for a price drop.
Overall, SEGA's done a decent job porting the VT experience to iOS devices. Let's hope the online issues are addressed in future updates to the app.
Score: 4/5
31st May, 2012 - 04:41 GMT
KC
Article viewed 3554 times
There are no comments for this article.
You need to be logged in to post a comment.
Please login using the boxes at the top of the page.