Rhythm games. There's been a lot of them over the past few years but none have stood out more than the Hatsune Miku series. Ever since Miku first appeared on the gaming scene in 2009 her games have become hugely popular, not just in Japan but in the West as well. Due to high popular demand by many Miku fans we got to see Project Diva F release over in the West in 2013; since then we've had Project Diva F 2nd and now this new Hatsune Miku game that has just been released not too long ago: Project Mirai DX!
At the start of Project Mirai DX, after being greeted by a pretty nice looking intro movie, and after making your username, the first thing that pops up is getting the choice of selecting which Vocaloid character you want to have as your partner/roommate in the game (you can change your character at any time you like), plus you also have the choice of picking which type of apartment you would like to be in during the game as well (again you can change the apartment anytime during the game too). Once you and your Vocaloid roommate are both settled in then the fun can begin!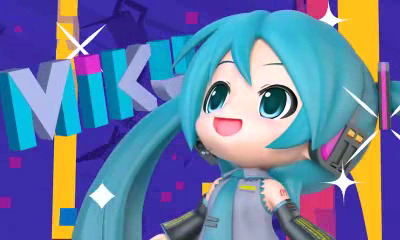 There are many features in Project Mirai DX. The main one being in the Rhythm Game itself! Whilst selecting your chosen song you have the option to either play in button mode (press A, B, X, Y and Directional Pad in the order they come during the song), or you can use the touch screen to play instead (tap each of the coloured drums on the touch screen in the order they come during the song, and even swipe in the direction the game tells you to do). So there are now two ways to enjoy a Hatsune Miku game and it makes it much more enjoyable to play and challenge yourself too.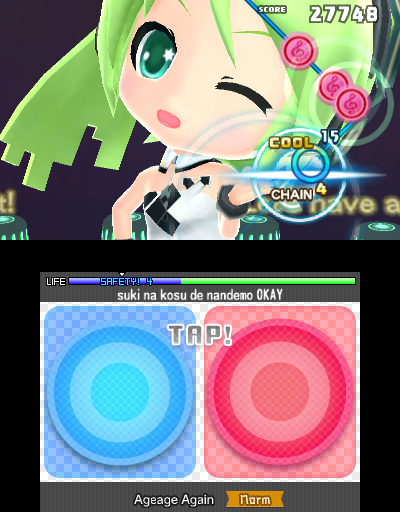 Project Mirai DX includes a little mini game that you can play with your Roommate called "Mikuversi". The object of the game is pretty simple: pick either the black or white coloured discs and try to get as many of your discs on the board as you can. Whoever gets the most discs on the board is declared the winner. I found it quite entertaining and fun to play and it felt like actually playing the game with someone rather than a CPU, as after you make your move your roommate then takes his/her time to think before he/she makes their move. They even make quite a few facial expressions in different situations during the game as well. I unfortunately lost both my 2 games against my roommate Kaito and he looked incredibly happy about winning, so much so that he actually rubbed it in my face which did surprise me a bit! So be warned: If you decide to play Mikuversi and you lose a game your roommate will probably make fun of you for losing! Another mini game you can play is a Hatsune Miku style of Puyo Puyo: Puyo Puyo 39!. It's pretty much the classic game but you are up against the rest of the Vocaloid characters in a survival type mode, which is pretty much to try and take down all of your opponents to be crowned Number 01. It's really cool that they actually put a classic game into Project Mirai DX and it is really nice looking as well when turning the 3D on.
Besides playing the Rhythm Mode, Mikuversi & Puyo Puyo 39!, there are other exciting modes to choose from as well! Whilst in the menu, you have the option to "Go Out". There you can select many different places to go to such as Mirai Mall, where you can go and spend the money that you earned on clothes for you Miku partner & decorations for your apartment; The Theatre which is the same as the Rhythm Game Mode; The AR Station where you can bring Hatsune Miku and her friends to life in the comfort of your own home using the AR cards that come with the game; The Dance Studio which is a place to customise your very own dance moves in time with any of the songs in the game; and if you're getting tired of your room, then why not take a trip down to the Mirai Estates to see what new and exotic apartments await for you should you decide to move somewhere new and fresh. (New rooms do become available later on in the game, plus you can even go on holiday with your partner as well but you will have to save up the cash!)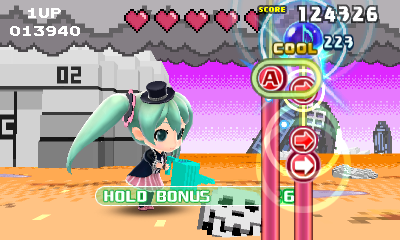 Other features include:
Dress Up: Customise your partners clothing whilst in your room or during the rhythm game mode as well.
Clock: An in game alarm clock for the owner of the game, so if you want to wake up listening to your favourite Project Mirai DX track then this is perfect for you!
Profiles: Get other people's profile cards via StreetPass or SpotPass, and customise your very own profile card as well.
Stamps: For all you 100% completionists out there, try and collect all the in game stamps by completing tasks and challenges in Project Mirai DX. There are 115 in total to collect.
But that's not all! If you have SpotPass turned on and StreetPass enabled too, you'll be greeted by people at your door who will then give you gifts or even friendly advice on what to do in the game. Gifts can be anything from clothing for your character to even furniture or items for you apartment! This, I feel, is a great feature for the game as it allows you to get the chance to meet new people, collect their profile cards and even get new items for your partner or for the apartment too.
All in all I feel that this has a lot of potential of being a really great Hatsune Miku game. Even if you are new to playing Miku, as I am, it's pretty easy to learn and in next to no time you'll be tapping, swiping or even button mashing away to get the best high score!
PROS:
+ A new way to play Hatsune Miku;
+ Fun new way to interact with the Vocaloids and other people that you meet via spot & streetpass;
+ Great mini games to play to pass the time.
CONS:
- Touch screen can be a bit unresponsive at times. (Only at random occasions, not usually.)