Rhythm Thief Temporary Pulled From The App Store Due To Bugs
Less than one day after its launch, the rhythm game was removed from the App Store by SEGA.

Yesterday, we reported on the launch of Rhythm Thief & the Paris Capper, a new iOS game based on the 3DS title released in 2012.
Well, if you happened to download the app to your phone/tablet, like I did, you probably came across the screen below: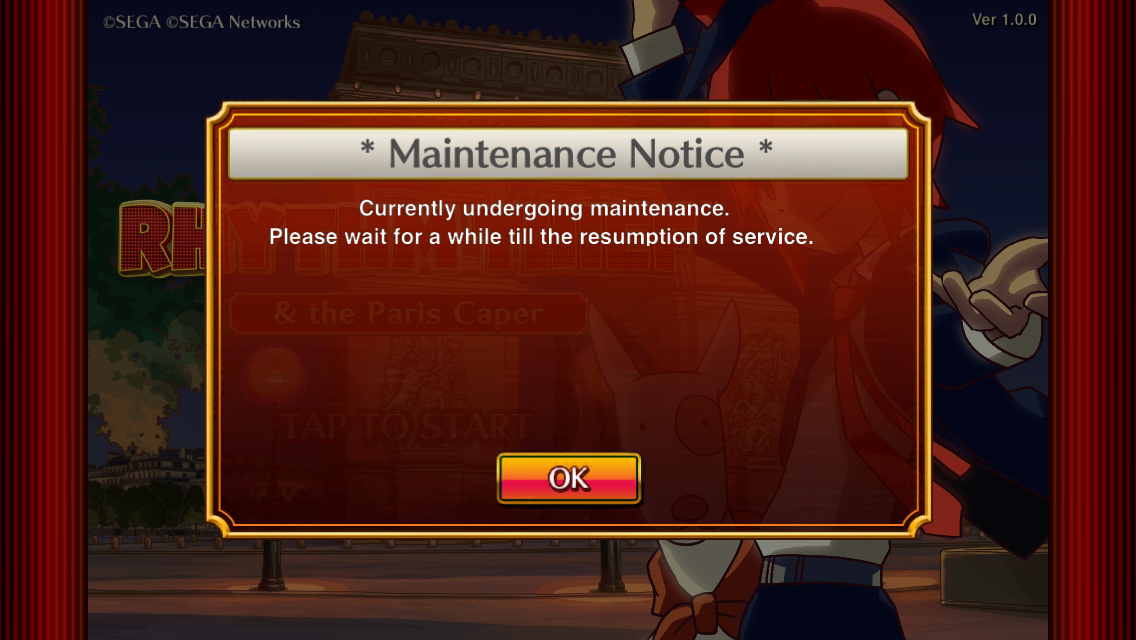 Yes, due to its 'always online' nature, you wouldn't be able to play the game because of "undergoing maintenance".
SEGA has admited to these issues and has since removed the game from the App Store until all issues are fixed. A statement sent to Polygon read the following:
"An unexpected problem has been discovered in the version of Rhythm Thief that was available yesterday on the Apple App Store, so we have removed it temporarily from the store as we work on a fix. Our development team is hard at work to update the game and it will be back online very soon. Anyone who has purchased the game already will be able to play it as soon as it is back. We will keep you updated and we thank you in advance for your continued patience."
Only a few minutes ago at the time of this article being posted, I managed to get past the title screen and started playing the game, so maybe the bugs are already in the way of being fixed.
Were you one of the few that managed to grab Rhythm Thief & the Paris Caper before it got removed? Planning on getting it once it's restaured? Let us know below.
SOURCE: Polygon
10th January, 2014 - 18:09 GMT
KC
Article viewed 706 times
Comments:
You need to be logged in to post a comment.
Please login using the boxes at the top of the page.




Requests between 24th Apr and 1st May







Replies: 1403

Replies: 168

Replies: 1961

Replies: 5

Replies: 918

http://www.segadriven.com/
http://www.sonicradio.net/
http://www.lastminutecontinue.com/
http://www.sonicstadium.org/
http://www.summerofsonic.com/
http://outrun86.wordpress.com/
http://www.projetosegabrasil.com/
http://soniclondon.co.uk
http://web8.orcaserver.de/ecco/
http://www.dcgaga.com
http://16bap.theclassicgamer.net
http://www.seganerds.com
http://www.sega-addicts.com
http://segadoes.com/
http://thesonicshow.org/
http://twitch.tv/thecorndogbandit