RadioSEGA's Address of 2017
I'm a little late with this one, but I'd still like to welcome you all to 2017 and wish you and your loved ones all the best for the coming months!
I'm a little late with this one, but I'd still like to welcome you all to 2017 and wish you and your loved ones all the best for the coming months!
2016 in review
2016 was definitely a great year for RadioSEGA. We celebrated 10 years of existence and did so with special shows and by putting out our first ever remix album. A joint effort between several amazing community musicians and one
talented artist
who worked on the cover.
It's still up for grabs
and for free too!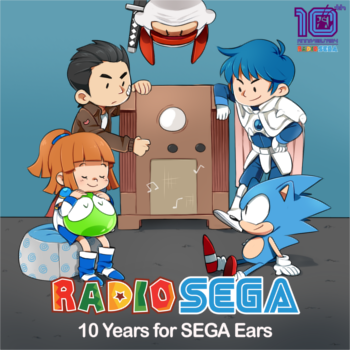 We also did a couple of sales of RS t-shirts and hoodies, with both our original logo and the 10th anniversary one, designed by the magnificent
Köpke
. They're all gone now, but hopefully we can do something like this again soon.
On the radio side of things, it was great to see the interest of new people in doing a show, which sparked a wave of trial shows, ones more successful than others, sure, but I'd still like to acknowledge and thank everyone who applied. It was a great pleasure to welcome Skyblaze to the family, so be sure to check out The Hidden Palace every Wednesday!
We also supported and have started a collaboration with the recently released
Mega Visions Magazine
. Every two months, the team delivers some great content in digital form and we're proud to be a part of that via The SEGA Lounge and our playlist of great remixes. By the way, issue 2 is coming out in a few days...
Speaking of The SEGA Lounge, it was great to have some amazing guests on the show, including industry and community legends, and to have several different people co-host the show, which provided some much needed variety. As the show prepares itself for a fourth season, expect more great guests to come on to RS airwaves and be sure to tell us who you'd like us to interview next.
Getting closer to the end of the year, I couldn't not mention RadioSEGA's WinterFest 2016. Our third event was arguably the best one so far with almost nothing but live shows and even more involvement from other community websites. And we've had some "legacy" shows and hosts return to the station, which is always nice. It was a great weekend and hopefully we get to do it again.
Finally, we held
RadioSEGA's Fan Choice 2016 awards
, which were divided into three categories: Request, Remix and Song of the Year. Close to 70 people voted this year and we hope to have an even bigger response in 2017.
2017 and beyond...
Something that we weren't able to do yet (again) was to revamp our image and website. Slowly but surely, as they say... No, really, we'll get there. It's just a lot of work and the lack of that rare and precious commodity called time. But to show you we're committed to it, here's a little teaser of our new logo.

It comes with a new website attached to it too! Hopefully 2017 will be the year we can unveil it all. We've been doing a lot of behind the scenes work, all of which is meant to improve your experience with RadioSEGA. This includes providing our DJ's with the best software available and other few bits here and there.
Other than that, more shows! New ideas have been pitched and we're excited to announce them to you when the time comes. And maybe a surprise or two as well.
As usual, I'd like to thank our staff for being generally awesome. And a special nod to our Web Dev Team, our Radio Team and Mr. Social (you know who you are!). We all hope you appreciate the hard work we've been putting into making RadioSEGA the best station possible. Keep those suggestions coming as well. We're always listening.
On behalf of all of us, have a great year and keep it locked to RadioSEGA!
4th January, 2017 - 13:48 GMT
KC
Article viewed 2272 times
You need to be logged in to post a comment.
Please login using the boxes at the top of the page.