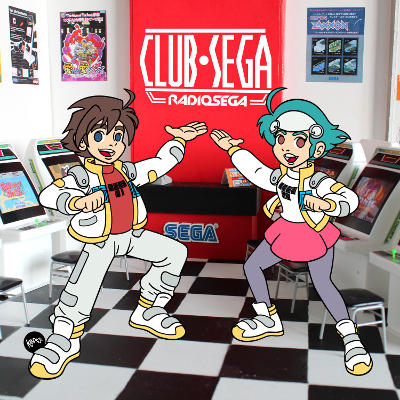 ---
It is very hot in the arcade
Usual show except its very hot
Have I mentioned it is hot? This weeks show will bring all the usual fun and music as we attempt to deliver a show in the middle of a national heat wave! This week's cabinet of the week is Passing Shot a tennis game made for the System16 1in 1988. There is something pure about aerial view tennis games so we look forward to talking about it! We will also announce the winner of our Super Thunder Blade high score competition! As always requests are open, links follow:
If you want to compete in any of our games then follow the link for the High Score thread
Here's the thread for the High Score competition
Also if you would like to catch up on any episodes that you might have missed then you can do so here:
(it's quite hot today, I'm not looking forward to wearing big headphones)
Club SEGA - Your one stop coin-op spot for all your arcade needs.
Wednesday at 8pm UK - 7pm GMT - 9pm CEST - 3pm EST - 12pm PST
12th August, 2020 - 19:40 GMT
i need fruit
Article viewed 102 times
Comments:
There are no comments for this article.
You need to be logged in to post a comment.
Please login using the boxes at the top of the page.




Requests between 14th Sep and 20th Sep







Replies: 72

Replies: 151

Replies: 2

Replies: 39

Replies: 634

http://www.segadriven.com/
http://www.lastminutecontinue.com/
http://www.sonicstadium.org/
http://www.summerofsonic.com/
http://outrun86.wordpress.com/
https://kngi.org/
https://eccothedolphin.net/
http://16bap.theclassicgamer.net
http://www.sega-addicts.com
http://soniccagedome.net/
http://twitch.tv/thecorndogbandit
http://www.thedreamcastjunkyard.co.uk/
http://yakuzafan.com/
http://puyonexus.com/
http://segabits.com/
https://www.youtube.com/c/NintendoLounge